Last round we have seen the first team advance to the next stage of the Brawl Stars competition. Salada de Frutas justified the role of favorite and secured the playoff. Last night two more teams did the same. Namely, Big F and Jazavci defeated their opponents and will now join Salada in the fight for the title.
Only one spot left
The Brawl Stars group stage in our A1 Adria League is soon ending. The round that was played last night didn't have many surprises. And as a result two teams, Big F and Jazavci, advanced to the next stage, while we also said goodbye to two other teams.
The first match of the round was played between Jazavci and You Lose. This match was played off stream, but it was a quick one nonetheless, seeing that Jazavci secured a 3:0 win and a place in the playoffs. It was You Lose who lost in the end, and they now have a 2:2 score and will have one more chance for the last spot in the next stage of the competition.
DOGS were the winning team in the second match. They managed to defeat their opponent Balkan Kids with a 3:1 score. With this defeat, Balkan Kids are eliminated from this season's Brawl Stars tournament. On the other hand, DOGS now have a 2:2 overall score and will have to take down You Lose to secure the playoff. This match will be the last in the group stage and it will be played on June 9th.
Big F came out victorious in the last matchup of this Brawl Stars round. They defeated 33 Esports who were also eliminated last night. Big F on the other side secured themselves a place next to Salada de Frutas in the playoffs. Daki was without a doubt the best player on this team, and thanks to him Big F is now safe in the next stage of A1AL.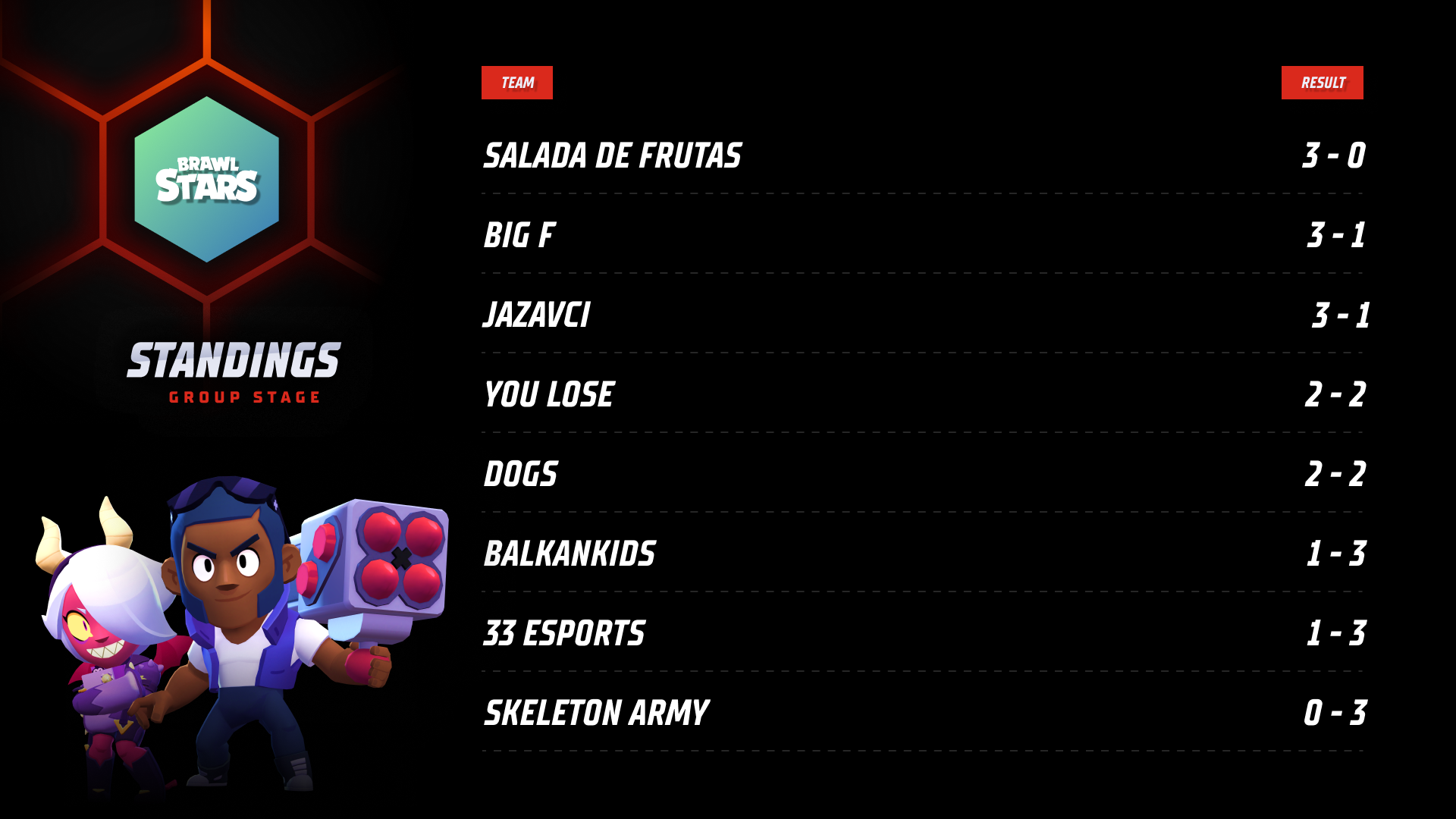 https://a1adrialeague.com/wp-content/uploads/2022/03/Brawl_Stars_A1AL.png
720
1280
galadriela
https://a1adrialeague.com/wp-content/uploads/2020/04/A1AL2020-Logo.png
galadriela
2022-06-03 12:22:32
2022-06-03 12:22:32
Big F and Jazavci are in the playoffs of the A1 Adria League!