The first part of the third round in the CS:GO group stage is finished. We have seen two pairs of teams compete, while one game was the Bo1, the second was the Bo3 decider match. This duel was played between Blink and BLUEJAYS where the latter came out victorious and secured the spot in the playoffs of the A1 Adria League.
BLUEJAYS gave Blink their first loss
Round 3 started with a duel between Oto100 and XTEAM. Before this game, both teams had the same score of 1:1. The match was played on Inferno and it was Oto100 who defeated their opponents. They were clearly the better team which was shown from their gameplay. XTEAM managed to secure a few rounds, but it was only by sheer luck. It was a dominant performance from Oto100 and this defeat puts XTEAM in a bad position. Their captain gejmzilla had an off game and it is one of the reasons the game ended the way it did. He is usually the carry in this team and always comes on top. Yesterday that wasn't the case and he had only 8 kills, while he died 20 times. XTEAM now has an overall score of 1:2 and in the next round will fight to stay in the league.
The second match that everyone has been waiting for was the Bo3 duel between BLUEJAYS and Blink. Both teams were defeatless before this round with a 2:0 score. The first map was Ancient and suffice it to say BLUEJAYS won it. It was a dominant performance from the Macedonian squad who hadn't lost a round on this map. While Blink had only 27 kills, BJ achieved 79, almost three times as much. The second map, Vertigo, however, was much closer. We have seen three overtimes overall. It was an intense match, but in the end, it was BLUEJAYS that won it with a 22:20 score. Dan1 had an amazing performance with 37 frags. This win granted BJ the spot in the playoffs, and they are the first team to secure it with a perfect 3:0 score!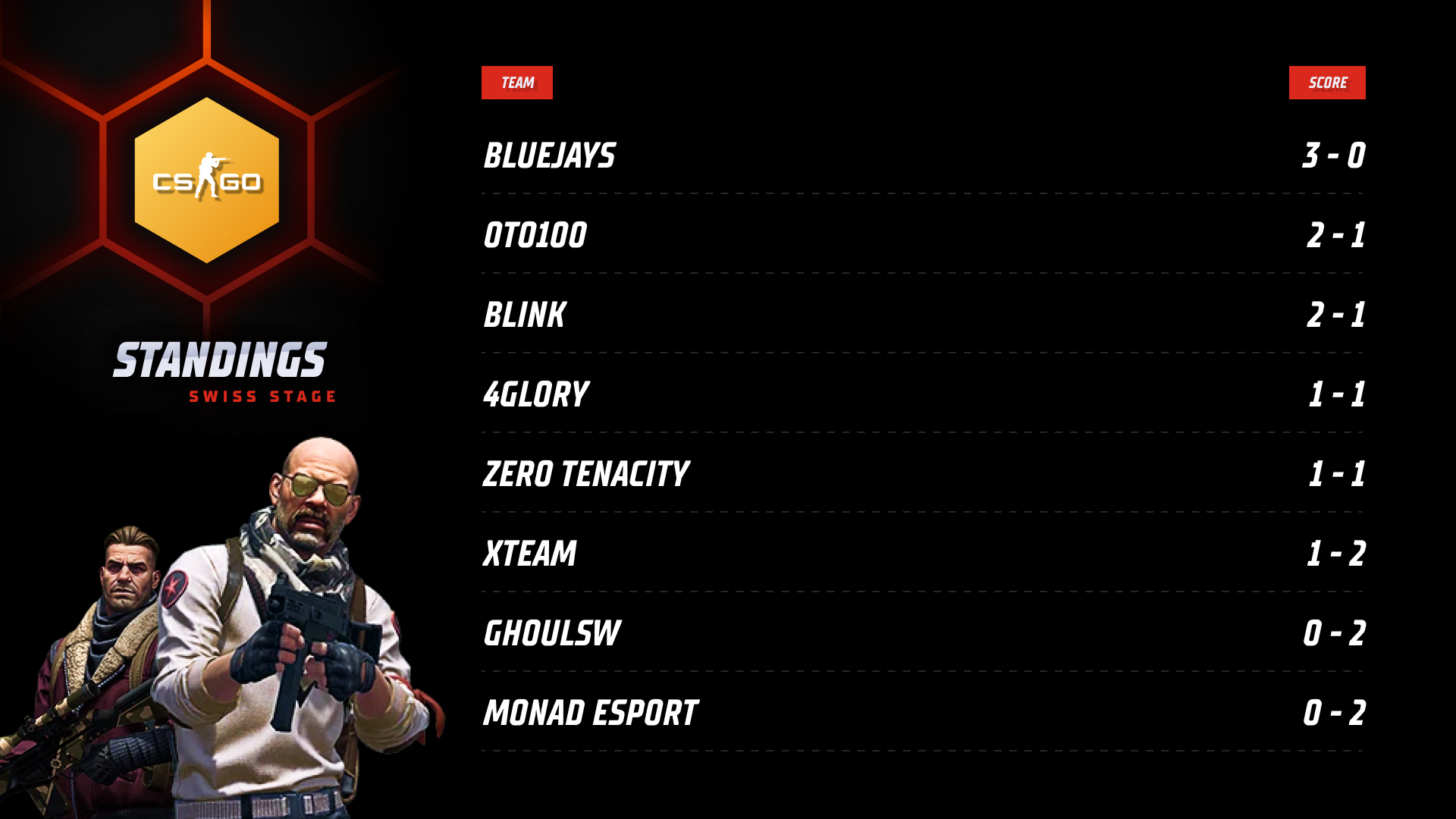 The second part of round 3 will be played on Wednesday. Monad eSport will take on ghoulsW in a Bo3 duel, while 4glory and Zero Tenacity will play only one game. For Monad and ghoulsW this is the last chance because in two days we will say goodbye to one of those teams.
https://a1adrialeague.com/wp-content/uploads/2022/03/CSGO_A1AL.png
720
1280
galadriela
https://a1adrialeague.com/wp-content/uploads/2020/04/A1AL2020-Logo.png
galadriela
2022-05-16 18:14:45
2022-05-16 18:20:18
BLUEJAYS are the first team to secure the playoffs!