We witnessed a spectacular FIFA finale on Saturday at Reboot Games Weekend in Zagreb. A duel between Miloš "brstimir" Majdevac and Marko "Gruby" Grubišić left everyone watching speechless. After 2:0 for brstimir, Gruby returned and ended the final series with 3:2 and became the new A1 Adria League champion in the FIFA competition.
After two years new FIFA champion was crowned
The two best FIFA players of the tenth A1 Adria League season are brstimir and Gruby. As such, they both got an invitation to the LAN event powered by A1 held at Zagreb Fair. Brstimir is one of the best FIFA players in Serbia, he has a big experience and a couple of final attendances in A1AL. On the other hand, the new champion, Gruby is only 17 years old, and this is his first appearance in the League. It only took him one try, not only to win the title but also to eliminate the four-time champion, Tarik Novo. Achievement players couldn't get in 2 long years.
Gruby and brstimir already fought early in the playoff stage, and in that match brstimir was victorious. Gruby however took his revenge in the grand final of the A1 Adria League. Since brstimir came to the finals from the upper bracket he received an automatic win and started the finals with an advantage. However, that didn't bother the Croatian player. Even though brstimir won the second match as well and reached a game point, Gruby woke up after that and demolished his opponent.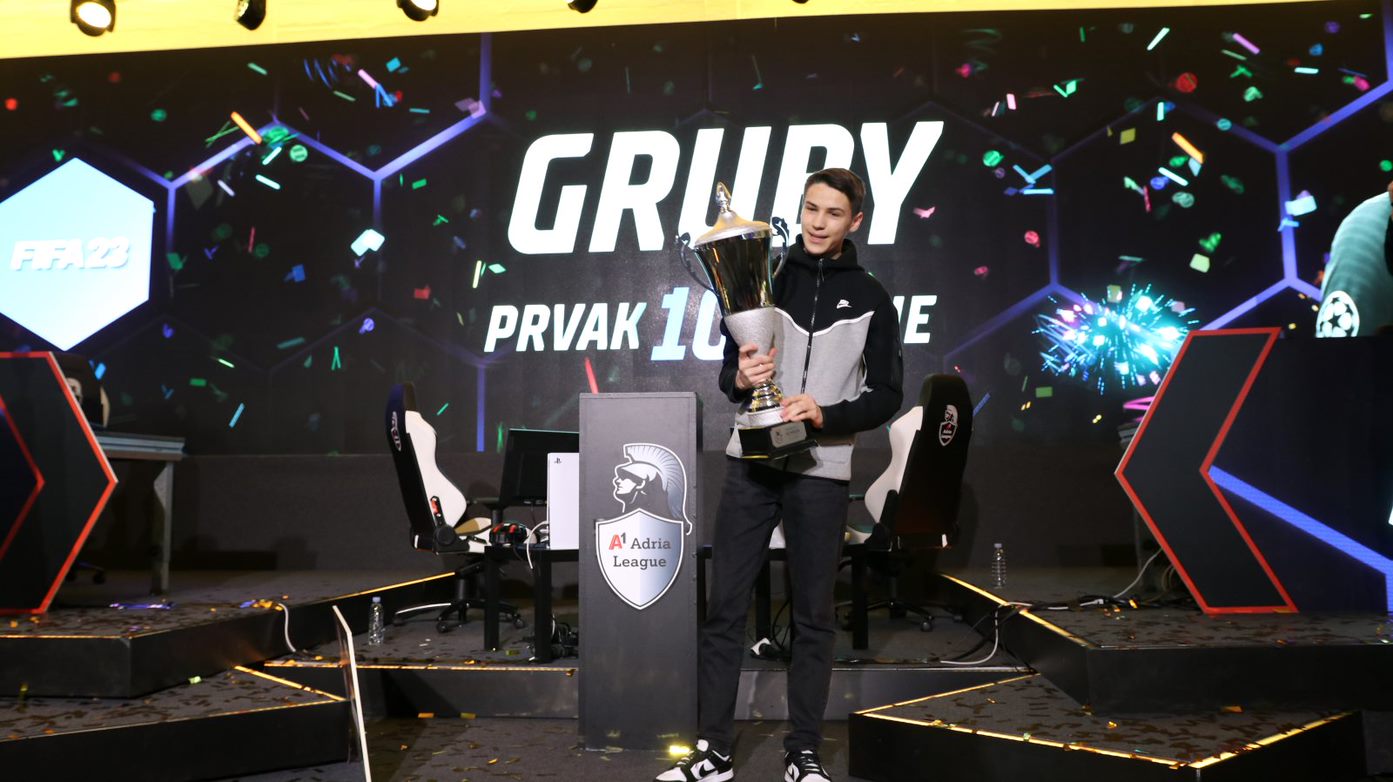 The first win for Gruby came in the third match overall, where we saw overtime after a 2:2 result. That game went to penalties where the 17-year-old triumphed with a 4:2 score. In the next match, we only saw one goal on the side of Gruby and the youngster evened out an overall score to 2:2. The moment of truth. Fifth and deciding match. The whole audience was on the verge of ecstasy. By the words of casters, the fifth match wasn't for the faint-hearted. It was obvious that Gruby had more fans, and everyone wanted the rookie to win.
The final match of the final also went into overtime after a 2:2 score. In the 106th minute, Gruby takes the lead and just a couple of minutes after that he scores again and everyone in the audience rose up and applauded him. Even his opponent brstimir, after conceding another goal rose up, stopped playing, and gracefully accepted defeat. The match was over even before the final whistle, as brstimir congratulated his opponent Gruby on winning a well-deserved title.
https://a1adrialeague.com/wp-content/uploads/2022/11/Gruby-is-the-new-FIFA-champion-in-the-A1AL.jpg
673
1200
galadriela
https://a1adrialeague.com/wp-content/uploads/2020/04/A1AL2020-Logo.png
galadriela
2022-11-13 10:35:02
2022-11-13 10:35:02
17-year-old Gruby is the new FIFA champion!