After a short delay, we are finally having the first round of the group stage in a mobile game Brawl Stars. The ninth season of the A1 Adria League in this game is starting, and we have already seen in the qualifiers how interesting and intense these matches can be. The group stage is continuing in this matter.
The top teams came out victorious
For a couple of seasons now in A1 Adria League one team has been the dominant force. Salada de Frutas, ex Zidari have been showing a great performance for more than one season. This was without a doubt the best regional Brawl Stars team, and this season these guys are aiming to defend the championship and the good name. As we have seen in the qualifiers, Salada de Frutas managed to win three consecutive ones and advance to the group stage as the first seed. As the highest placed team today they were fighting the eighth-seeded team Balkan Kids. It was a stomp from the defending champions, and the match was over before you could blink. After just 15 minutes Salada de Frutas defeated their opponent without losing a single map.
In the other matches, we saw Skeleton Army or Smetlari as you know from qualifiers take on Jazavci, the team that won the first qualifier. In the end, it was Jazavci who came out victorious as expected, as well without losing a map. The third match of the day was between Big F, a team that showed really good performance throughout all the qualifiers, and You Lose. The favorite in this matchup was Big F, who justified their role and finished the game with a 3:1 score.
Dogs and 33 Esports were the pair and seeds closest to one another. Dogs finished the qualifiers in fourth place, 33 as fifth. In the end, it was Dogs who managed to secure their first win in the group stage and gain an advantage.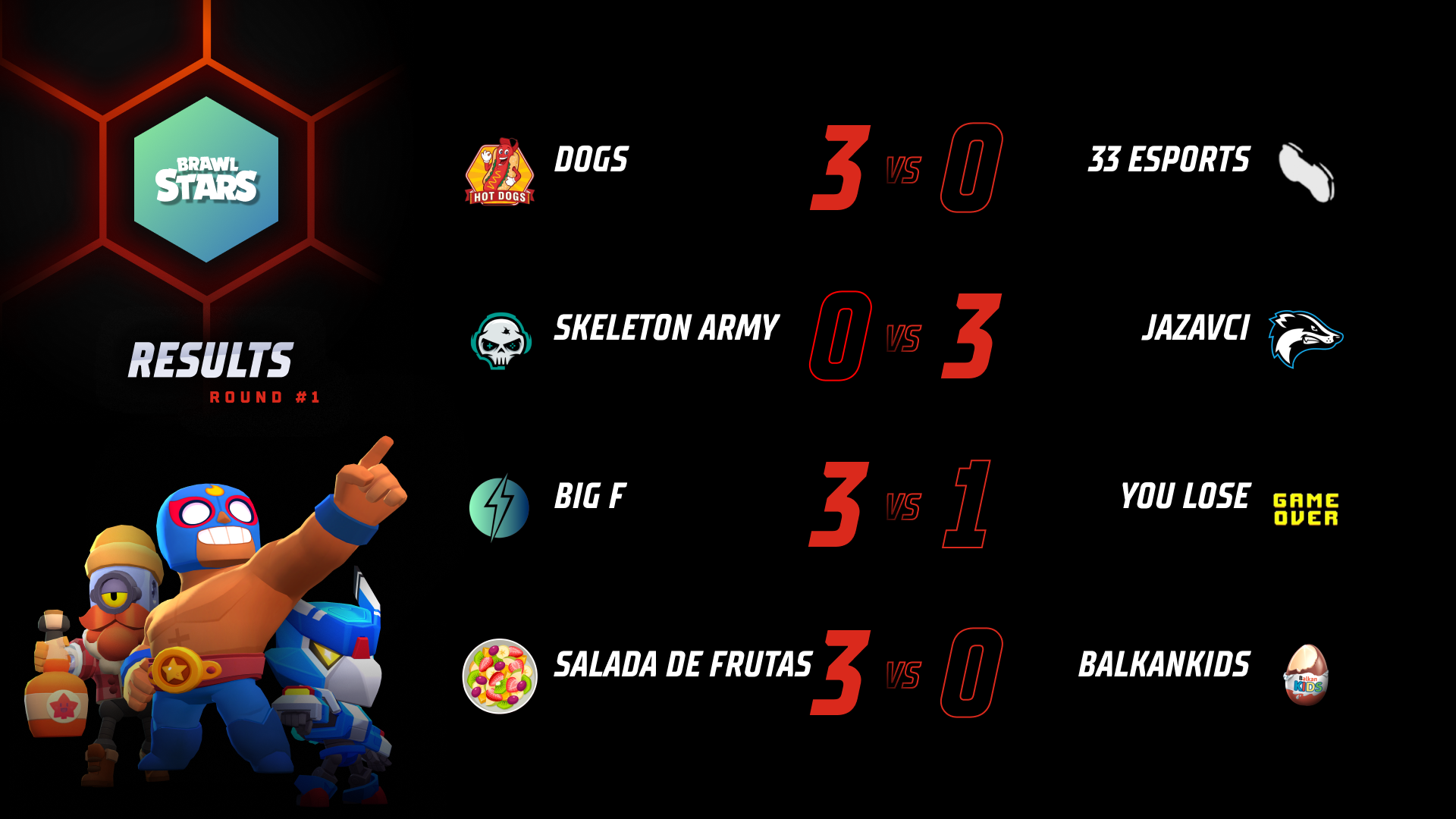 https://a1adrialeague.com/wp-content/uploads/2022/03/Brawl_Stars_A1AL.png
720
1280
galadriela
https://a1adrialeague.com/wp-content/uploads/2020/04/A1AL2020-Logo.png
galadriela
2022-05-12 21:07:22
2022-05-12 21:07:22
A good day for favorites in the Brawl Stars tournament!