The qualifiers for the 12th A1 Adria League started this weekend. We saw intense competition in FIFA23 and CS: GO first qualifiers. The most successful player in the FIFA23 qualifier was CLA_marac90, who won 100 points. On the other hand, the winners of the first CS: GO qualifiers were Partizan and MBAPPEEK, who secured the group stage.
The first two CS: GO group stage spots taken!
The first CS:GO qualifiers are over. We saw many successful regional teams battle it out on different maps. While everyone gave their best, the two teams who overcame all obstacles were Partizan and MBAPPEEK. They secured their spots in the group stage, joining the two invited teams and last year's finalists, Jake Bube, and the current champions, Zero Tenacity.
Both teams were a menace on their side of the bracket. Partizan defeated Volt, Cactus Jack, and Achievo Esports without losing a single map. On the other side, MBAPPEEK was better than Kopaci, Team Vertex, and Mutnica Public.
If you want to find your place in the 12th A1AL season and compete with the best CS: GO teams, sign up for the qualifiers. Second CS: GO qualifiers are scheduled for September 10th. Click HERE to sign up!
First FIFA23 points grabbed!
More than 50 players competed for the first FIFA points at the start of the 12th A1 Adria League season this past weekend. We saw many familiar names, such as Tarik Novo, Brstimir, Jasik, Hara, Esad Memic, and rest. While some of them managed to acquire certain points, the best player of the first FIFA23 qualifier was CLA_marac90, as he won 100 points. Second place was taken by Hara, who won 70 points, while the third-best player that evening was NemanjaLS92 with 50 points.
The big surprise was Tarik Novo, who lost in the first round. The current FIFA champion and the five-time A1AL winner didn't have a good start. However, he and the rest of the players have three more qualifiers to improve their score. The second qualifier is scheduled for September 9th. So don't waste time, and sign up now by clicking HERE!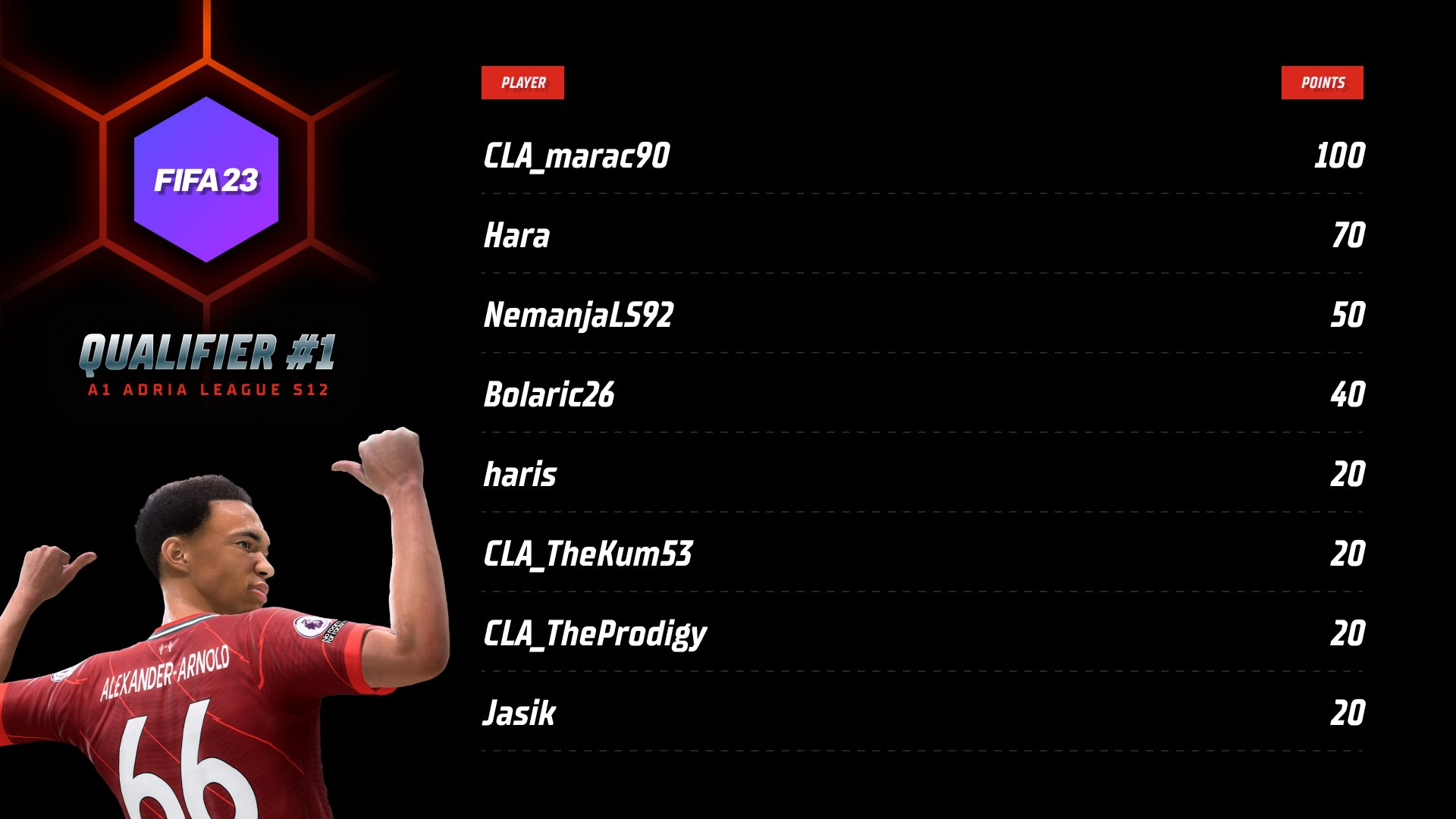 https://a1adrialeague.com/wp-content/uploads/2023/09/Pragma_general_1920x1080.png
627
1210
galadriela
https://a1adrialeague.com/wp-content/uploads/2020/04/A1AL2020-Logo.png
galadriela
2023-09-06 14:49:50
2023-09-11 11:56:59
CLA_marac90 won the first FIFA qualifier; Patrizan and MBAPPEEK successful in CS:GO!