The fourth-week games of the 12th season in the A1 Adria League finished this weekend. FIFA Mobile played its third qualifier, with only one more left, while FIFA23 players finished their last one, and we now have the top 8 who will advance to the group stage. On the other hand, the first round of the CS: GO group stage was played last Sunday. Read to learn details about each game and how players and teams performed.
More upsets in FIFA Mobile
Like in the first A1AL FIFA Mobile qualifiers, we also witnessed more upsets this week. Firstly, the leader on the scoreboard, Kayozz, was surprisingly eliminated in the third round. Lazar snatched a saucy victory over Kayozz but only managed to reach the next round before being eliminated. Mihajlo ran him over in that round and reached the semifinals, where he was stopped by Suh12, who went on to win the qualifier and max points.
At the moment, Kayozz is still first, while Suh12 is right behind him with 170 points overall. Furthermore, the third place now belongs to Shaq, who has 130 points. With just one more qualifier left, the first three players are almost definitely advancing to the next stage in the A1AL.
Moreover, the competition will be even more significant in the next qualifier, considering we are switching to the new FIFA game EA SPORTS FC™ Mobile. Sign up for it HERE!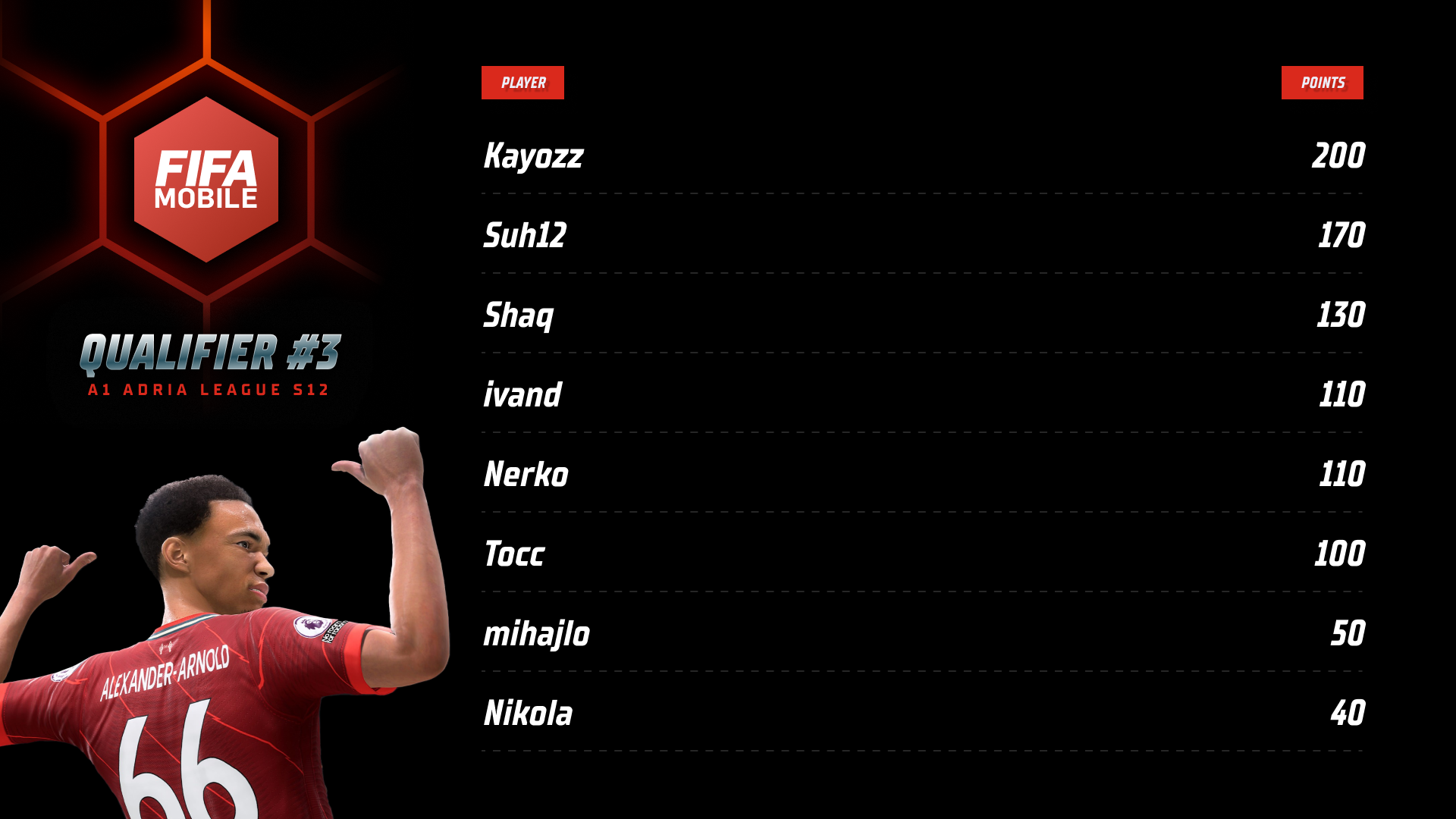 Who are the top eight FIFA23 players?
You'd be mistaken if you think that not much has changed in the final scoreboard for FIFA23. One player managed to reach the finals and win 70 points, securing a spot in the league and eliminating two players from the top 8. Namely, Srdjan "Olle Dobrinho" Dobric made it to the finals and, with 90 points overall, is now advancing to groups. With only 20 points before this qualifier, this player never gave up and was rewarded for it.
Due to his success, Djordje "Jasik" Cumbo and Nemanja "NemanjaLS92" Misic are out of the league and will have to try harder next season. Furthermore, max points went into the hands of Filip "CLA_Cyber_FICO" Babic, who was victorious against Olle Dobrinho with a 2:1 score and is also advancing to the group stage with 140 points overall.
Besides them, Novo, Esad Memic, Brstimir, Marac, and TheProd1gy are some of the names we will watch compete for the top prize in the A1AL groups. Also, we are switching to a new FIFA game in this tournament as well, so you will enjoy the best regional players competing in EA SPORTS FC™ 24 from now on.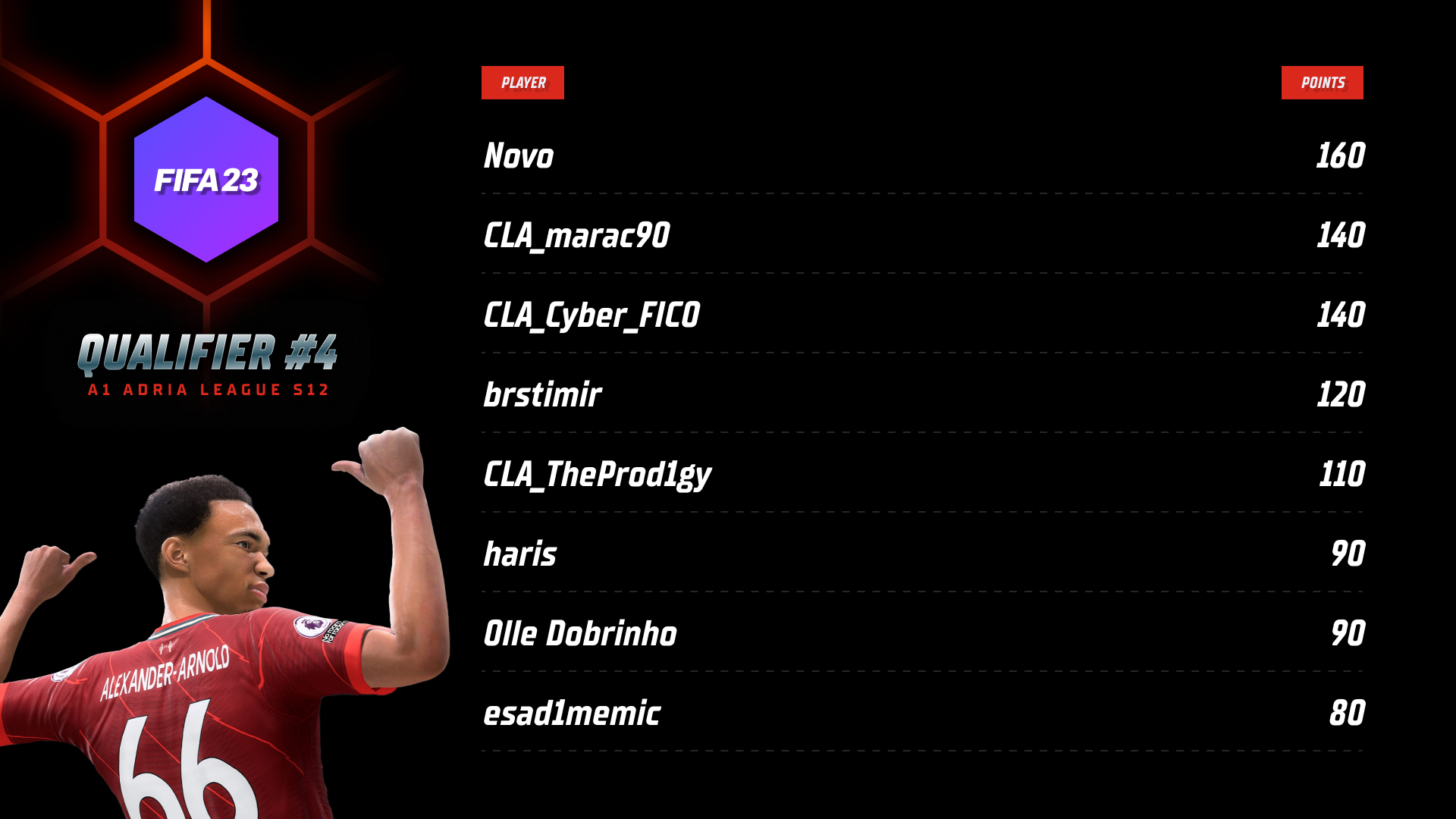 https://a1adrialeague.com/wp-content/uploads/2023/09/image-57.png
627
1210
galadriela
https://a1adrialeague.com/wp-content/uploads/2020/04/A1AL2020-Logo.png
galadriela
2023-09-28 15:28:17
2023-09-28 15:28:17
FIFA games finishing their qualifiers; CS:GO group stage already started in the A1AL!