Clash Royale is back after another week of break. Few changes have happened since our meeting last time. BCBG Esports' roster is now under a different name  – Team LAZR. Fortunately, they only changed their name and not their playstyle.
Totem Esports and Team LAZR were the first ones to step on the battlefield. Totem was superior in the 2v2 set, taking the game without breaking a sweat. Both teams were trading blows in KotH, but LAZR edged it out so we headed into the last set – 1v1. LAZR's Neki Lik managed to triumph over Totem's Davorin and secured a seventh win in a row for his team.
Next up were Team AMG and Team KFC. Team AMG took the lead in the 2v2, but Team KFC quickly responded with a comeback. We then went into KotH, where AMG's Oresti secured his squad a win. After a tough battle in the last set, Team AMG came out victorious and got their first win in this season's group stage.
The last match of the day happened between Tribe Academy and Flayn eSports. Tribe swiftly went through the 2v2 and then Flayn did the same in KotH. The third 1v1 of the day didn't disappoint. Flayn took the initial lead, Tribe responded well and we've had an amazing third game. Fortunately for Flayn eSports, they managed to return home with a full prize.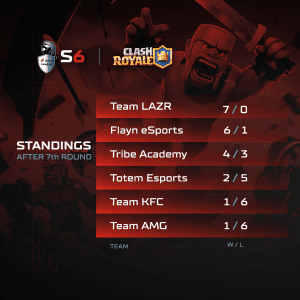 https://a1adrialeague.com/wp-content/uploads/2020/05/crpost-1.png
1080
1920
Marosh
https://a1adrialeague.com/wp-content/uploads/2020/04/A1AL2020-Logo.png
Marosh
2020-10-23 10:33:25
2020-10-23 10:33:25
Team AMG get their maiden win!