As you already know the end of the ninth season of A1 Adria League will be a part of Reboot Online Games Week in Osijek. We have already revealed some of the segments in this season's program. Now we are bringing you a full ROGW schedule, so you can follow your favorite games or some other interesting content.
Five days of ROGW
A1 Adria League S9 finals will be spread out to five days at ROGW this season. The event will start on June the 15th, and it ends on the 19th. Brawl Stars, FIFA22, and CS:GO are waiting for their champions. On Wednesday Salada de Frutas will try to defend the Brawl Stars title, FIFA22 semifinals and the grand final will be played on Thursday and Friday where Novo will seek to find his fourth consecutive title, while the weekend will be reserved for the CS:GO competition.
Apart from the finals and semifinals in these games, Reboot Online Games Week is bringing a lot of different and interesting content. As always My Story segment is making its appearance, and we will hear Sacre, Flegma, and dEE tell theirs. Next week also fans will be able to watch streams from some of the regional stars, such as DoubleAim who will play League of Legends, Darrian Alfy who will have a creative racing stream in F1, and Novke as our CS:GO guest streamer.
On the more serious subject, ROGW is bringing some interesting panel discussions where a variety of guests will talk about different problems, pros, and cons in gaming, such as toxicity and cyberbullying, and many more. At that same time, Osijek will be the host of a Pannonian Challenge, the world-famous competition in extreme sports, and a couple of extreme athletes will also be the guests in our panel segment.
The most important part of the Reboot Online Games Week is the humanitarian segment, where the regional gamers will join in and try to gather as much money for a blind boy Luka, who needs a certain device to be able to normally follow classes and develop without many obstacles.
Here is the full Reboot Online Games Week schedule!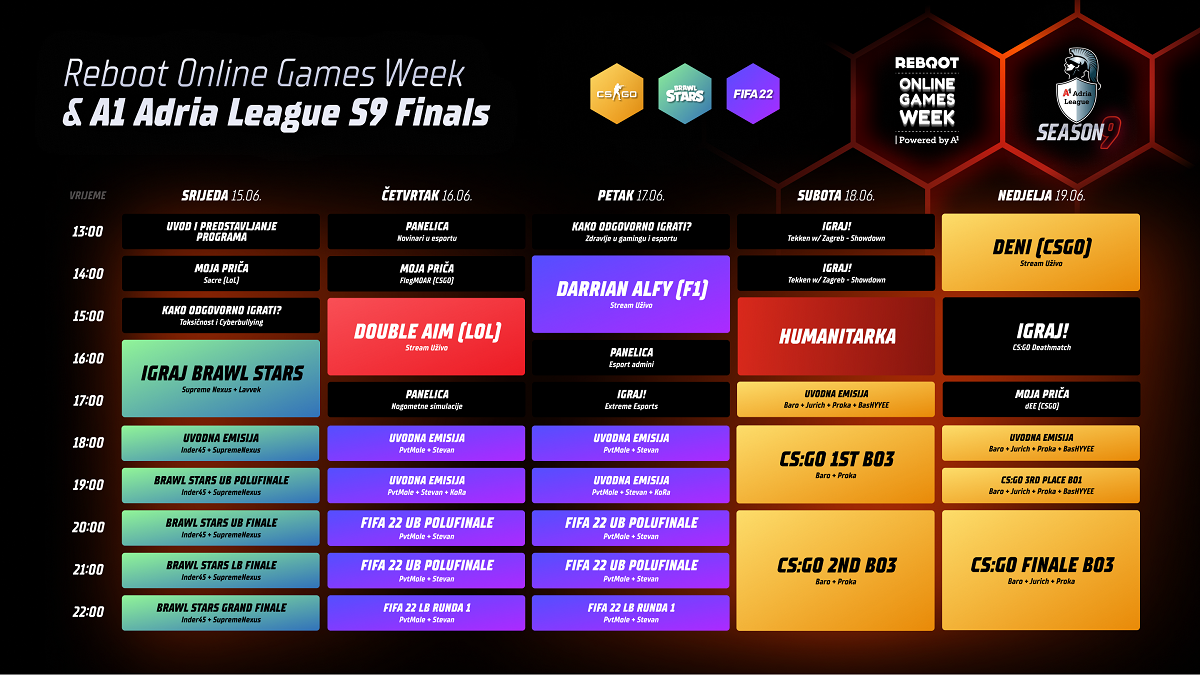 https://a1adrialeague.com/wp-content/uploads/2022/06/file_cover_-_1.png
625
1200
galadriela
https://a1adrialeague.com/wp-content/uploads/2020/04/A1AL2020-Logo.png
galadriela
2022-06-14 17:02:04
2022-06-14 17:02:04
Everything you need to know about Reboot Online Games Week!