Only two Brawl Stars & FIFA A1 Adria League qualifiers remain before the second stage of the League. Alpha Elite and rob1 once again destroyed the competition and further strengthened their place on the top of the leaderboard.
Brawl Stars
QSKE Gaming's Brawl Stars team ended the fifth qualifier in the Round of 16 after a loss to FA Deadly. Good Game bested ULC eSports and Free Agents outplayed Team Placenici without much trouble. Banda Kasharit managed to breeze past Crna ruka, while Easy Win won their match versus APOLLO. In the quarterfinals of the qualifier Alpha Elite once again went to the semifinals after a victory against Banda Kasharit. FA Deadly won their duel against MarkoYouTube's Free Agents and in the last quarterfinal match, Good Game advanced to the semis over Predators.
The first semifinal saw Alpha Elite take a 3-0 victory versus Easy Win. After Mayoi were eliminated earlier in the competition, this served as an ideal chance for Alpha Elite to finally take that first place on the leaderboard. FA Deadly had a stellar performance in their 3-1 victory versus Good Game and secured the second finals spot. Alpha Elite once again topped the qualifiers and added another 100 points next to their name.
Alpha Elite are now in the charge of the Brawl Stars leaderboard with 300 points while Mayoi are close second with 280. Free Agents and Good Game are still pretty close to the first two teams, with 270 and 235 points, respectively. Easy Win are close behind these two, while FA Deadly and So Bad are falling behind more and more every qualifier.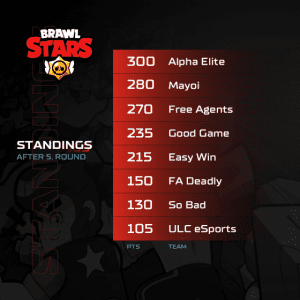 FIFA
Last week's finalist, JasikFIFA, was eliminated early in the Round of 16 by edenn95. The Montenegrin player ArsoDr beat Erminjamak and arminho0307 was the better player in his match against HRVoje-95. In the other, more notable matches brstimir managed to get past HarisBL, while Hardi ended this qualifier after a loss to esad1memic.
rob1 advanced to the semifinals with his victory versus edenn95. Harun came out as the better player in the Bosnian derby with esad1memic, while arminho0307 ended ArsoDr's winning streak in the third quarterfinal. brstimir fell short to Cano 19 11 with the latter securing a matchup against arminho0307 in the semis.
rob1 won the second qualifier in a row after victories against Harun and arminho0307. Harun, who lost the semifinal match against rob1 managed to finish 3rd after a win versus Cano 19 11 in the third-place decider. With these A1 Adria League qualifiers coming to an end, rob1 currently stands strong with 250 points, with arminho coming second at 180.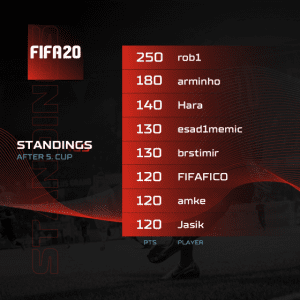 https://a1adrialeague.com/wp-content/uploads/2020/05/qually.png
1080
1920
ElGancho
https://a1adrialeague.com/wp-content/uploads/2020/04/A1AL2020-Logo.png
ElGancho
2020-06-11 16:45:18
2020-06-11 16:45:18
rob1 and Alpha Elite continue dominating in the fifth qualifier!