The final edition of our A1 Gaming Weekend tournaments came to a close recently, with Kepa_PFC claiming the main prize and becoming the A1 Gaming Weekend PES2020 champion.
We saw a massive turnout from the PES players in our region. Over 190 players were split into 32 groups going in into the tournament. After the group stage was finished, only 64 players remained in the BO3 playoffs. Kule and the PESExpert community did a great job of organizing the whole thing and running it without any problems.
Fast forward to the Round of 16, the top players of the tournament faced each other for a spot in the quarterfinals. pongpong_hr and DENDZAMIN outplayed Kaplijev_NS and Vojkec17, respectively, while StefanKure90 was better than Zeusinjo. Koso-93 slipped past PlantifulBat7 and the actual champion of the tournament, Kepa_PFC was better than Flegma_ST. Heading into the quarterfinals, Kepa continued his winning streak with a 2-0 sweep versus Aminzagreb32. MeGustaSrbija secured a spot in the semis, while Aca94dg ended the tournament after losing to the aforementioned player. The last two semifinal spots were filled by StefanKure90 and DENDZAMIN who managed to breeze past Koso-93 and pongpong_hr, respectively.
PvtMole led us through the semifinals in which Kepa_PFC dominated MeGustaSrbija. The second semi was a duel between StefanKure90 and DENDZAMIN which saw the former secure the second spot in the Grand Finals without any difficulties. MeGustaSrbija managed to best DENDZAMIN in the third-place decider and claim his share of the prize pool. In the Grand Finals, we had the chance to see Kepa_PFC beat StefanKure90 after pulling off quite the comeback.
1.Kepa_PFC – €250
2.StefanKure90 – €150
3.MeGustaSrbija – €100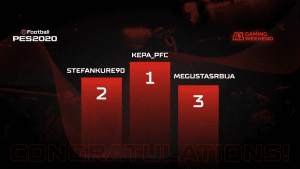 This marks the end of the A1 Gaming Weekend tournaments which were a great way to spend the time between the seasons. The sixth A1 Adria League season begins soon, so make sure to sign up and be the best!
https://a1adrialeague.com/wp-content/uploads/2020/07/Match-announcement-169.png
1080
1920
ElGancho
https://a1adrialeague.com/wp-content/uploads/2020/04/A1AL2020-Logo.png
ElGancho
2020-08-03 13:13:01
2020-08-05 09:15:44
Kepa_PFC wins the PES2020 A1 Gaming Weekend cup!