While Brawl Stars is done for the round, the remaining two titles in the SWISS round still have another playday to go before reaching Round 4 of this season's group stage. League of Legends is a step away from the Regional Playoffs!
CS:GO
The second part of the third round will see the currently unbeaten teams, 4glory and ONYX, clash it out to see who will finish the group stage with a flawless 3-0 score. The reigning champions are facing difficulties as they recently parted ways with two key players in their roster, Filip "aVN" Belojica, and Petar "HOLMES" Dimitrijević. aVN proceeded to join his former rivals, 4glory, and HOLMES's next step is still uncertain. Their match starts at 16h, this Sunday.
When the 2-0 duel comes to an end, it will be time for Good Game and Cobalt Esports to enter the server. Both teams suffered one loss and this round will change much in their approach to the League. The winner will be just one win away from the playoffs, while the losing side won't get another chance if they lose again. The Macedonian squad is facing Lazar "Laza" Nikolić's team at either 18 or 19 o'clock, depending on the length of the previous match.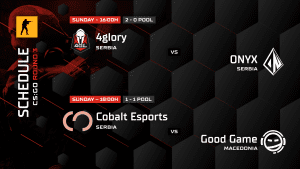 FIFA21
While we will be skipping Brawl Stars this week because of all the matches being played last Thursday, FIFA21 will continue as usual with two derbies on the schedule. Firstly, Filip "FIFAFICO" Babić and Emir "Sulja" Suljović are going to play their match on the virtual stadiums of FIFA, and the better player will be put in the 2-1 bracket with Tarik "amke2001" Novo and Leon "Sardinho213" Šardi.
Armin "arminho0307" Hasanbegović will fight for his chance to stay in the League this week. His opponent will be Marko "klaic" Klaić, who is yet another player who hasn't celebrated a win yet in this season of the league. While the winner will celebrate his survival in the League, the player who will fail to triumph in the match will have to leave the seventh A1 Adria League season.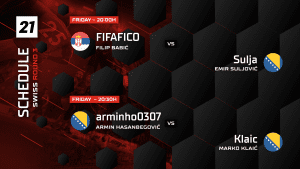 League of Legends
The National Playoffs stage for League of Legends is coming to an end this Saturday, as the teams are close to finishing their respective brackets. Macedonia, Serbia, and Croatia will all have their teams in the upcoming Regional Playoffs stage.  In the Macedonian bracket, Harmony is the leading team, while Brotagonists1g and Reborn Esports will meet in the lower bracket finals. QSKE, Placeholder and Mental Boomers are the three Serbian teams still in play, while in Croatia, Split Raiders, Fantastic Esports and Fiko Izdaja are leading the charge.
https://a1adrialeague.com/wp-content/uploads/2021/04/TWIA.png
1080
1920
ElGancho
https://a1adrialeague.com/wp-content/uploads/2020/04/A1AL2020-Logo.png
ElGancho
2021-05-12 17:53:19
2021-05-12 17:53:19
This week in A1AL: Three titles are a step away from the next stage!