After the players fought hard to earn points in the qualifying stage, it is time to commence our next phase in the FIFA League – the SWISS group!
amke2001 dominant in the qualifiers; brstimir finished second
Tarik "amke2001" Novo was the absolute best player in the five qualifiers that we hosted for FIFA players. He won second place in the first and fifth qualifiers, while he triumphed in qualifiers 3 and 4. These results earned him 340 points in total, 150 more than the second-placed player, Miloš "brstimir" Majdevac. After his victory in the first qualifier, the Serbian player had a string of mediocre results, except his silver medal in the fourth cup.
With 10 and 20 points less than brstimir, respectively, Harun "Hara" Parla and Haris "edenn95" Lukomirak are the next two players on our leaderboard. While Hara gradually earned points during the entire phase, edenn95 managed to overcome all opponents in the very last qualifier and earn the deciding 100 points. His other points came from qualifiers #2 (20) and #3 (50).
DrPecho qualifies for the eighth season!
Petar "DrPecho" Šušnjar claimed the eighth place on our leaderboard and will be making an appearance on his second big tournament in a row, after recently playing the fifth FIFA Adria Prvenstvo season. Besides DrPecho, Đorđe "JasikFifa" Cumbo also secured his spot in the league.
When talking about FIFA Adria Prvenstvo S5, we can also mention that Esad "esad1memic" Memić, the winner of the tournament, qualified for the A1 Adria League once again. With his 160 points, he was tied with another countryman of his, Emir "Sulja13" Suljović.
The final standings of the qualifying stage can be seen below: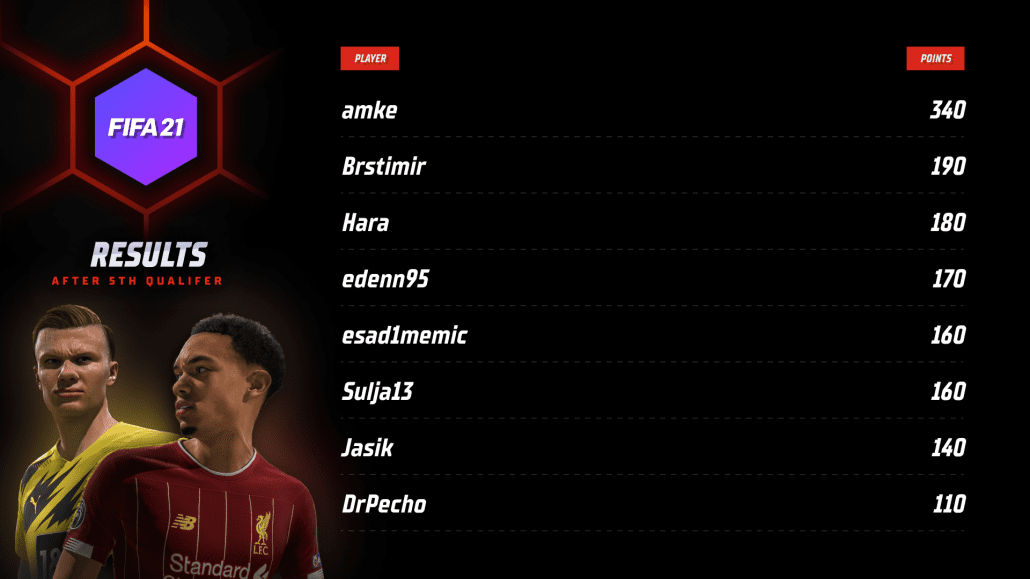 Five great qualifiers are now behind us. Along with the qualified players, we must congratulate players such as Stefan "HardiFifa" Stojanov, Leon "Sardinho213" Šardi, Luka "Lux" Rade, and many more for being a part of the A1 Adria League. We are now a step closer to crowning our new champions. A SWISS stage which will be played on the newest edition of FIFA, FIFA22, will determine the four players that will play the final four stage. After the groups come to an end, we are expecting a double-elimination bracket. Will amke2001 keep his title, or will a new player climb on top of the region?
https://a1adrialeague.com/wp-content/uploads/2021/08/fifa-webb.png
720
1280
ElGancho
https://a1adrialeague.com/wp-content/uploads/2020/04/A1AL2020-Logo.png
ElGancho
2021-10-04 13:51:36
2021-10-04 13:51:36
Are you ready for the upcoming FIFA22 season?