League of Legends made its appearance in yet another season of the A1 Adria League. Much like last season LoL format contains qualifications and playoffs, where the top four teams will compete. The top four contenders for this season are Fantastic eSports, HARMONY, Stara Garda, and Pedantic esports.
Who will lift the trophy?
More than 50 teams registered for this season's qualifier in League of Legends. Unfortunately, there was a bracket limit, so we saw the overall of 32 teams compete for only four spots in the playoff stage. There were a lot of surprises in these qualifications, and we have seen some familiar names compete for the next stage and a chance to be the best team in the region.
On one side of the bracket, it was L9 Exodia and HARMONY who were fighting for the semifinals and a ticket to the playoff stage. In their Bo3 duel, it was HARMONY, the eighth-season finalist, who was stronger. They took the win with a 2:0 score. Pedantic esports did the same with their opponents, also ending the deciding match with a 2:0 win.
The biggest surprise in the past LoL qualifier was Fantastic eSports who dominated the competition, eliminating two very familiar names in the region. They defeated Diamant Esports, who we know from EBL, and 49% winrate who were also in the top four in the eighth season. Diamant Esports not making it to the playoffs is the biggest upset of the season, seeing that in EBL Summer Split they were the third-best team.
The fourth contender for the title is team Stara Garda who defeated team TEMTG with a 2:0 score.
The finals, i.e. playoffs in the League of Legends competition in the tenth A1 Adria League season are scheduled for Saturday, October 15th. The matches begin at 2 PM and the bracket will be double elimination, so there is little space for mistakes. The winner will take a 700€ prize!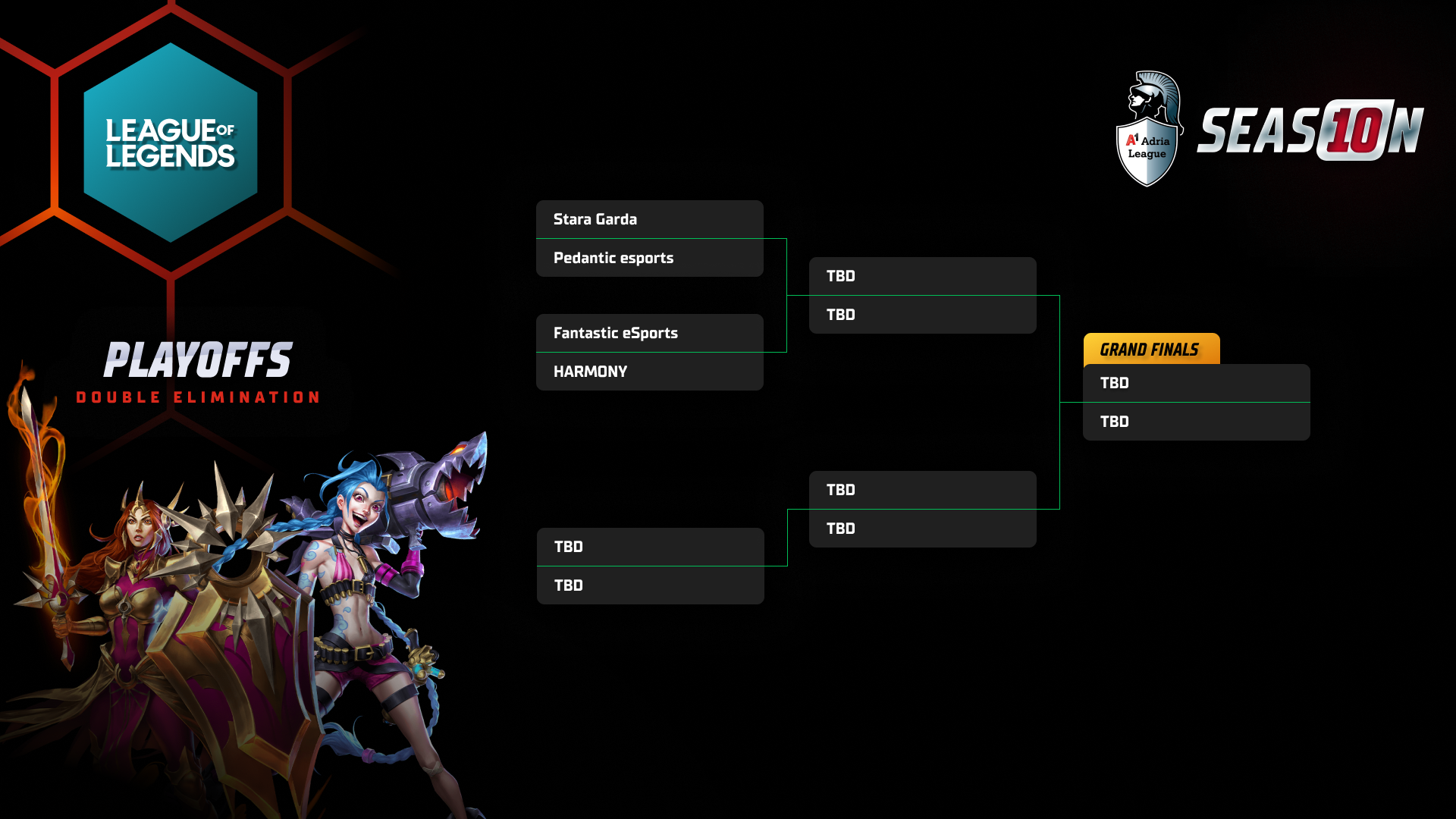 https://a1adrialeague.com/wp-content/uploads/2022/09/A1-Adria-League-LoL-Season-10-2.png
1080
1920
galadriela
https://a1adrialeague.com/wp-content/uploads/2020/04/A1AL2020-Logo.png
galadriela
2022-10-13 20:28:22
2022-10-13 20:28:22
League of Legends playoffs are just around the corner!