A week later than FIFA, Brawl Stars has also concluded its qualifying phase. Here is what happened in our last qualifier for the season!
BalkanTalentsEsport had a great sixth qualifier. Their first opponents were Ez Clappers, whom BalkanTalentsEsport bested with ease. Next, they faced pop off, another team with a similar number of points. After they won that duel, they were the first team to advance to one of the semifinals, and their final enemies before the grand finals were Dominjo carry. Dominjo carry were ready to make a finals appearance after going throughout the entire qualifier without many problems, but BalkanTalentsEsport stopped them in their tracks.
A thing unseen so far in the eighth season happened today. Salada de Frutas, the absolute favorites of this season, didn't want to play today and gave free win to Omert4 in the earlier stages of the qualifier. OMERT4 also outplayed Winx Club and Reborn Legends Esports. The final qualifier of this season concluded with a great match between OMERT4 and BalkanTalentsEsport, and together with Inder45, we watched how both teams fought fiercely to get the last 100 points. Omert4 succeeded in defeating BalkanTalentsEsport and claimed the prize in the end.
With the qualifying phase coming to an end, we know the eight SWISS stage participants: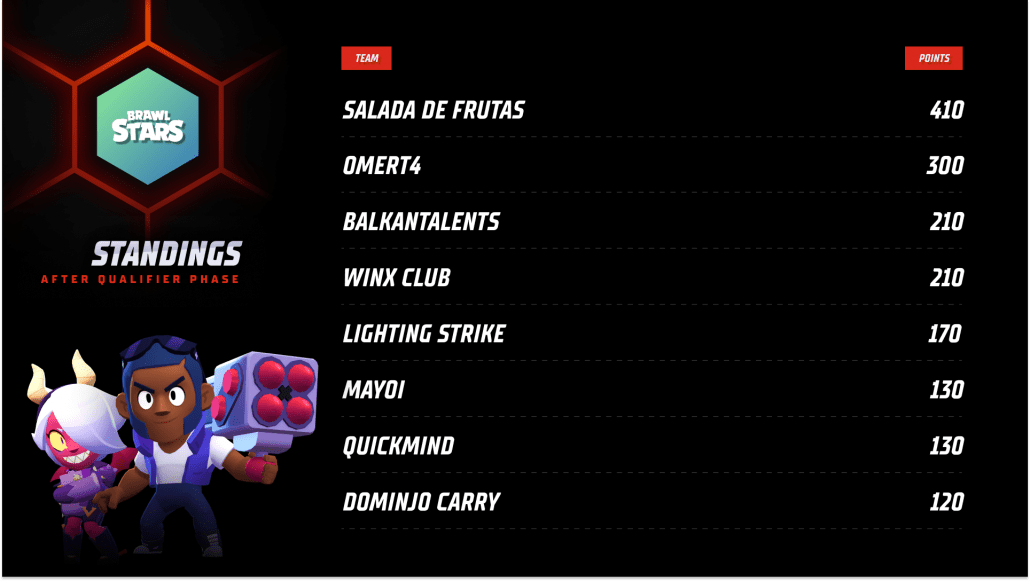 https://a1adrialeague.com/wp-content/uploads/2021/08/v2.png
720
1280
ElGancho
https://a1adrialeague.com/wp-content/uploads/2020/04/A1AL2020-Logo.png
ElGancho
2021-09-30 20:41:26
2021-09-30 20:43:59
OMERT4 conclude the Brawl Stars qualifying stage with a win!