Just like last year, Reboot Online Games Week is here to entertain you with the A1 Adria League finals along with incredible esports-related content for five whole days!
Starting on the 16th of June and lasting until the 20th, this second Reboot Online Games Week will once again present our fans and followers with tens of hours of unique content. Most of the segments of the show remain the same as in the Week's first iteration – we will watch the Panels, "Moja priča" ("My story"), STREAM Uživo, and we will once again play Brawl Stars with Lavvek and Inder. We are once again stationed in three different studios – each one producing content connected to the gaming and esports industry. Expect to see new stuff every hour and be ready to participate in all the different giveaways Reboot and A1 Hrvatska have prepared for you.
When it comes to A1 Adria League – the latter half of Wednesday will be reserved for the Brawl Stars finals, while on Thursday and Friday evenings, the best FIFA players in the region will meet on the field and fight for the champion's title. Just like the rest of the season, Saturday will be dedicated to League of Legends, and on the final day, Sunday, we are watching the two semifinals and the CS:GO Grand Finals!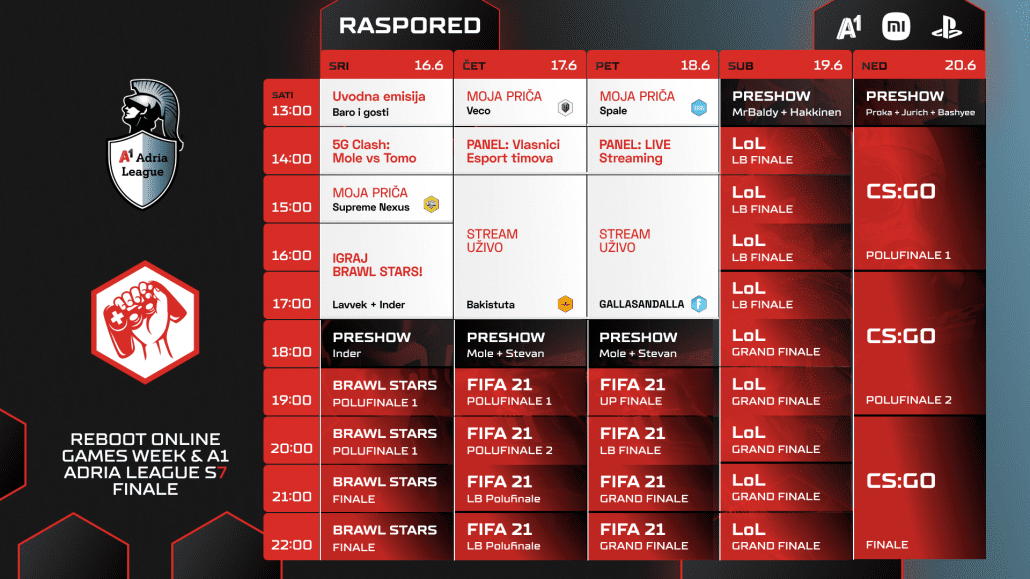 PANEL – For our Panels on Thursday and Friday, we will cover two important topics. First, we will host owners of famous regional esports organizations and have them discuss how is it to run an organization in our region. Friday is dedicated to a LIVE Streaming panel with streamers talking about their journey, their daily life, streaming careers, and much more!
MOJA PRIČA – Just like last year, Moja Priča, or My Story, will present to all of you the stories of some prominent names in our region. This time joining us will be Supreme Nexus, Veco, and League of Legend's Zero Tenacity manager, Spale. Their stories will be running from Wednesday through Friday, so make sure to check them out.
STREAM Uživo & IGRAJ – Before we get to the intense Brawl Stars and FIFA action, we will be able to relax with some of the regional streamers. On Wednesday, our followers will play matches with or against our Brawl Stars commentator, Inder, as well as Noble Elite Red's Lavvek. Bakistuta is going to entertain us on Thursday and Gallsandalla is with us on Friday!
Once again, watching and being a part of the Reboot Online Games Week is completely FREE! We will be happy to have you on our shows in the upcoming week. Feel free to check out Reboot Online Games Week's website for more information and follow the schedule above to catch all of the content next week!
https://a1adrialeague.com/wp-content/uploads/2021/06/a1alrogw.png
1080
1920
ElGancho
https://a1adrialeague.com/wp-content/uploads/2020/04/A1AL2020-Logo.png
ElGancho
2021-06-13 16:14:00
2021-06-13 16:14:00
It's GAME TIME! Reboot Online Games Week returns next week!