The title that was finally back after being featured in the first season, FIFA, showed us that the region still has it when it comes to our virtual footballers. We watched seven qualifiers unfold as the best of the best kept delivering and made a great show for anyone interested in the game. The SWISS and playoffs stage finished recently and now, we have a new FIFA A1 Adria League champion.
Jasik had a clean 3-0 score in the SWISS league, while HarisBLrob1 was eliminated without getting a single win. esad1memic and amke2001 booked a spot in the playoffs with a 3-1 record. In the fifth round, rob1 was the player who got the W and advanced to the next stage of the tournament.
Jasik outplayed rob1 in the first semifinal. Both the matches finished with Jasik having a three-goal lead at the end. After a 3-0 loss in the first match, rob1 lost the second game as well, this time, the final score was 4-1 in favor of Jasik. The second semi was pretty close as esad1memic won the first two games with a single goal advantage. At the final whistle of the referee, esad1memic won the matches with a 2-1 and 3-2 results, respectively.
In the third-place decider, amke came out as the better player. And after an amazing Grand Final match that our caster PvtMole commentated, esad1memic was crowned the best FIFA player in the fifth season of A1 Adria League.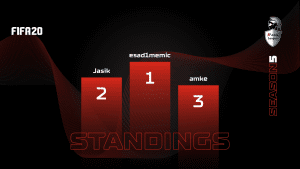 All of the top players will soon collect their earned rewards and Esad "esad1memic" Memić now has the A1 Adria League winners belt under his name. We want to thank all the players that participated in the qualifiers, and the number reached over 400. Thanks to the admins and the guys from the FIFA Balkan Community, and we will be glad if this tournament helps their community grow and develop even more. As for the players who didn't end in the top eight, keep practicing and we will see you in the next season!
https://a1adrialeague.com/wp-content/uploads/2020/05/fifa.png
1080
1920
ElGancho
https://a1adrialeague.com/wp-content/uploads/2020/04/A1AL2020-Logo.png
ElGancho
2020-07-05 18:19:08
2020-07-05 19:14:53
esad1memic wins the FIFA season after an incredible final and a penalty shootout!