The first A1 Gaming Weekend tournament showed us just how good the regional R6: Siege scene really is. We had the chance to see over 20 teams battling it out for their share of the €650 prize pool. basHYYEE and med1czz further improved the quality of the tournament with a wondeful casting day, and we are grateful to the players and the staff for their efforts in making the first A1 Gaming Weekend cup a big success.
The first A1 Gaming Weekend cup comes to an end after an amazing final!
Most of the teams advanced to the Round of 16 by default, but we were able to see Nerva beat Koper4 and BigW outplay neLos big nose in the first round of the cup. The first match featured on stream was the duel between Judge Knows and Trokut Reborned. After a convincing lead in the beginning by Judge Knows, Trokut were able to turn around the game and win the match in overtime. GASERI and Mendoza were better than Ace7 and GameON Exiles, respectively, while Nerva breezed past TF-141.
The broadcast followed BigW's one-sided victory against Mendoza in the quarterfinals, while the other match in that side of the bracket saw Trokut secure a spot in the semifinals over GASERI. Slav Team Six and Nerva rounded up the second semifinal matchup as they managed to move past Kerber and Cesta 2 Esport. It took 11 rounds for Nerva to beat Slav Team Six and qualify for the Grand Finals. In the other semifinal, we got the other finalist, and it was no other than Trokut, who continued their phenomenal performance in the match versus BigW.
It was a really fun tournament – lots of familiar faces and ex-teammates, some of which even played in TrokuT. I always love to see great Adria tournaments like this one, it brings the best of us and offers us a chance to improve as well as show what we got individually. But Siege is and always will be a team game, we wouldn't have won anything without a full roster of fantastic and quality players! HeRi with his insane mechanical skills and top-level fragging, Tekma with the calm and collected game-winning plays on his birthday, Voya with his IGL work showed us various ways to dismantle the enemy defenses, few round winning clutches as well, and Domyy, ex NERVA player that carried us to victory in the first map against them as well as showing up throughout the whole tournament!

I would like to thank them because without them the title would not be possible. We didn't have much time to practice as we got together 5 days before the tournament started but we used that time well and it paid off. I would also like to thank the casters for their amazing job, A1 for organizing this tournament and great admins and support we got during it! I hope for more of this in the future!

SoulSeekeR, Trokut Reborned
The Grand Finals started on Coastline and saw Trokut get a 7-5 victory in the first map of the final match. Kafe Dostoyevsky went even better for the team led by SoulSeekeR and with a 7-1 win, they managed to dominate the competition and secure the grand prize of €350.
These are the Top 8 R6: Siege teams of the first A1 Gaming Weekend tournament:
1.
Trokut Reborned – (SoulSeekeR, tekMa_, Domyii, voya_, HeRi) – €350
2.
Nerva – (sprMarko, BudaBot, Meawen, Oincky, Tomix) – €200
3.

Slav Team Six – (Remains, kaosx, MR4V, Virch, DrateR) – €100
4.
BigW – (txrci, BruNNo, Monstr, cookieqe, apo)
5-8.
GASERI – (Genitech, Kovakralj, FrKly, LostAlice, Lakiiz)
5-8.
Kerber – (xChodex, shred, Dut, CowTipper3, DarkVader)
5-8.

Mendoza Gaming – (Le., Pavel-.-, KRAN-G, nekiok, dripchina)
5-8.

Cesta 2 Esport – (AVMatic, JonyBoii, Josip288, N1K0, Zayn1209)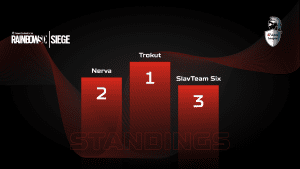 We are proud to say that the first A1 Gaming Weekend cup is a success. More info about the next title that will be featured in the A1 Gaming Weekend event, Rocket League, is coming soon.. Stay tuned!
https://a1adrialeague.com/wp-content/uploads/2020/07/r6ss.png
560
995
ElGancho
https://a1adrialeague.com/wp-content/uploads/2020/04/A1AL2020-Logo.png
ElGancho
2020-07-18 22:41:40
2020-07-19 16:51:47
Trokut Reborned win the first A1 Gaming Weekend cup!