PES2021, the first A1 Gaming Weekend game for this year, is now behind us with Roksa taking the title after beating his mentor in the grand finals.
A number of 156 players signed up for our PES2021 tournament. Players from all over the Adriatic region hopped on the field and played against each other for the grand prize of €200.
As the numbers thinned and the best of the best survived, the final rounds of the cup were a joy to watch. Pedjapedja16 beat Eduka1993, while boki_todor fell short to Roksa. On the other half of the bracket, Kepa_PFC, the reigning champion of the PES A1 Gaming Weekends bested Djole95 and in the other match, spora95 won against GRT_pipeGSW.
Even after a great win against Eduka, Pedjapedja couldn't beat Roksa who managed to become one of the finalists and secure a match against his teammate from AS Roma, Kepa_PFC.
The final match between Kepa and Roksa was even better because of all of the history that these players have together. Namely, before playing for AS Roma, both of them were a part of FC Nantes so they had a lot of chances to play against each other and learn the tricks that each of the players had. Also, Kepa being the more experienced of the two is considered to be a mentor-like figure for Roksa who is newer to the scene.
Roksa pulled off an amazing win against his AS Roma teammate. The first match finished 3-2 in favor of the young gun which gave him an early advantage going into the second match. There, the match ended with the same result but this time, the winner was Kepa which meant that the match was going to a decider game. The third game was a spectacle – Roksa outplayed Kepa_PFC 3-1 and was crowned the champion of this first A1 Gaming Weekend.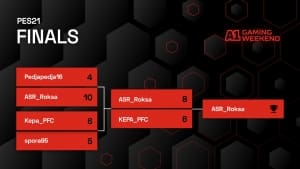 The first exciting A1 Gaming Weekend for this year is finished. The most skilled PES2021 players will split the prize pool in the following manner:
1. Roksa – 200€
2. Kepa_PFC – 100€
3. Pedjapedja16 – 50€
While we are waiting for the next season of the League to begin, make sure to sign up for our upcoming TEKKEN 7 tournament which will be played on the 13th of March!
https://a1adrialeague.com/wp-content/uploads/2021/03/pes2021gw-e1615128214472.png
589
1191
ElGancho
https://a1adrialeague.com/wp-content/uploads/2020/04/A1AL2020-Logo.png
ElGancho
2021-03-08 10:37:47
2021-03-08 10:37:47
PES21: Roksa upsets Kepa_PFC to win A1 Gaming Weekend!