As you already know, due to the ongoing COVID-19 pandemic and regulations surrounding it Reboot InfoGamer won't be taking place in its true form this year. But, that shouldn't worry you too much because Reboot Online Games Week is officially a thing.
The aptly named Online Games Week has most of the information already in the title, but just to be sure: it's a regional online gaming event and faire that's organized by Reboot and powered by A1, with the support of the Croatian Ministry of Culture.
The event will last from 23rd to the 29th of November. With over 200 hours of amazing gaming content from three different studios – each one in its own theme field – every visitor will be able to enjoy the occasion like it has never been done before. You can expect everything – from indie game dev projects to the biggest regional esports event – the A1 Adria League finals. Of course, since InfoGamer is well-known for its giveaways and goodies, those will also be a part of the online event, but in a more digital atmosphere.
On A1 Adria League's channels, you'll be able to watch some of our biggest regional esport players and content creators stream their favorite games. The  "My Story" segment is going to tell the tale of how several known regional esports figures got to where they are now, we'll play fun exhibition matches and top it all off with a big charity event.
There's going to be different panels, each one with either esport players or/and journalists. The end of the week is reserved for the most special matter –  the Clash Royale, Brawl Stars, Counter-Strike: Global Offensive, and FIFA21 finals that will be broadcasted on our channels to see who's going to end up on top in what has been a very exciting season.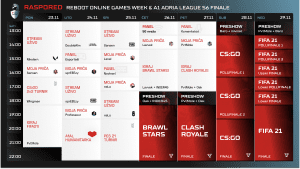 STEAM UŽIVO – Some of the best regional streamers will spend time with our followers and play their iconic games during the week. Streamers and players like Nikolarn, DoubleAiM, Sansen, and neLo will take part in the Games Week in order to make the upcoming week even more entertaining for everyone. You're welcome to jump in, ask questions and hang out!
MOJA PRIČA – "Moja priča" or "My Story" will be a series of videos recorded and dedicated to the careers of different people who managed to make it out in the competitive esports field. Whether you would like to hear about how did sprEEEzy become so good at different games, how Professeur became a part of HLTV's writing team or how did neLo join Natus Vincere's R6: Siege squad, we have got just the thing for you.
IGRAJ – If you wanted to play a game or two with the most talented regional players and streamers – now's your chance! You can join in during our FIFA21, Brawl Stars, and Clash Royale segments and compete with or against the A1 Adria League players and/or staff.
TURNIRI – If you prefer more competitive play, then we got something for you. Our followers will have the chance to take part in some casual cups and earn valuable rewards for your time. If CS:GO or PES are your thing, you can sign up and play with other players in the region. More information to follow soon..
PANELI & HUMANITARKA – We will have panels for journalists, players, and casters alike. We will also spend this week donating to the people who need it the most – we will donate money to Dječji Dom Vrbina and we will also host a charity 5v5 mini-cup which will see ten streamers play against each other with the winners donating €500 to a charity of their choosing.
Oh, and did we mention that all this is going to be free? Yes, you've read that right – you can tune it at any given time of the day without the worry of spending a single kuna and enjoy the best content that Reboot and A1 Adria League can offer. Of course, also follow our social media pages to find out more details about matches and upcoming events!
https://a1adrialeague.com/wp-content/uploads/2020/11/reboot.png
1080
1920
Marosh
https://a1adrialeague.com/wp-content/uploads/2020/04/A1AL2020-Logo.png
Marosh
2020-11-19 15:39:28
2020-11-25 13:55:36
Get ready for Reboot Online Games Week