A1 Adria League
Yet another FIFA22 qualifier is concluded. Many great players participated in this qualifier of the A1 Adria League, some familiar and some new ones. While the first qualifier went into the hands of a well-known Esad1memic, we have seen a new name winning the second one. Zizou managed to defeat the great three-time champion amke2001 and earn 100 points. This qualifier is not any different, again we have seen a veteran and a new player fighting for the most points.
Brstimir is back in the TOP 8!
Many of you probably wondered where was Milos "brstimir" Majdevac in the last two qualifiers. He is a familiar face in our tournament and he made quite a statement today. While he was silent for the last two ones, he decided now is the time to break the silence, and he did it in the best way possible, securing a top spot in this qualifier and a whopping 100 points. Brstimir only signed up for the 3rd qualifier, but it might be enough for him to secure his spot in the TOP 8.
Brstimir has had a difficult path towards the final, but for players like him, losing is not an option. Beating Esad "Esad1memic" Memic, who came victorious in the first qualifier, and Marko "Mrky2402" Matancic he secured his place in the final where he had to face our new surprise of the season Enes "Encika" Hodzic.
Encika did manage to earn 20 points in Qualifier #1. But this time, he managed to set his own tempo for every single game. He does prefer, as he said " Atletico Madrid " playstyle, but it perfectly fits the meta, and if it can grant him wins, it's totally approved! Brstimir won 2-0 against Encika in the final, but Encika was the one who surprised everybody with his abilities, and he proved that beating Petar "Pecho" Susnjar and Haris "Eden" Lukomirak was not just another lucky day at the office.
We still don't know who will advance to the next stage and enter this season's A1 Adria League, but one thing is sure. The battle will be legendary. The competition this season is unbelievable, but unfortunately, not everyone can continue their journey to the top. While Esad1memic is still at the top of the table, new players like Zizou and Jero are right behind him, with Brstimir on their heels.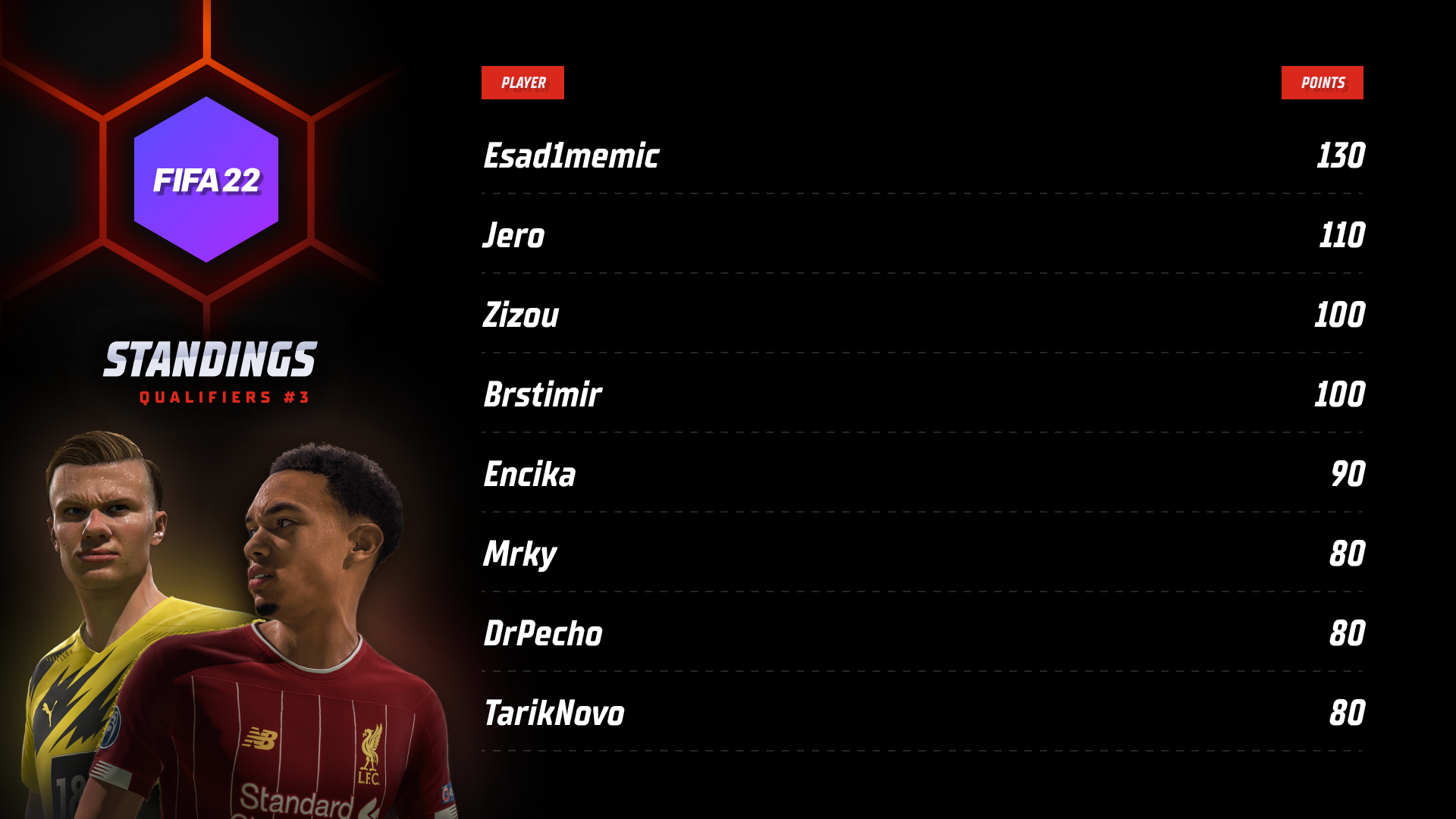 Once again, we have had a chance to see someone new in the finals. Some players have certainly secured their spot in the TOP 8, but some of them will have to show their best in the last qualifier! The last qualifier is being held next week, so hurry up and sign up HERE because you still have a chance to advance to the group stage and beat the best regional FIFA players!
https://a1adrialeague.com/wp-content/uploads/2022/03/FIFA_22_A1AL.png
720
1280
galadriela
https://a1adrialeague.com/wp-content/uploads/2020/04/A1AL2020-Logo.png
galadriela
2022-04-13 20:24:07
2022-04-13 20:25:35
The great return of Brstimir in the third FIFA22 qualifier!