A1 Adria League
The first FIFA 22 qualifier for the ninth season of the A1 Adria League is finished. It's just first out of four qualifiers which means there is still enough time to earn those valuable points and qualify for the group stage. The bracket for the first qualifier was full with 64 players trying to secure their spot in the League. Just a reminder in case you missed it. Every qualifier is open for sign up and the top 16 players earn points.
Esad1memic shines, amke2001 out in the first round
The three-time champion Tarik "amke2001" Novo had a rough start in the first qualifier. He shockingly lost in the first round to Marko "mrky2402" Matančić. Luck wasn't on mrky's side and he was stopped by Armin "arminho" Hasanbegović in the third round. After the win against mrky, arminho was cruising through the competition until reaching the semifinals. Esad "esad1memic" Memić was too strong of an opponent. Both players know each other pretty well and this time esad1memic was better. On the other side of the bracket, we had the biggest surprise of the first qualifier.  Karlo "jero" Jerekin managed to beat some well-known names to reach the grand finals of the first qualifier in his first appearance in the A1 Adria League. He is a part of FIFA Balkan Community for some time now but just this year he decided to compete in the League.
The grand finals kicked off in an amazing way. Esad1memic had a 2-0 lead but jero managed to claw his way out of it and take the game into extra time but it wasn't enough. Esad1memic managed to close it out 5-3. The second game also went into extra time after 2-2 during the first 90 minutes. Similar to the first game, esad1memic being the more experienced player, managed to win by scoring another goal in extra time.
Alongside jero, we saw Enes "Encika" Hodžić and Andrija Kodžoman win 20 points in their first qualifier as well.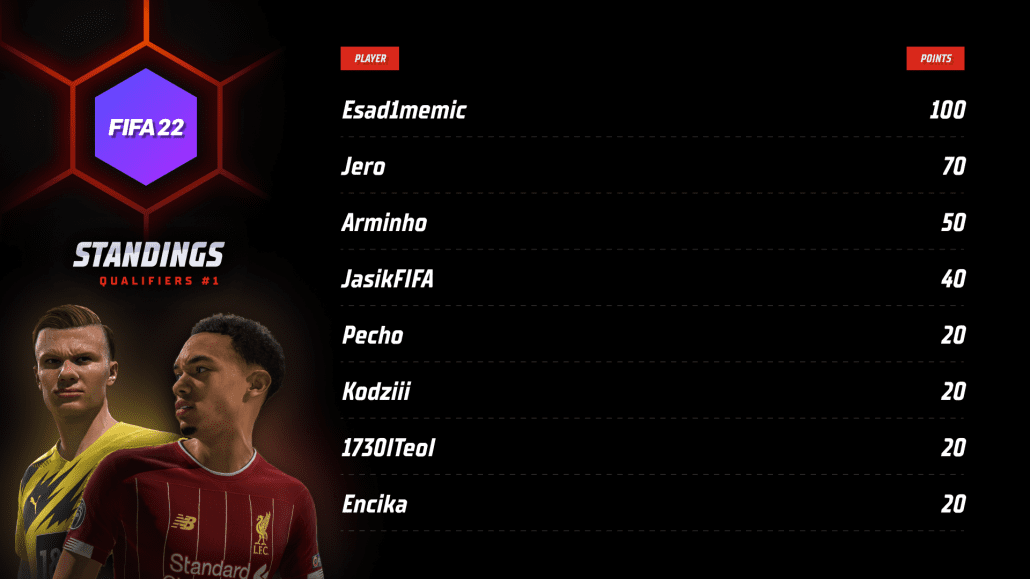 Our next FIFA 22 qualifier will be played next Friday, April 8th, and you can register for it HERE!
https://a1adrialeague.com/wp-content/uploads/2022/03/FIFA_22_A1AL.png
720
1280
Luka Marušić
https://a1adrialeague.com/wp-content/uploads/2020/04/A1AL2020-Logo.png
Luka Marušić
2022-04-01 20:11:55
2022-04-01 20:12:39
Esad1memic takes the first FIFA 22 qualifier