A1 Adria League
We are halfway done with FIFA22 qualifiers. The matches are always more than interesting, as we have shown so far. The same will be for the remaining two qualifiers where the best regional FIFA players will battle for a spot in the group stage of our A1 Adria League. Some of the players have already shown commitment and desire to enter the league but it remains to be seen who will succeed in the end.
Zizou defeated the three-time champion amke2001
The last week we have seen Esad "esad1memic" Memic winning the first qualifier and taking the most point. He didn't manage to repeat his success this Friday and ended his path in the second round of the tournament. He was not able to find a way to beat Marko "mrky2402" Matancic. Unfortunately, Mrky also got relegated one round after. While Nick "Nh_Panic87" Holste cruised through the bottom side of the bracket. But who else would stop him if not our three-time champion Tarik "amke2001" Novo, who got 5 goals past Nick's goalkeeper in 2 games.
The upper side of the bracket was mainly dominated by Croatian players. This is the first time for Croats to show this level of domination in the A1 Adria League qualifier. As Karlo "jero" Jerekin last week beat some of the known FIFA players in his first-ever qualifier in A1 Adria League, Luka "Zizou" Simunac replicated his success and reached the finals for the first time too in our League.
He fearlessly entered the first match against amke2001 and got his first well-deserved win 3-2, putting him 1-0 in the best of 3 series. The second game was a cautious one for both players, but in the end, Tarik "amke2001" Novo came out victorious scoring in extra time. Tarik furiously opened the decider match scoring right after kick-off. But Luka came back and secured another extra time after a 2-2 score in 90 minutes. But this time he was superior in extra time and secured 100 points winning 4-2 in the decider match.
In the end, amke2001 redeemed himself for the first qualifier, while another rookie showed how this season's fight for the FIFA trophy will be a close one.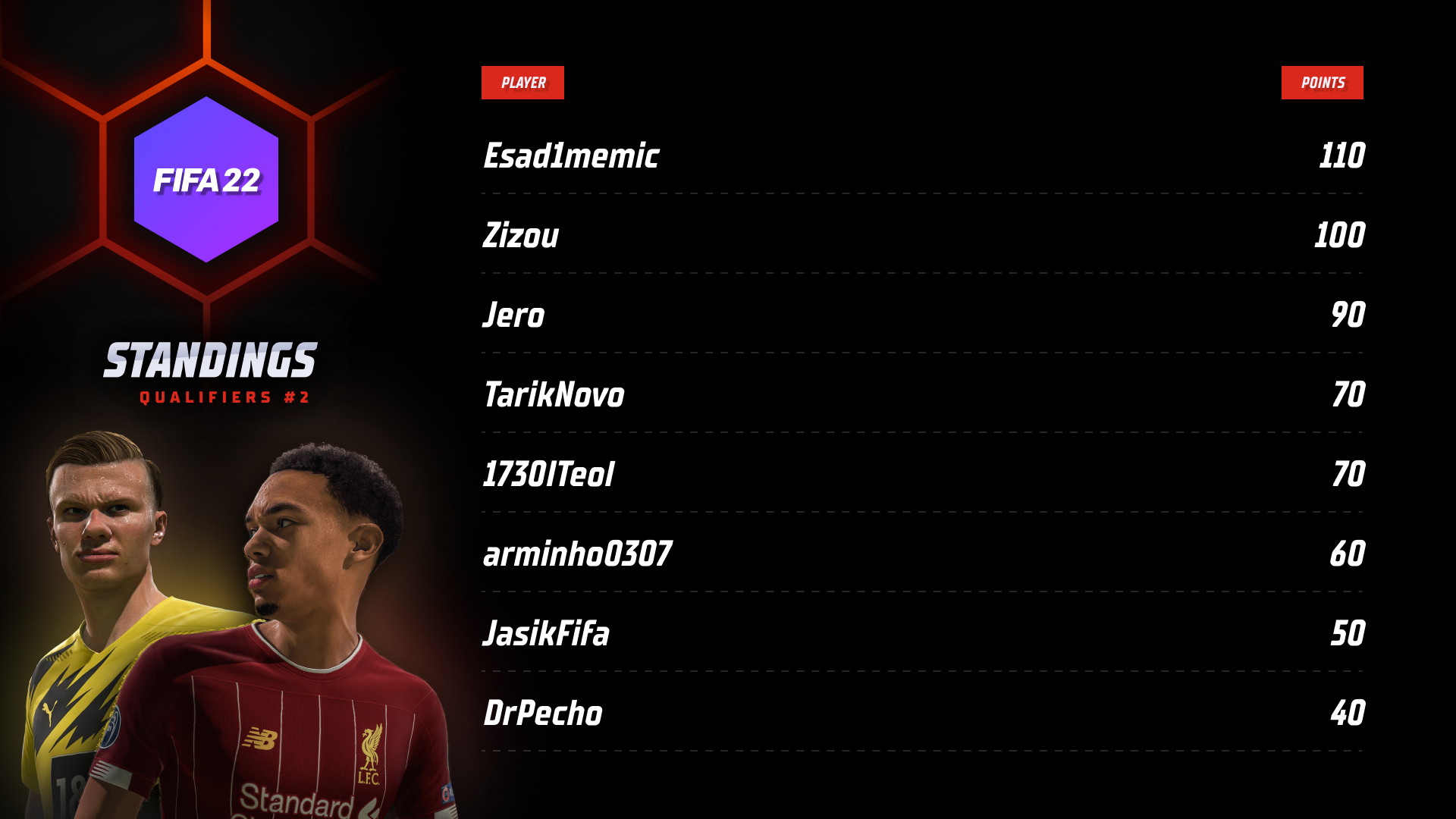 The second FIFA22 qualifier is over, while the third one is scheduled for next week. It will be held on Wednesday, April 13th, instead of on Friday, and you can sign up for it HERE. Don't miss your chance to become the greatest FIFA player in the region!
https://a1adrialeague.com/wp-content/uploads/2022/03/FIFA_22_A1AL.png
720
1280
galadriela
https://a1adrialeague.com/wp-content/uploads/2020/04/A1AL2020-Logo.png
galadriela
2022-04-08 20:10:10
2022-04-08 20:18:50
New player Zizou is the winner of the second FIFA22 qualifier!