Round 3 saw a total of three matches in which Salada de Frutas advanced to the playoffs, while QuickMind were eliminated.
Because QuickMind surrendered their elimination match versus Balkan Talents, they were disqualified from the league, with 0-3 being their win-to-loss ratio this season. That meant that Balkan Talents would get their first win, even though they didn't play a match today. When talking about the lower half of the bracket, it is worth mentioning that Lightning Strike suffered a hard loss against Mayoi and are now a part of the 1-2 pool.
Lightning Strike's player, sumke, recently stated that this would be their most important match this season, and it certainly didn't end up well for them. In the meantime, as also stated by sumke, Salada de Frutas kept their incredible form and dominated Winx Club in the winners' decider match. Omert4 ended their day with a win as well, and their opponents, Dominjo Carry, are now just a step away from being eliminated from the eighth A1 Adria League season. With this round behind us, Mayoi, Winx Club, and Omert4 have the highest chances of reaching the playoffs, where Salada de Frutas will be waiting for them. On the other hand, it is possible that two out of three teams in the 1-2 pool (Lightning Strike, Dominjo Carry, Balkan Talents) will leave the League in Round 4. Make sure to tune in next Thursday and support your favorite team – it will only get tougher and tougher!
These are the current Brawl Stars standings: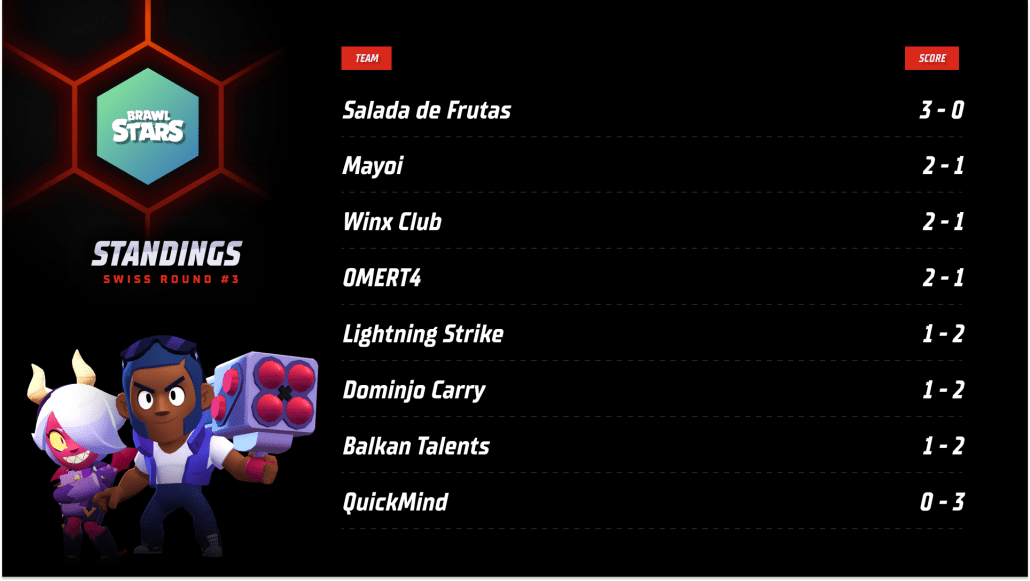 https://a1adrialeague.com/wp-content/uploads/2021/08/v2.png
720
1280
ElGancho
https://a1adrialeague.com/wp-content/uploads/2020/04/A1AL2020-Logo.png
ElGancho
2021-10-21 20:46:18
2021-10-21 20:46:18
Salada de Frutas advance to the Brawl Stars playoffs!