The first week of qualifiers is now behind us. Our FIFA players and Brawl Stars teams earned their first points, and in CS:GO, three teams secured their spot in the group stage of the upcoming A1 Adria League season.
Brawl Stars
Two of the four qualifying Brawl Stars cups were played out during the weekend. We were met with a change of pace in the first qualifier. Good Game Gold and Red, the teams that dominated the last season, faced each other in the first round and the Gold players were eliminated. The Red squad didn't have much better results either, losing to Immortal Balkans, but they managed to snatch 20 points, finishing this qualifier 5-8th.
O9 Gang triumphed in the first cup after beating Mayoi in the finals. Except for these four teams, Wolfs, QSKE Gaming 5M Gaming Elite and Ekipa 69 also won their share of points.
On Sunday, 32 teams entered the Brawling arenas to battle it out and try to qualify for the seventh A1 Adria League season. Good Game Gold and Red did better this time around, but the up-and-comers once again bested them. Lil surprise took the main prize while Wolfs came in second. Good Game Red, Ekipa 69, Crna ruka and Mayoi placed 5-8th and Good Game Gold and O9 Gang finished in the top four.
FIFA21
The FIFA qualifiers started off with a massive bang in the second qualifiers. A player from Bosnia and Herzegovina, klaic, bested arminho0307, Sivii7 and finally, esad1memic, to win the second FIFA21 A1 Adria League qualifier. klaic is a player that has played plenty of FIFA in the past, but this is allegedly his first competitive tournament.
The previous cup was won by amke2001. FIFAFICO was unable to defeat him in the finals and only got 70 points. esad1memic ended this qualifier as the third best player, followed by HRVoje-1995. The top 8 was completed by brstimir, xMarjus, Hara and Sardinho213.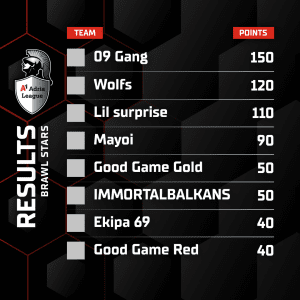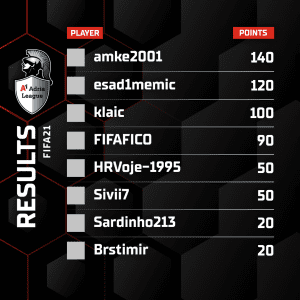 CS:GO
Around 60 teams signed up for the first CS:GO qualifier. Good Game, INSOMNIA, SKUAK Gaming, Cobalt Esports, Locco Contigo, Onlinerss, MIX and Qske Gaming were the teams that managed to advance do the closed qualifier.
Two great victories against SKUAK Gaming and QSKE placed the Macedonian team Good Game in the League. The second team to follow them were Onliners who had beaten Cobalt Esports and INSOMNIA in the this stage of the qualifying process. In the end, these two sides were joined by Cobalt who outplayed QSKE in the third-place decider.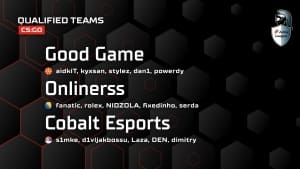 The next qualifiers are starting soon. Head out to our Games page, SIGN UP, and become the next regional esports superstar!
https://a1adrialeague.com/wp-content/uploads/2021/03/najava12.jpg
1080
1920
ElGancho
https://a1adrialeague.com/wp-content/uploads/2020/04/A1AL2020-Logo.png
ElGancho
2021-03-23 17:43:49
2021-03-23 17:44:40
One step closer to the Group Stage!