Do you remember the A1 Game Nights? You got to chance to play different games with your favorite streamers and players, and we all had plenty of fun. Well, good news for you – we have a similar concept prepared for you for the Reboot Online Games Week.
IGRAJ is a portion of the one-week long event that will cover three different games – Clash Royale, Brawl Stars, and FIFA21. Prominent names from the scene will play with or against you on three occasions. On Monday, right after the CS:GO 2v2 Wingman tournament, PvtMole will meet the regional FIFA21 players and play with you for THREE whole hours.
Next up, on Thursday, Lavvek and Inder45 will play Brawl Stars starting at 15 o'clock. Lavvek, Good Game's star player along with our caster and YouTuber, Inder, will spend two hours competing with Brawlers from our region before the start of the A1 Adria League Brawl Stars playoffs.
The next day we will have the chance to watch Clash Royale. PvtMole will once again play viewer-games, this time, in Clash Royale's arenas. Joining him will be Oak who has been an administrator for the League for a pretty long time. Oak and PvtMole will see whether they are able to defeat the upcoming Clash Royale talents or they are simply too old to compete with the young guard.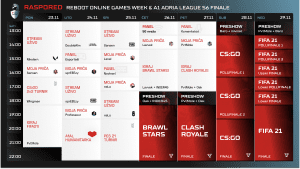 https://a1adrialeague.com/wp-content/uploads/2020/11/Igraj.png
1080
1920
ElGancho
https://a1adrialeague.com/wp-content/uploads/2020/04/A1AL2020-Logo.png
ElGancho
2020-11-22 17:48:17
2020-11-25 13:54:54
Play with your favorite streamers during the Reboot Online Games Week!