Marten Gaming, PORTUGAL, and both 4glory squads battled it out in the first playday of our second SWISS round for the season.
Whereas all our matches last Sunday went to three maps, this wasn't the case today. Safet "giGOD" Čurić and Marten Gaming suceeded in defeating Young Glorians in two maps, Inferno and Mirage. And while we didn't see a third map, that isn't to say that the matches weren't filled with awesome rounds all along. The match on Inferno was a bit shorter than the second one and ended 16-12 in favor of Marten Gaming. Both squads weren't able to finish the game in regulation on Mirage, so the winner was decided in overtime. A 19-16 victory for Marten secured them their first map after an unusual loss against PORTUGAL in the first round of the season.
When talking about PORTUGAL, it is worth mentioning that their form today was as well last week as it was today. Miloš "dEE" Marčeta and 4glory achieved a dominant win on Inferno, and the Macedonian-majority quintet couldn't win 10 rounds. dEE's AWP was absolutely deadly on Mirage as well. 4glory won 10 rounds on the T side and kept their great performance in the second half as well. Andrej "Necrogenes1s" Mancheski tried his best to keep PORTUGAL alive in the game and together with Anel "NENO" Ceković, they achieved just that. After a successful comeback attempt, PORTUGAL closed out the map in their favor and we had the chance to watch Overpass again after a very long time. PORTUGAL won Overpass and became the first team to enter the 2-0 SWISS pool.
With the first half of the second SWISS round behind us, these are the current CS:GO standings: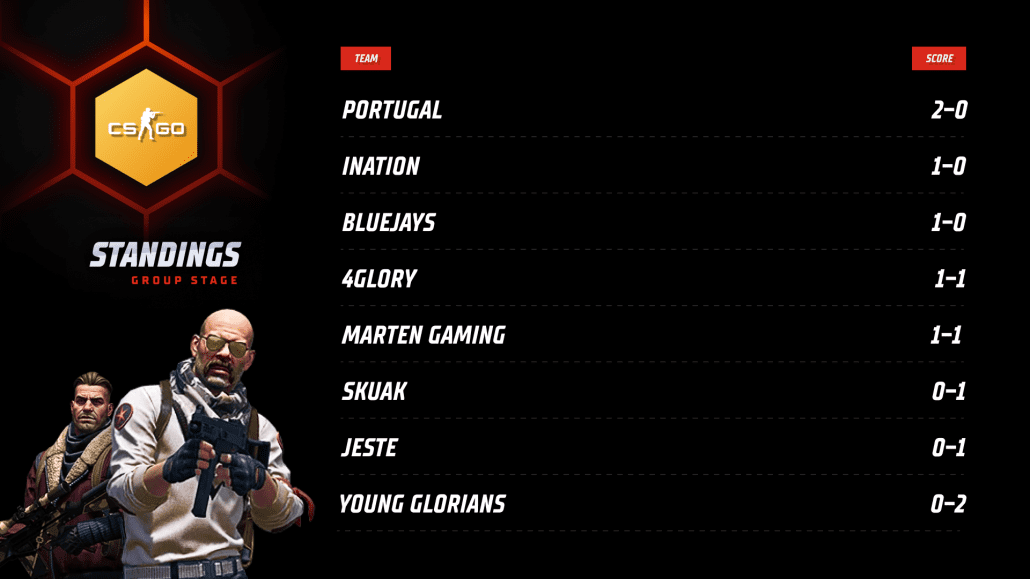 https://a1adrialeague.com/wp-content/uploads/2021/08/Web_THUMB_brawl_qually-1.jpg
720
1280
ElGancho
https://a1adrialeague.com/wp-content/uploads/2020/04/A1AL2020-Logo.png
ElGancho
2021-09-26 19:46:44
2021-09-26 20:17:40
PORTUGAL enter the 2-0 bracket; Marten Gaming earn their first victory!