PORTUGAL outplayed iNation in the grand final of this season of our CS:GO league and won the main prize of 2000€.
Our CS:GO final stage once again featured a single-elimination bracket with four teams in contention for the main prize. iNation, PORTUGAL, 4glory, and the recently announced Marten Gaming faced each other to decide the best Adriatic team of this season. Firstly, PORTUGAL played against 4glory. In their second duel for this season, the Macedonian-majority team once again prevailed and defeated Miloš "dEE" Marčeta's squad with a 2-1 result.
Next up, iNation were paired up against Marten Gaming. The former recently traveled back from Isreal, where they played in the 13. IESF World Championship, and now they came back to play the A1 Adria League. Marten was a good match for the team, but iNation managed to squeeze past them on both maps (Inferno – 16:14; Dust2 – 16:13). In the third-place decider, Marten Gaming once again lost. This time, they couldn't overcome the second Serbian team, 4glory Esports.
PORTUGAL started off strong on their map pick – Mirage. 10 rounds on the CT side gave them a good lead heading into the second half. There, they let iNation win five rounds but managed to close out the map without many problems. Inferno was the map pick of iNation and they looked much better on this map. However, PORTUGAL bounced back and brought the game to overtime. After a quadruple overtime match, Blaže "HEv1X" Hristov carried his team to victory and secured the first place for PORTUGAL.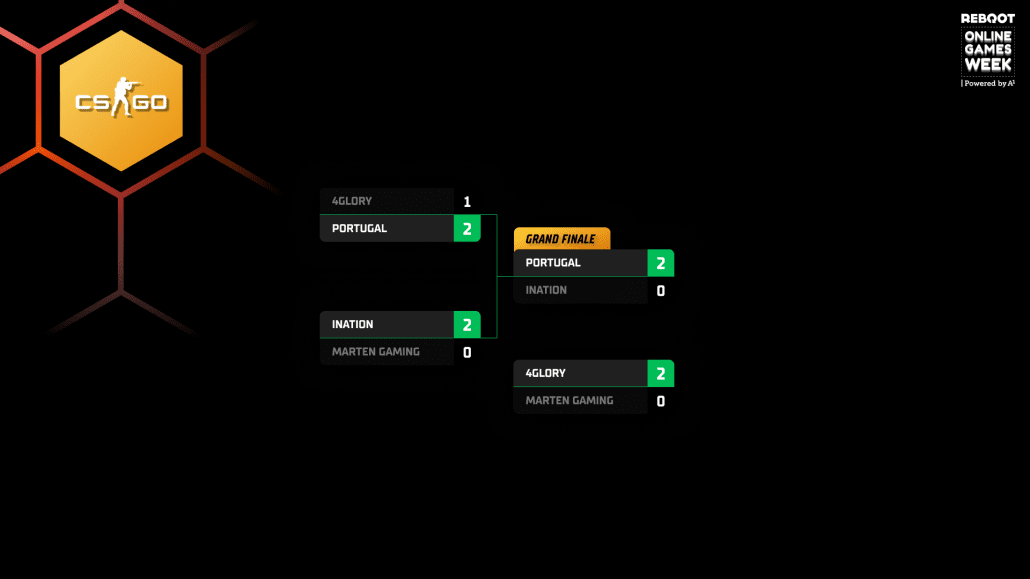 The final CS:GO standings:
1.

PORTUGAL – 2000€
2.

iNation – 1500€
3.

4glory Esports – 1000€
4.

Marten Gaming – 500€
https://a1adrialeague.com/wp-content/uploads/2021/11/csotest1.png
720
1280
ElGancho
https://a1adrialeague.com/wp-content/uploads/2020/04/A1AL2020-Logo.png
ElGancho
2021-11-21 21:47:19
2021-11-21 21:47:19
After two intense maps, PORTUGAL claim the A1 Adria League title!