With our second A1 Adria League qualifying weekend coming to a close, the Brawl Stars teams and FIFA players that secured a spot from the qualifiers are known. The CS:GO team list is completed and the invited teams will be revealed soon!
Brawl Stars
Some familiar names were seen playing under the Noble Elite Red and BLK tags during the third qualifier. In the quarterfinals, Noble Elite Red bested Crna ruka, while BLK was better than Immortal Balkans. O9 Gang and QSKE advanced to the semis over Wolfs and Red Devils, respectively. The qualifier ended with a Noble Elite Red win. Lavvek's Red squad was able to outplay DzonDzon and the rest of BLK and earn the biggest amount of points for this qualifier.
Noble Elite Red weren't any worse in the fourth qualifier either. In this final match, their opponents were Tora Gold who had just eliminated Noble Elite BLK before advancing to the finals. The other teams that ended up in the top 8 were Mayoi, O9 Gang, QSKE, Wolves, and SM Gaming Elite.
FIFA21
Just like Brawl Stars, FIFA's four-cup qualifying process ended this weekend. During the previous weekend, klaic upset the usual favorites and managed to snatch the grand 100 points. This time, the player that surprised everyone was the Bosnian player Sulja – he beat brstimir in the grand finals and put himself in the top 8 overall rankings.
Sunday was a day for one of NK Osijek's new players, esad1memic. The Bosnian player plowed through the competition on his way to the finals, beating his new Osijek teammate, Jasikm in the quarterfinal. FIFAFICO and Ajdin977 were the last two players separating esad1memic from his grand prize and he managed to beat them.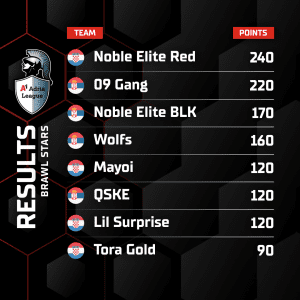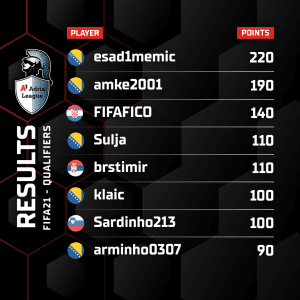 CS:GO
Over 60 teams hopped on the servers to fight for the remaining three CS:GO spots. proWince, fullshock, QSKE Gaming, JUJUTSU KAISEN, PORTUGAL, MADNESS, MIX, and VENDETTAS 5 were the teams that entered the closed qualifiers.
The Macedonian-majority PORTUGAL started the closed qualifier with a win over QSKE. MIX were able to outplay VENDETTAS 5, while fullshock defeated proWince. The fourth match of the quarterfinals was a game between DEPRESHNN's JUJUTSU KAISEN and MADNESS which ended in a victory for the former. PORTUGAL and fullshock won their semifinal matchups and qualified for the seventh A1 Adria League season. MIX bested JUJUTSU KAISEN in the third-place decider and secured the final spot in the league.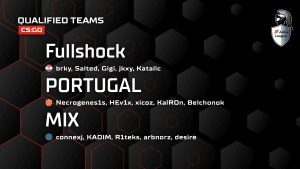 https://a1adrialeague.com/wp-content/uploads/2021/03/najava12.jpg
1080
1920
ElGancho
https://a1adrialeague.com/wp-content/uploads/2020/04/A1AL2020-Logo.png
ElGancho
2021-03-30 15:12:39
2021-03-30 15:15:33
FIFA21, Brawl Stars and CS:GO qualifiers finish in style!