With our second pair of qualifiers behind us, we have completed the CS:GO teams list for the eighth A1 Adria League season!
18 teams tried to secure the eight closed-qualifier spots yesterday. The second round was the deciding one this time around. Filip "MUFFY" Cvetić and endusty convincingly beat Defektasi 2-0 to join the qualified teams. Right next to them in the bracket, the second 4glory squad, Young Glorians, were better than Adonis "adon1s" Gashi and ELITE. SKUAK Gaming had no problems in their BO3 versus DONDA, and nije dolazio defeated Mario "Mariuchii" Grdović and KolindaVratiSe after a tough 2-1 marathon.
The best Macedonian team, AIRLYA, faced NoWin in their decider match. Daniel "dan1" Gligorov & co. didn't let the opposing team upset them and closed out the game after only two maps. Sinking Ship did the same against 4glory Youngest, the second squad that the Serbian organization featured in this qualifier. The last two teams to qualify were SENKE and CKUKO, who did so over Team From Hell and Beograd Gaming, respectively.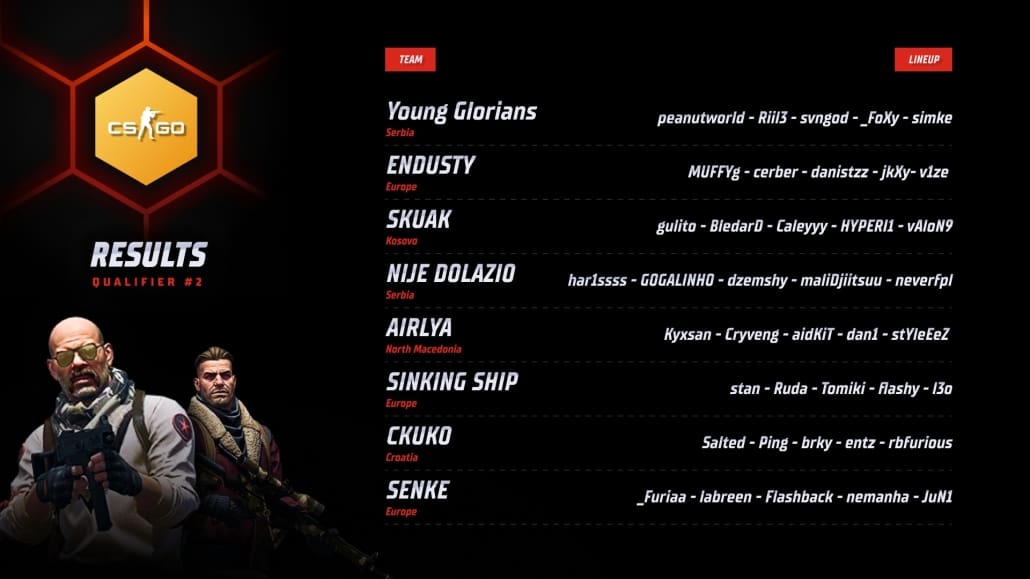 After an intense open qualifier, the aforementioned eight teams joined the single-elimination BO3 bracket to fight for the last three spots in the league. Kujtim "gulito-" Durmishi and SKUAK Gaming achieved the first victory in this phase of the qualifiers. Their opponents were Luka "brky" Brkanac's CKUKO who suffered a 2-0 loss in this match. Next up, AIRLYA advanced to the semifinals after being the better team in their match versus nije dolazio. SKUAK and AIRLYA were joined by Young Glorians and SENKE, respectively.
Young Glorians proved to be tough opponents for the Albanian team SKUAK. Even though they gave it their best, this deciding BO3 match ended in favor of SKUAK Gaming. The second semifinal ended after two maps, with AIRLYA coming out as the winners. With these two matches completed, we got two of the three qualified teams. What remained was the third-place decider between SENKE and Young Glorians. This final match of this season's CS:GO qualifiers ended up in a victory for Young Glorians – our last team to join the league.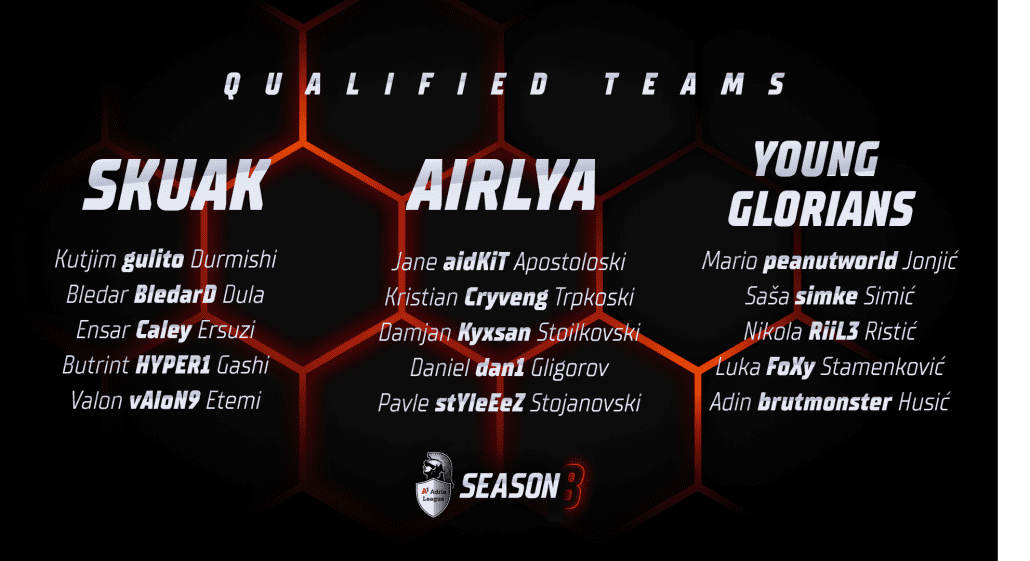 https://a1adrialeague.com/wp-content/uploads/2021/08/csgo-web.png
720
1280
ElGancho
https://a1adrialeague.com/wp-content/uploads/2020/04/A1AL2020-Logo.png
ElGancho
2021-09-05 16:16:32
2021-09-05 16:54:03
SKUAK, AIRLYA, and Young Glorians finalize CS:GO's teams list!