A1 Adria League
Last night another round of the Brawl Stars tournament in our A1 Adria League was played. This round was important, seeing that we said goodbye to one team, and one secured the first spot in the next stage of the competition. It was Salada de Frutas, the defending champion that managed to sweep Big F and secure the playoff. On the other hand, Skeleton Army is the first team that was eliminated last night.
Salada de Frutas justified the role of favorite
We had the overall of 4 matchups yesterday. The first was played between You Lose and DOGS. Both had a 1:1 score before this duel and now You Lose has an advantage. Namely, they defeated their opponent with a 3:1 score. You Lose will play next round to qualify for playoffs, while DOGS will need a win to stay in the league.
The second match was between the teams in the same situation. Both Jazavci and BalkanKids had a 1:1 score, but after 5 games it was Jazavci who came on top and secured themselves a good position. Both teams rotated their picks during the games and played for the element of surprise. As they both took 2 maps, the fifth was deciding and it was LordTodor who took Jazavci to victory.
The last two matches of the day were played for the playoff, and for staying in the league. The match between 33 Esports and Skeleton Army was the one for staying in the league. And the team that stayed was 33, again with an automatic win because Skeleton Army couldn't find a sub. They are now with a 0:3 score eliminated from A1AL.
The last match was all everyone has been waiting for. Two top teams fighting for the first spot in the playoff stage of the Brawl Stars competition. Salada de Frutas and Big F both had no losses in the last two rounds. Salada was a huge favorite seeing that they are the defending champions. They proved that they are here to take yet another title with a clean 3:0 win over Big F. They didn't let their opponent breathe, it was the fastest match played, and Big F didn't manage to get a single set in either of the three games played last night. However, they are still looking good, while Salada de Frutas can now rest and wait for their opponents in the playoffs.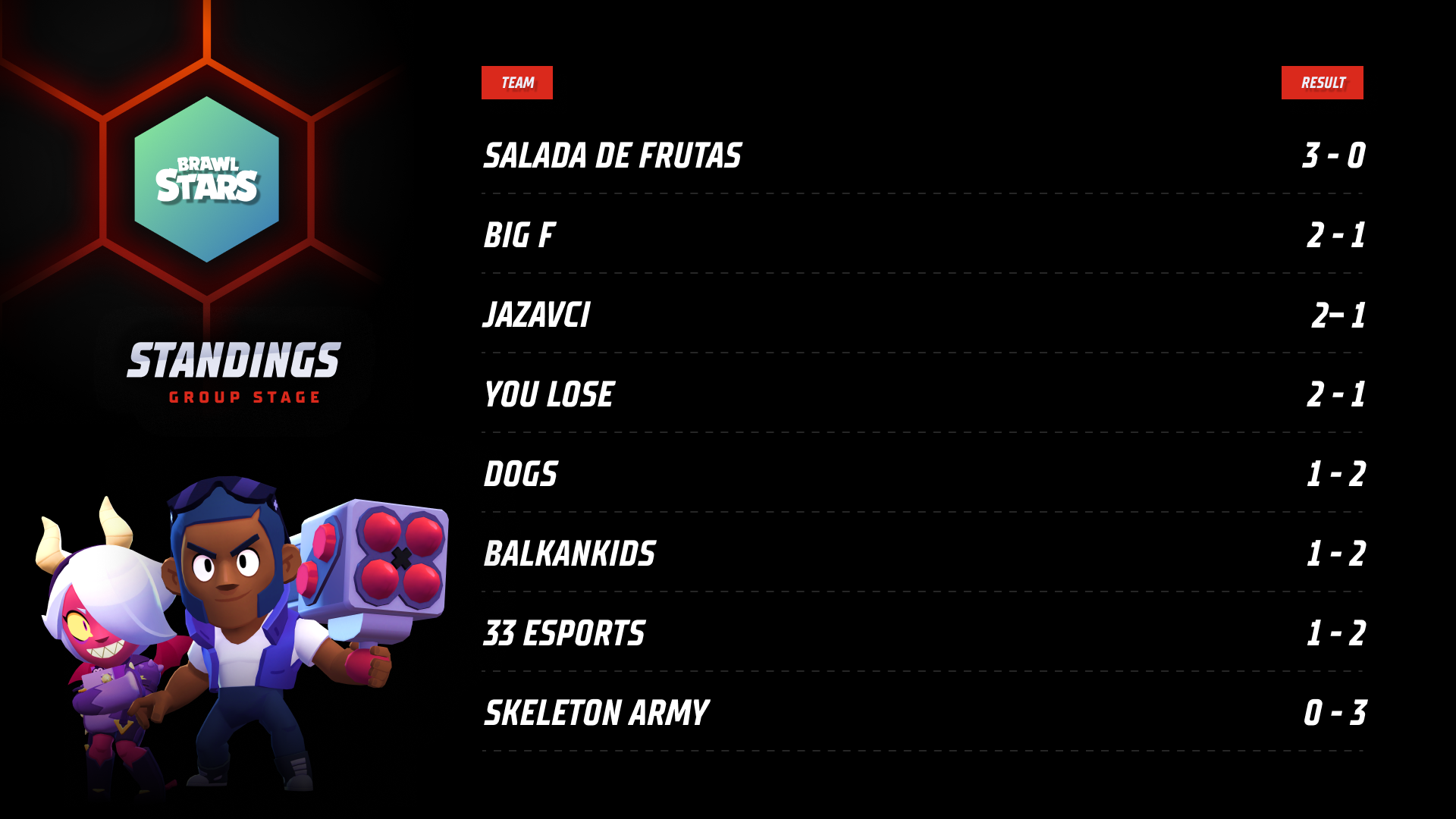 https://a1adrialeague.com/wp-content/uploads/2022/03/Brawl_Stars_A1AL.png
720
1280
galadriela
https://a1adrialeague.com/wp-content/uploads/2020/04/A1AL2020-Logo.png
galadriela
2022-05-27 10:28:12
2022-05-27 10:28:12
As expected Salada de Frutas secures the playoff!