A1 Adria League
More than half of the qualifying Brawl Stars competition is finished. Only one more is left, but we can assume who will make it to the tenth season of the A1 Adria League, based on the points. The winner of this qualifier is team GreekGod which now has an overall of 130 points.
OMERT4 is still way ahead of the competition
Brawl Stars teams are back for yet another qualifier. The third and second to last qualifier was played last night. Familiar teams in this season's competition again led to a fierce battle. Salada de Frutas, OMERT4, Jazavci, Rolex, Extreme Masters, and many more returned this Thursday to gather more points and secure their spot in the group stage of the A1 Adria League.
Another BS qualifier went into the hands of a different team. The first one, as we remember was won by Rolex, the second went into the hands of OMERT4, and in the last one, we saw GreekGod as the most successful team.
GreekGod gained an enormous lead with this win, over other teams. The roster made of LordTodor, Unique, Hillen, and Jevta last night earned 100 points, and now has an overall of 130. At the moment they are in third place, behind Rolex who is the second-best team with 130 points as well. OMERT4 is the leader of the table, and will definitely make it to the group stage, seeing as they already have 240 points under their name.
It was OMERT4 and GreekGod battling in the finals for the most points yesterday. In the end, the latter came out victorious with a 2:1 win. On their way to the finals, GreekGod eliminated Jazavci, and last season's winners Salada de Frutas, which are not showing the usual dominant playstyle we expected from them.
The points are close, and nothing is over yet. The Brawl Stars competition will return next week with the fourth and last qualifier. Don't miss the action, and sign up now if you want to compete with the best teams from the region!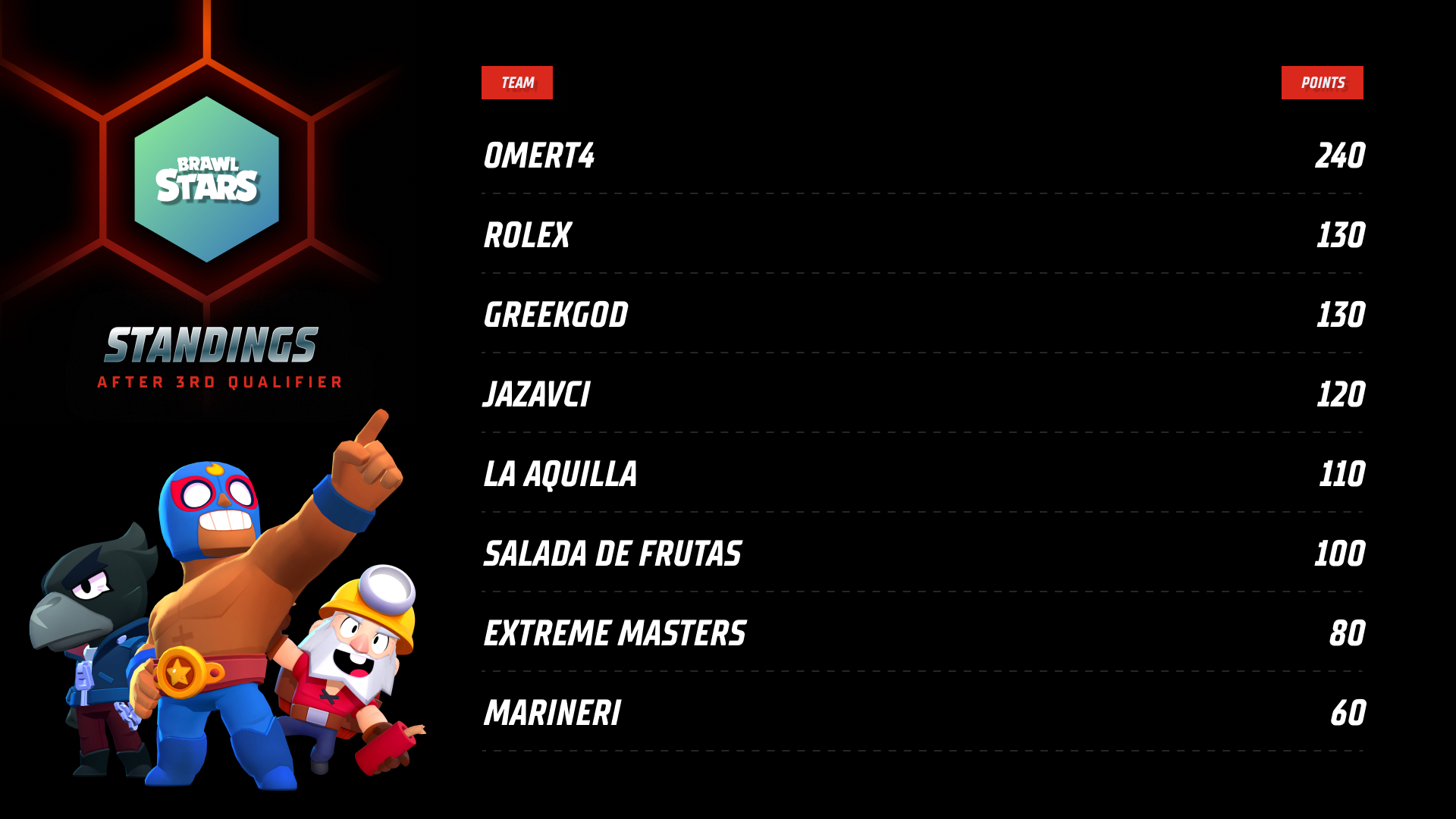 https://a1adrialeague.com/wp-content/uploads/2022/09/A1-Adria-League-Brawl-Stars-Qualifier-3.png
1080
1920
galadriela
https://a1adrialeague.com/wp-content/uploads/2020/04/A1AL2020-Logo.png
galadriela
2022-09-23 11:56:18
2022-09-23 11:56:18
GreekGod is the winner of the third Brawl Stars qualifier