With a short delay, the Brawl Stars qualifiers are finally finished. Many surprises occurred during this season's qualifier cups. The top eight teams are ready for the group stage of the A1 Adria League, and the leader of the BS competition is team OMERT4, followed by Jazavci and Salada de Frutas.
OMERT4 dominant; Salada failed to win a single qualifier
The final standings for the Brawl Stars qualifiers are here. After many exciting and intense matches, we have our 8 contenders. They will fight against each other and try to win the title in the 10th A1AL season. We have seen the same names trying to achieve more points in the last qualifier. On the one side of the bracket, Salada de Frutas eliminated their opponents and reached the finals. While on the other side, we saw Jazavci dominate the competition. Salada won against two previous qualifier winners, GreekGod and OMERT4, but in the finals they failed, as Jazavci won the duel with a 2:0 score.
All four qualifiers went into the hands of different teams. Rolex, OMERT4, GreekGod, and Jazavci all won 100 points. The big surprise was Salada de Frutas, who usually manages to win two or three qualifiers. But now they didn't win a single one. This season is the first where Salada isn't at the top of the table, and it's the first to have the eighth team qualify with only 80 points. The last season's champions however still have enough points for the next stage. In fact, they are in third place with an overall of 170 points.
At the end of the qualifiers, OMERT4 is in first place with 290 points, followed by Jazavci who have 220 points. Salada the Frutas is third, as already mentioned, while Rolex and GreekGod share fourth place with the same amount of points, an overall of 140. The Brawl Stars group stage begins on October 6th, so don't miss it! We may crown an underdog team this year!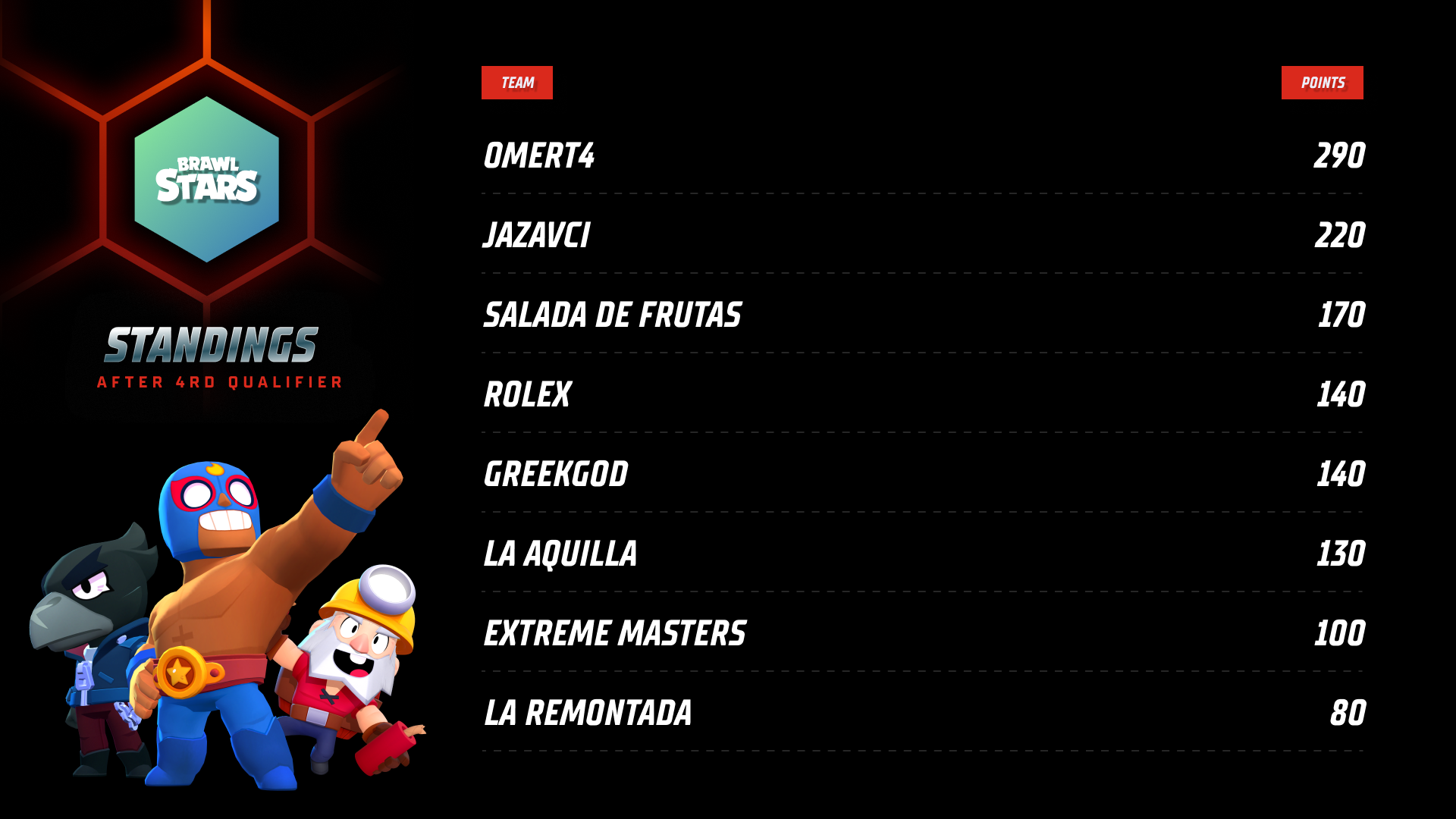 https://a1adrialeague.com/wp-content/uploads/2022/09/A1-Adria-League-Brawl-Stars-Qualifier-4.png
1080
1920
galadriela
https://a1adrialeague.com/wp-content/uploads/2020/04/A1AL2020-Logo.png
galadriela
2022-10-01 13:28:18
2022-10-01 13:28:18
Jazavci won the last Brawl Stars qualifier; teams ready for group stage