A1 Adria League
Another week has gone by. The group stage in FIFA23, Brawl Stars, and CS:GO is ongoing. We are over with half of the competition in this stage of the tenth A1 Adria League season. The first week we saw some exciting matches in all the games. iNation and Blink dominated the CS:GO group stage, Salada failed in Brawl Stars and three out of four Bosnian players took their wins in the FIFA competition. The second week wasn't any less exciting.
iNation secured the playoff; Psihocastic eliminated
Fans had the opportunity to once again watch CS:GO competition two days in one week. On last Wednesday we saw one qualification match and one regular one where teams were 1:1 in the overall score. The qualification match was played between iNation and Blink since they had two wins each, and were on the verge of making it further in the competition. That match was won by iNation, namely, Blink didn't show up because of another tournament even though they were given one hour extra to attend.
In the other match that was played that day it was KTRL who came out victorious and showed a very dominant performance. They defeated GamePub and got one step closer to the playoff stage.
On Sunday, which is the second play day in last week's CS:GO competition, we saw one team leave us. It was Psihocastic and Velez Mostar fighting for staying in the league. Velez Mostar took down their opponent with a 2:0 win and is still in contention. On the other side, the competition ends here for team Psihocastic.
In the match between Zero Tenacity and ILLYRIANS who both had a 1:1 score, Z10 came out victorious and is now in a good situation to make playoffs.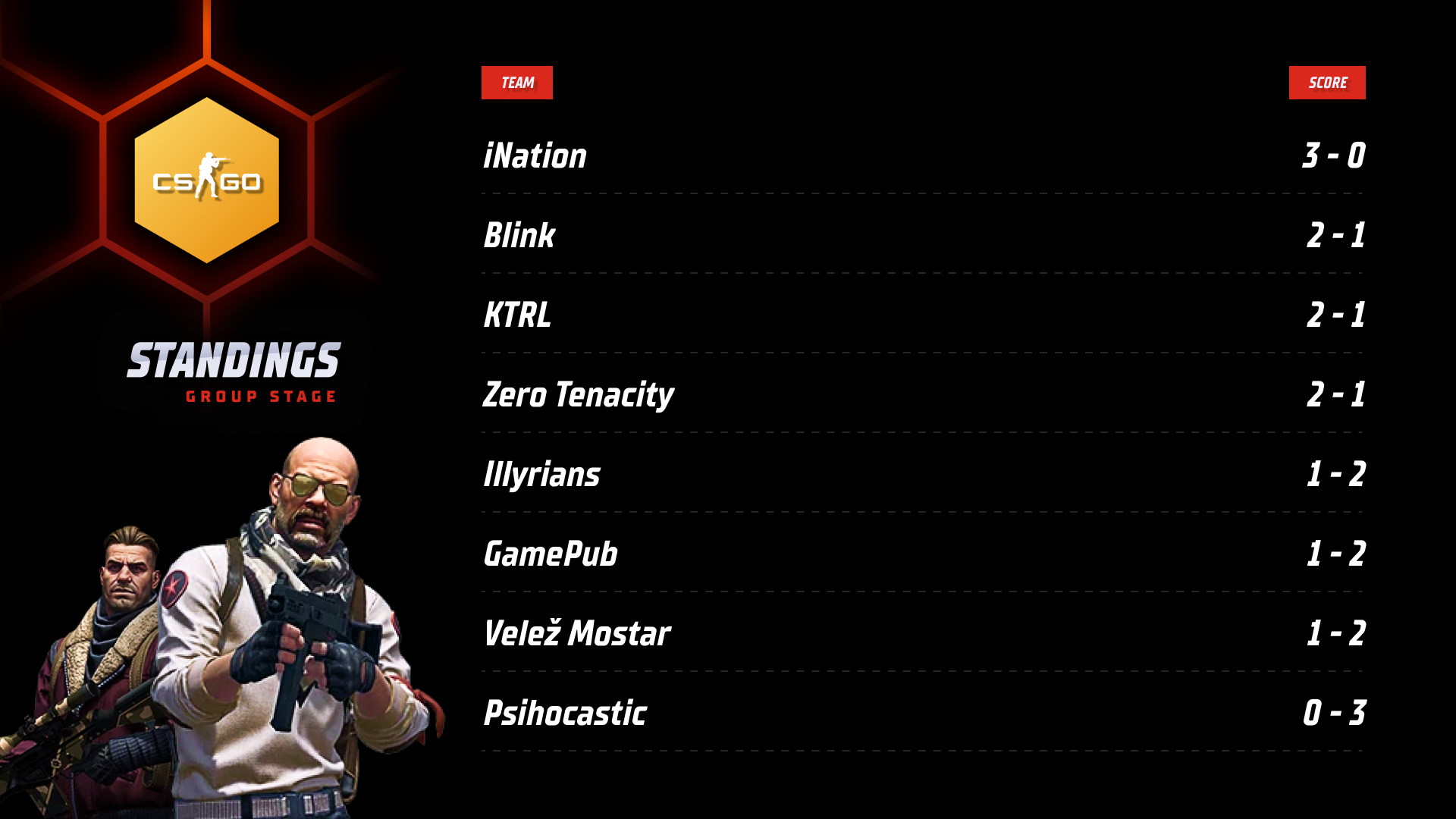 OMERT4 and GreekGod at the top; Salada redeemed
In the second round of the SWISS group stage in the Brawl Stars competition the favorites justified their role and got their well-deserved victories. OMERT4 is continuing with their amazing performance from the qualifiers and is now sitting at 2:0, alongside team GreekGod who is one of the strongest teams this season as well. These two teams will battle against each other this Thursday for the first spot in the playoffs. The wins that brought them to this position were achieved against La Aquilla for OMERT4 and for GreekGod it was a marathon match against Jazavci that went to all five maps.
Team Rolex, who won one of the A1AL qualifiers, also got their first victory in the group stage. They defeated Extreme Masters and now have an overall score of 1:1. Salada de Frutas, last season's champions also got their win and started the climb to the top. They have a long way to go, but this is a good start for Salada and it shows they are not yet forsaken. They were fast and furious in their match against La Remontada which ended with a 3:0 win.
Novo and Brstimir are undefeated
Once again the favorites in the FIFA23 competition are back on top. This isn't a surprise seeing how both Novo and Brstimir are dominating A1AL for seasons now. It was always Novo who secured the titles, but Brstimir is right there with him if we look at his performance. Both of these guys are currently sitting at the top of the leaderboard with a 2:0 score still waiting to be defeated. That will happen for one of them very soon, seeing that in the next round of the group stage which begins tonight they will fight against each other. So either Novo or Brstimir will take the first spot in the playoff stage.
In the other two matches of the second round in the FIFA23 group stage, Sardinho213 and Gruby got their wins. Last week turned out to be bad for Bosnian players. Out of four, only one was successful.  Also, Bruno and esad1memic are not in a good spot right now. They are on the verge of being eliminated seeing as they don't have a single win. Let's see how they perform tonight!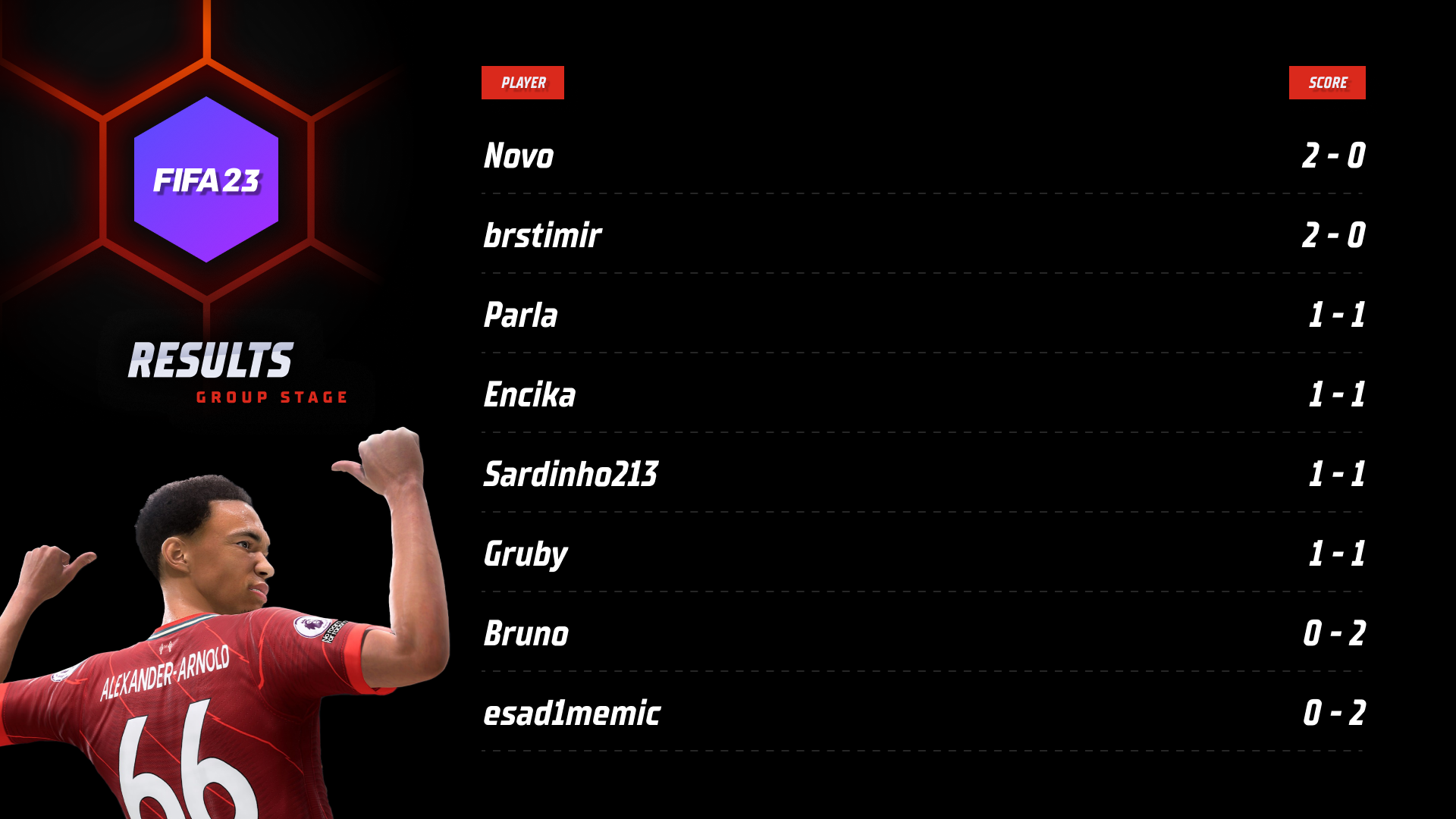 https://a1adrialeague.com/wp-content/uploads/2022/10/BS-FIFA23-and-CSGO-weekly-recap.png
675
1200
galadriela
https://a1adrialeague.com/wp-content/uploads/2020/04/A1AL2020-Logo.png
galadriela
2022-10-19 11:28:34
2022-10-19 11:28:34
Second round of group stage brought luck to the favorites