As the two FIFA22 qualifiers in A1 Adria League are already finished, we only have two more left before entering the league. So far, the biggest favorites of the competition Brstimir and Novo are occupying the top of the table.
Brstimir misses first, wins the second qualifier
We already saw last week that the FIFA competition this season is going to be more challenging than ever. A lot of players are looking for the chance to compete in the tenth A1AL season. But only eight players will enter the league.
The four-time champion Tarik "Novo" Novo already achieved a win in the first qualifier securing 100 points. He didn't have the same success in the second one and only managed to get 10 points. On the other hand, another familiar face came out victorious. Miloš "Brstimir" Majdevac was the winner of the second qualifier in the FIFA22 competition. And even though he missed the first one, he is at the top of the table, sitting comfortably right under Novo.
In the first match of the finals, we have seen as many as seven goals. Leon "Šardi" Šardi was his opponent in the finals, but he came short, as Brstimir won that Bo3 final. The first match ended with a 4:3 score, and the second one with a 2:1 in favor of Brstimir who kept his momentum.
The rest of the bracket was interesting to watch as well and was not short of surprises. Marko "Tuna" Antunović reached the semi-finals for the first time in his A1 Adria league career. He even managed to win 50 points in the duel for 3rd place versus Esad "esad1memic" Memić.
The third qualifier is scheduled for next week, and you can already sign up for it HERE.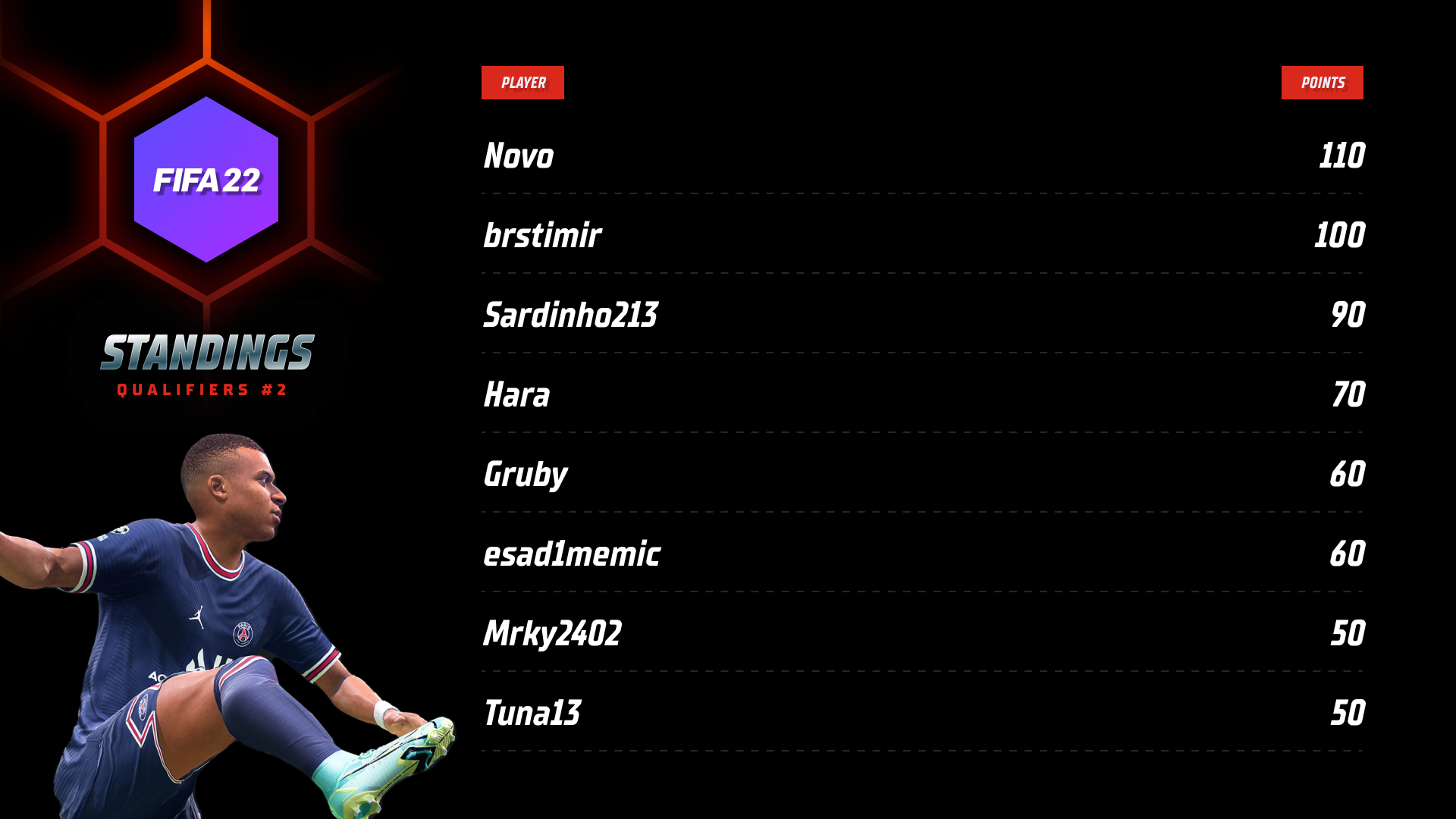 https://a1adrialeague.com/wp-content/uploads/2022/09/A1-Adria-League-FIFA-Qualifier-2.png
1080
1920
galadriela
https://a1adrialeague.com/wp-content/uploads/2020/04/A1AL2020-Logo.png
galadriela
2022-09-10 14:46:29
2022-09-22 17:36:25
Brstimir secures 100 points in the second FIFA22 qualifier