A1 Adria League
Only one FIFA22 qualifier in A1 Adria League is left, and we already have a clear leader on the table. Miloš "brstimir" Majedevac came on top of another qualifier, and now he has an overall of 200 points.
Close fight for the top 4
Another round of interesting and intense matches in the FIFA22 competition was played on Friday. The same familiar names we have seen fighting for their chance to enter the 10th season of the A1 Adria League, but only eight will be able to. So far, brstimir is going to make it for sure, as well as Sardinho213.
Brstimir was the most successful in the last two qualifiers. He now has 200 points and sits at the top. Right behind him in second place is Sardinho with 160 points. Our current champion Tarik "Novo" Novo is third with 120 points, while the next two players have an overall of 100 points. Esad1memic and Tuna13 with 100 points also have a high chance of entering the league.
Sardinho213 and Tuna13 dominated one side of the bracket. They faced each other in the semifinals, but Sardinho came out victorious and moved on to the finals. On the other side of the bracket, it was esad1memic and brstimir who made it to the semifinals, and as we know brstimir won that fight.
The fight for third place went into the hands of Marko "Tuna13" Antunović, while the whole thing was won by brstimir. Novo wasn't very successful in this qualifier, seeing as he only won 10 points. The last chance to earn points will be in the fourth FIFA22 qualifier which is being played next Friday. Sign up now!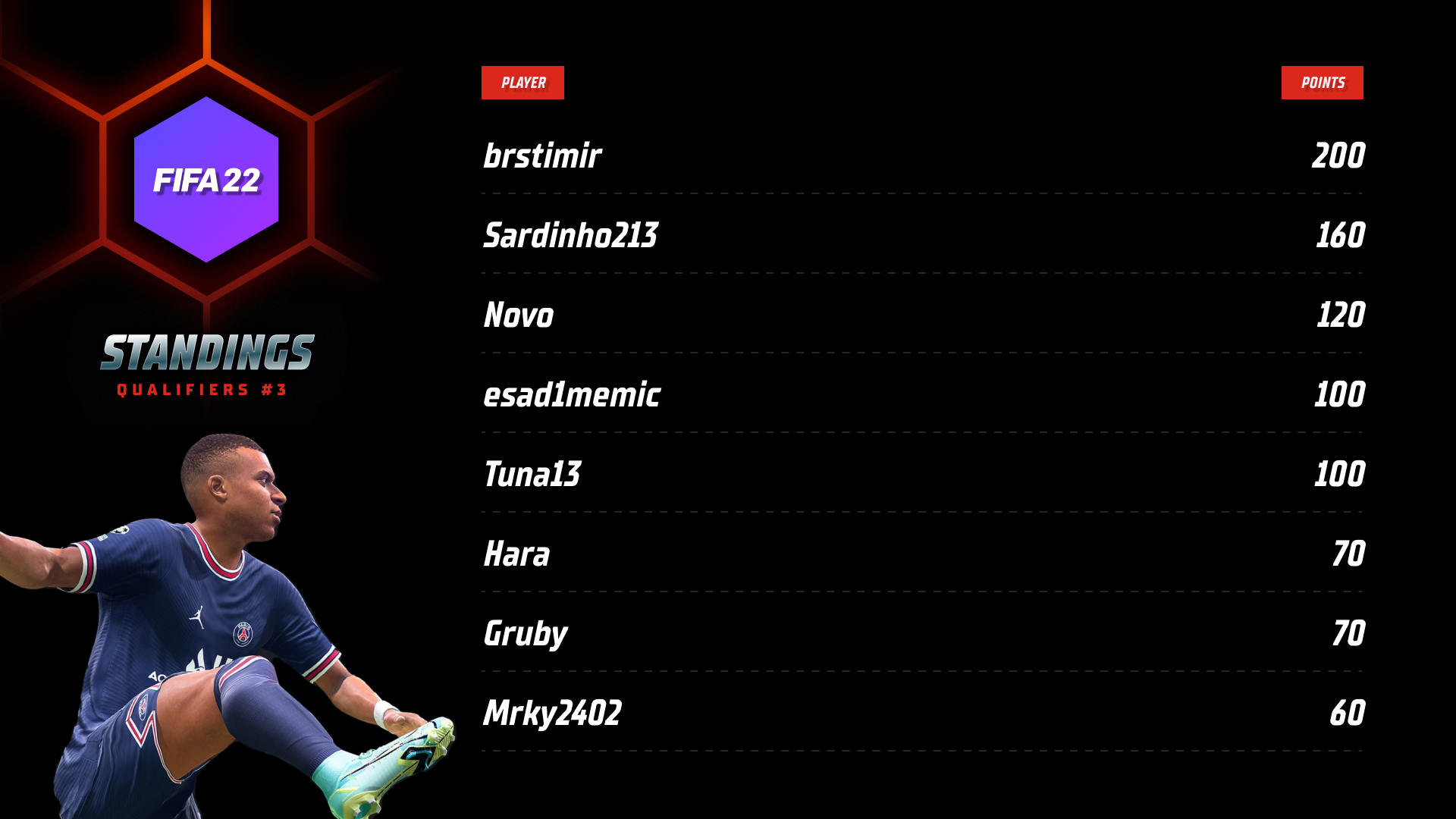 https://a1adrialeague.com/wp-content/uploads/2022/09/Brstimir-takes-another-100-points-in-the-FIFA22-qualifiers.png
1080
1920
galadriela
https://a1adrialeague.com/wp-content/uploads/2020/04/A1AL2020-Logo.png
galadriela
2022-09-18 08:38:13
2022-09-18 08:38:35
Brstimir wins his second consecutive FIFA22 qualifier