With CS:GO and Clash Royale marking the start of their respective group stages recently, we will be covering them in separate articles. The fifth week saw FIFA begin the second trio of qualifiers, while the Good Game teams are continuing their dominant journey through the qualifiers.
Brawl Stars
Troleri once again secured their spot in the Round of 16. Unfortunately for them, they got paired with GG Gold and were consequently, eliminated from the qualifier. Ekipa 69 and LovciNaZmajeve didn't have much trouble versus On-Fire and LastChance, respectively. Never Surrender didn't surrender in their match against Alpha Extreme and proceeded to the quarterfinals.
MysteryWarrioRS are among the teams that have always passed the first stages of the qualifiers but never got a chance to be closer to the top. The same happened on Wednesday when the team bested O9 Gang and earned a spot in the quarters. Code Lyoko are even further from catching up to the GG squads after being eliminated early by FA Deadly. Good Game Red took yet another good squad in Blue Whales, while Tehno Diamond couldn't get past Astronauti.
Good Game Gold and Red were at different sides of the bracket, perfect for yet another Grand Final matchup. The Red squad bested Astronauti, while the Golden boys were far better than LovciNaZmajeve. Ekipa 69 advanced to the semis over Never Surrender and MysterWarrioRS lost their duel versus FA Deadly.
Once again, the semis went the Good Game way. Ekipa 69 and FA Deadly finished the fifth qualifier at 3rd-4th, while Gold once again triumphed and now have a total of 440 points behind their name.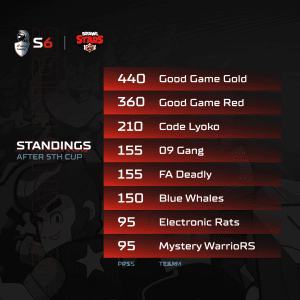 FIFA
As usual, names like esad1memic, arminho0307 and amke2001 were once again a part of the Round of 16. esad1memic won the Bosnian duel versus Ajdin997 and simke was the better player on the field against Hardi. The Slovenian player Bokip84 was eliminated by Antonio. Mrky once again secured his place between the top eight players, while edenn95 finished his road at the Ro16.
esad1memic continued his winning streak during the quarterfinals. This time, simke was the victim, and the Croat, along with Antonio from the second quarterfinal ended their FIFA road for this qualifier. Stojanov1999 taught arminho0307 a lesson and amke2001 bested Harun without any difficulties.
Heading into the semis, Mrky lost to esad1memic and Stojanov couldn't get past amke2001. The former won the third-place decider and earned a bigger sum of points, while amke2001 beat the reigning champion in the Grand Finals.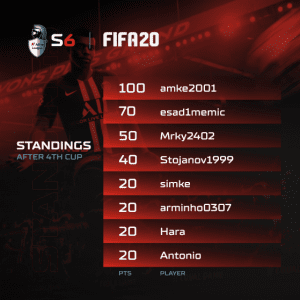 https://a1adrialeague.com/wp-content/uploads/2020/05/qually.png
1080
1920
ElGancho
https://a1adrialeague.com/wp-content/uploads/2020/04/A1AL2020-Logo.png
ElGancho
2020-09-08 10:37:48
2020-09-08 10:38:31
GG Gold keep going strong; amke2001 secures the first 100 FIFA points