In our third round for the season, Miloš "brstimir" Majdevac became the first player to qualify for the FIFA22 A1 Adria League playoffs.
This playday started with the winners' decider match between brstimir and Esad "esad1memic" Memić. The derby that has become famous all over the region once again showed us just how good both of these players are. This time, howver, the victory went to brstimir and he became the first playoffs player for the second FIFA season of 2021. Every single one of today's matches was spectacular, and right after the first one, Emir "Sulja" Suljović and Đorđe "JasikFifa" Cumbo clashed in the elimination match. Unfortunately for Sulja, it seemed like he wasn't prepared enough and he got eliminated by JasikFifa after two matches.
Harun "Hara" Parla had a difficult task ahead of him with Petar "DrPecho" Šušnjar being his third opponent this season. It was a match of the 1-1 pool, but it was just as important as the other two we watched before. This derby went in the way of DrPecho, who won in the deciding third match of the BO3. Finally, Haris "edenn95" Lukomirak defeated Tarik "amke2001" Novo to end yet another action-packed FIFA playday. You can (re)watch these four FIFA games below
These are the current FIFA standings: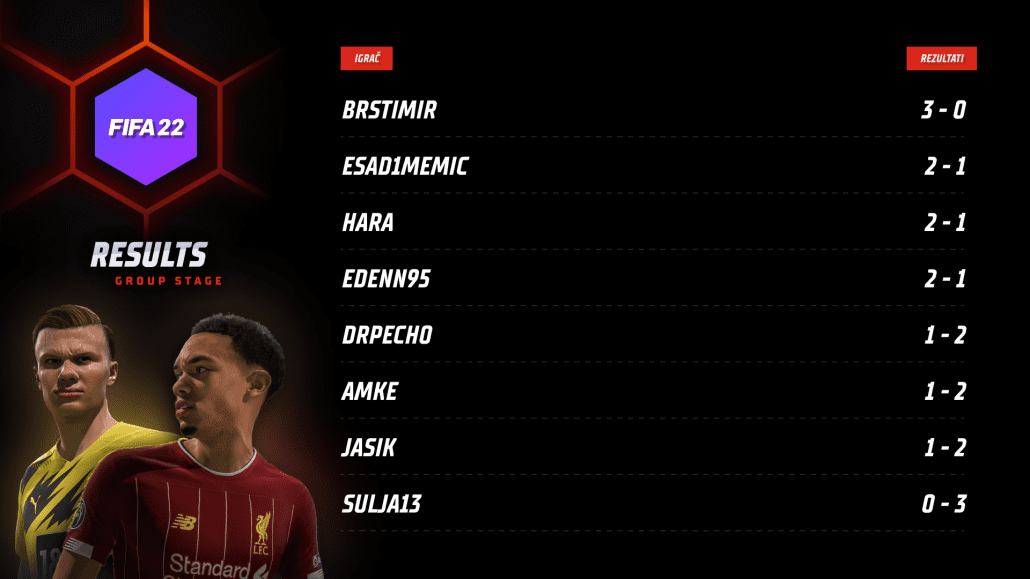 https://a1adrialeague.com/wp-content/uploads/2021/10/Web_THUMB_brawl_qually.png
720
1280
ElGancho
https://a1adrialeague.com/wp-content/uploads/2020/04/A1AL2020-Logo.png
ElGancho
2021-10-22 21:57:19
2021-10-22 22:02:51
brstimir reaches the FIFA playoffs over esad1memic!