After our first open qualifier concluded yesterday, today, eight teams fought for three spots in the CS:GO A1 Adria League.
An interesting mix of upcoming and experienced teams signed up for the first of two open qualifiers we are hosting for this season. The best eight teams were supposed to go to the closed qualifier and that's why the most important matches were those in the Round of 16. VeryBadPlayers were actually very good players as they managed to outplay Dimitar "raniiiN" Avramovski and Donda. Next up, a regional team consisting of players such as Krunoslav "Salted" Katalinić and one of Season 7's winners, Petar "HOLMES" Dimitrijević, defeated 200DINPEEK and secured the closed qualifiers.
Anlaki are one of the squads that have improved the most during the summer. Today, they kept up with their great recent performances and become one of the eight qualified teams, together with stich and Aimabazi who did so over TENACITYgg. The other half of the matches had some interesting results. Nemanja "nEMANHA" Đukić and 1tap upset Young Glorians, while Aleksandar "HLEB" Todorović's JESTE was better than NoTalents. Last but not least, Marten Gaming and Immortal Balkans bested 4glory Youngest and KS Geto, respectively.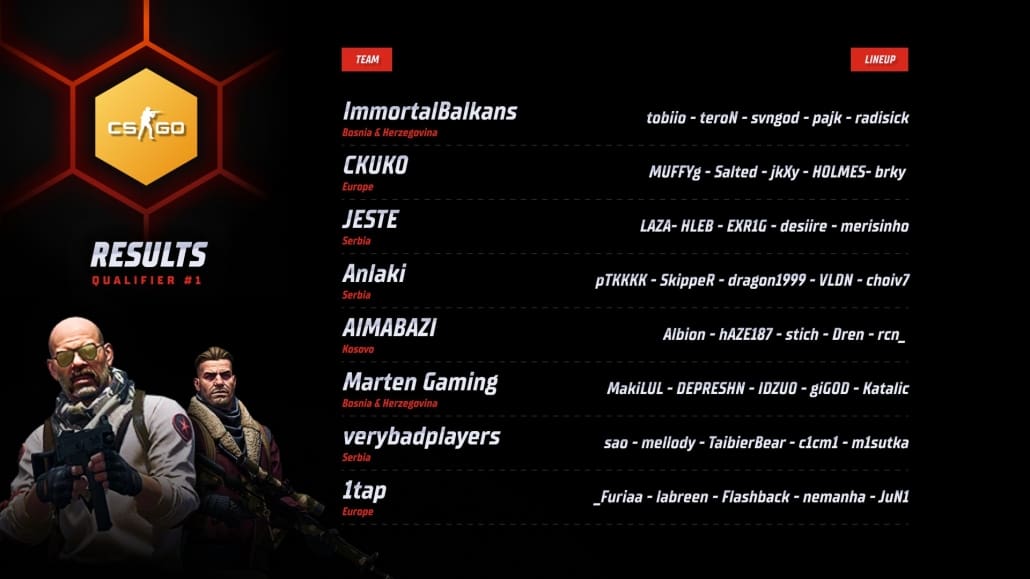 Today, starting at 12 o'clock, Anlaki and seven other teams met in a single-elimination bracket to decide the three sides that could join the invited teams in the eighth season. Despite their good result in the open qualifier, 1tap were powerless against Anlaki. The same can be said for Aimabazi who lost to JESTE in their quarterfinal match. Marten Gaming outplayed Immortal Balkans, and for the last match of this stage, CKUKO played better than VeryBadPLayers and concluded the quarterfinals.
Next up were the two semis. As the match between CKUKO and VeryBadPlayers lasted longer than the other three, the second semifinal started a bit later. In the meantime, Anlaki and JESTE faced off in their duel to decide the first qualified team. In the end, that team was Anlaki, while JESTE were relegated to the third-place decider. Marten Gaming came out as the winners of the second semifinal at the expense of CKUKO. The third League spot went to JESTE since they convincingly won the third-place decider.
The next and also last CS:GO qualifier will be played on Saturday. So hurry up, assemble your team and SIGN UP.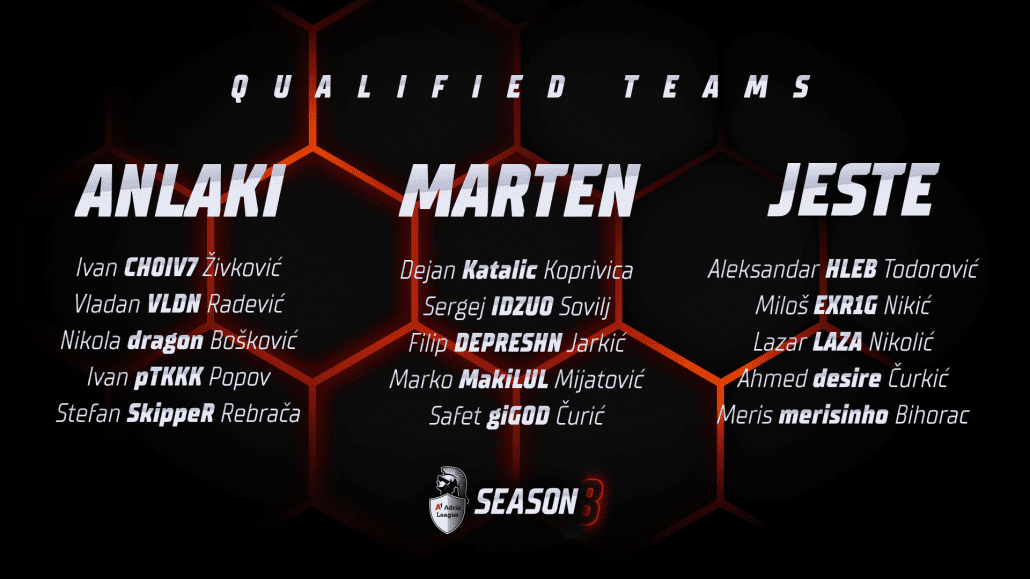 https://a1adrialeague.com/wp-content/uploads/2021/08/Web_THUMB_brawl_qually-1.jpg
720
1280
ElGancho
https://a1adrialeague.com/wp-content/uploads/2020/04/A1AL2020-Logo.png
ElGancho
2021-08-29 16:05:45
2021-08-29 16:10:57
Anlaki, Marten Gaming, and JESTE qualify for the A1 Adria League!