After a flawless SWISS stage, the Salada de Frutas roster playing under Flow secured their well-deserved A1 Adria League Brawl Stars title.
Our first Reboot Online Games Week day was a BLAST. Both the segments during the day and the Brawl Stars playoffs provided our followers with plenty of entertainment and we have now crowned our Season 8 Brawl Stars champions. The four most successful teams of the regular season advanced to the double-elimination bracket we watched today. Flow (formerly known as Salada de Frutas) were the clear favorites heading into today's matches, and they didn't fail to disappoint. Flow and Winx Club started out the bracket with clean sweeps versus Lightning Strike and Omert4, respectively.
In the following elimination match, Omert4 succeeded in throwing Lightning Strike out of the tournament. Meanwhile, the biggest derby of the season saw Winx fall short to Flow in a nail-biting upper-bracket final (2-3). While Winx lost the upper final, they managed to climb back at the expense of Omerta and challenge Flow again. If the previous match was a nail-biter, we can't find enough words to describe the grand final. With a lead of 2-0 against the clear favorites, only a single win separated Winx from the champion's title. However, Lavvek finally did it! A massive comeback happened in the remainder of the game and on Brawl Ball, Flow claimed what was theirs since the beginning – the A1 Adria League title.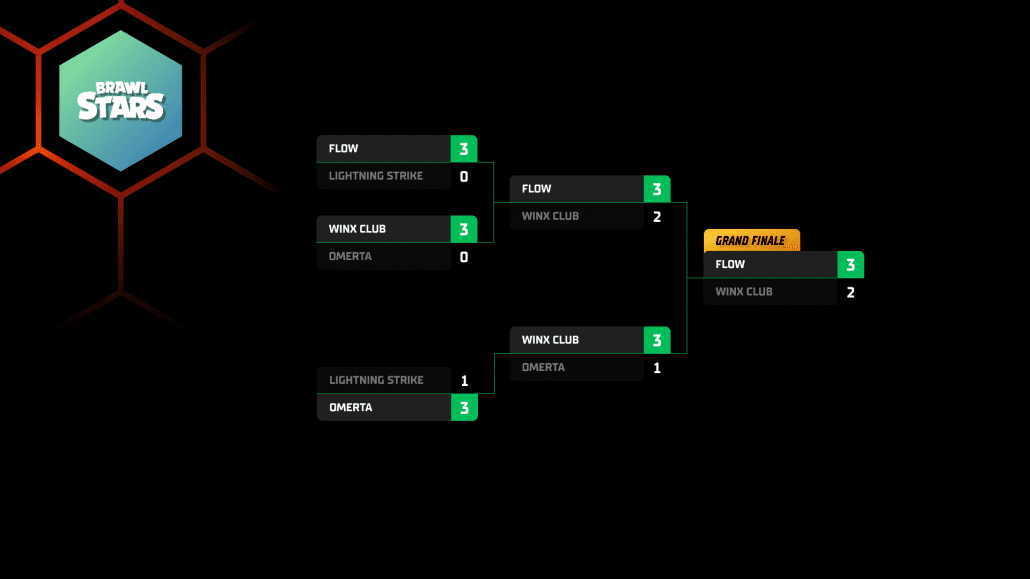 The final Brawl Stars standings for the season:
1. Flow – €900
2. Winx Club – €600
3. Omert4 – €300
4. Lightning Strike – €200
https://a1adrialeague.com/wp-content/uploads/2021/08/v2.png
720
1280
ElGancho
https://a1adrialeague.com/wp-content/uploads/2020/04/A1AL2020-Logo.png
ElGancho
2021-11-17 22:51:16
2021-11-17 22:51:53
Lavvek & Flow are the new regional Brawl Stars champions!