The sixth A1 Adria League season is now officially finished. Over the past months, every week was packed with intense esports action and it all culminated during last week's playoffs. Our second Brawl Stars season didn't fail to disappoint and Good Game Gold took one final W in the Grand Finals.
Good Game Gold and Good Game Red had a dominant performance during the whole season and they didn't disappoint in the playoffs either. Both teams started the double-elimination bracket with two wins – Red and Gold beat Code Lyoko, FA Deabdly, respectively (3-0; 3-0).
While the Good Game teams advanced to the second round, Code Lyoko and FA Deadly fell to the lower bracket. In the first elimination match, FA Deadly reigned supreme over their opponents and Code Lyoko ended the playoffs in the last place. Meanwhile, Good Game Gold stomped Red with a convincing 3-0 win.  Andrey's team secured the first finals spot while GG Red faced FA Deadly in the lower bracket.
Just like in the first round, golub and FA Deadly weren't able to resist Good Game's dominant show of force. Another win for the Red squad sent them to the Grand Finals, for one, final Good Game derby. We are used to seeing high quality matches whenever the Good Game teams play, and the same could be said for the finals. In the end, Lavvek and GG Red only won one set. Good Game Gold became the champions of the sixth A1 Adria League season.
The four best Brawl Stars teams finished the League in the following order:
1. Good Game Gold – €1000
2. Good Game Red – €700
3. FA Deadly – €400
4. Code Lyoko – €200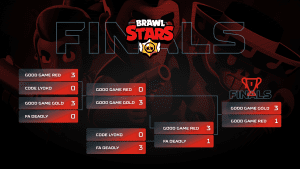 https://a1adrialeague.com/wp-content/uploads/2020/05/bs-1.png
1080
1920
ElGancho
https://a1adrialeague.com/wp-content/uploads/2020/04/A1AL2020-Logo.png
ElGancho
2020-11-30 08:04:27
2020-11-30 08:04:42
Good Game Gold triumph in the second Brawl Stars season!