A1 Adria League
After exciting and tense FIFA22 qualifiers, we have the best eight players for the 10th A1 Adria League season competing in the group stage for the top prize. Once again Tarik Novo is dominating the competition, he finished the qualifiers at the top with an overall of 220 points.
Gruby was victorious in the fourth qualifier
We are getting closer to starting the group stage in A1 Adria League. CS:GO and FIFA22 qualifiers are finished, and we have our competitors in both games. These qualifiers weren't surprising, as almost all the favorites secured their spot in the League. The four-time champion Tarik "Novo" Novo dominated the qualifiers once again and secured first place with 220 points. He managed to win some of the qualifiers, as well as Brstimir who we saw being the most successful in the second one.
Many talented players joined the competition such as Gruby, Hara, Bruno, as well as some familiar names such as Encika, esad1memic, and many others. The fact that we had a tiebreaker for eighth place says how intense and close the last qualifier was. Namely, Bruno "BrunoGuimaraes21" Svetina and Đorđe "JasikFIFA" Cumbo had the same amount of points and fought for the last spot in the A1AL. In the end, it was Bruno who made it through with 75 points.
Aside from Novo who is ahead with 220 points, other players aren't that far apart. Gruby is in second place with 160 points, while Hara and esad1memic both have 130 points. Below them are Brstimir and Sardinho213 who share 120 points. Needless to say that the next stage will be more exciting than ever.
It remains to be seen if any of these seven players have what it takes to take king Novo down from the throne. For the last two years, no one has been able to do it as Tarik took home four titles in a row. The FIFA22 group stage begins on October 7th.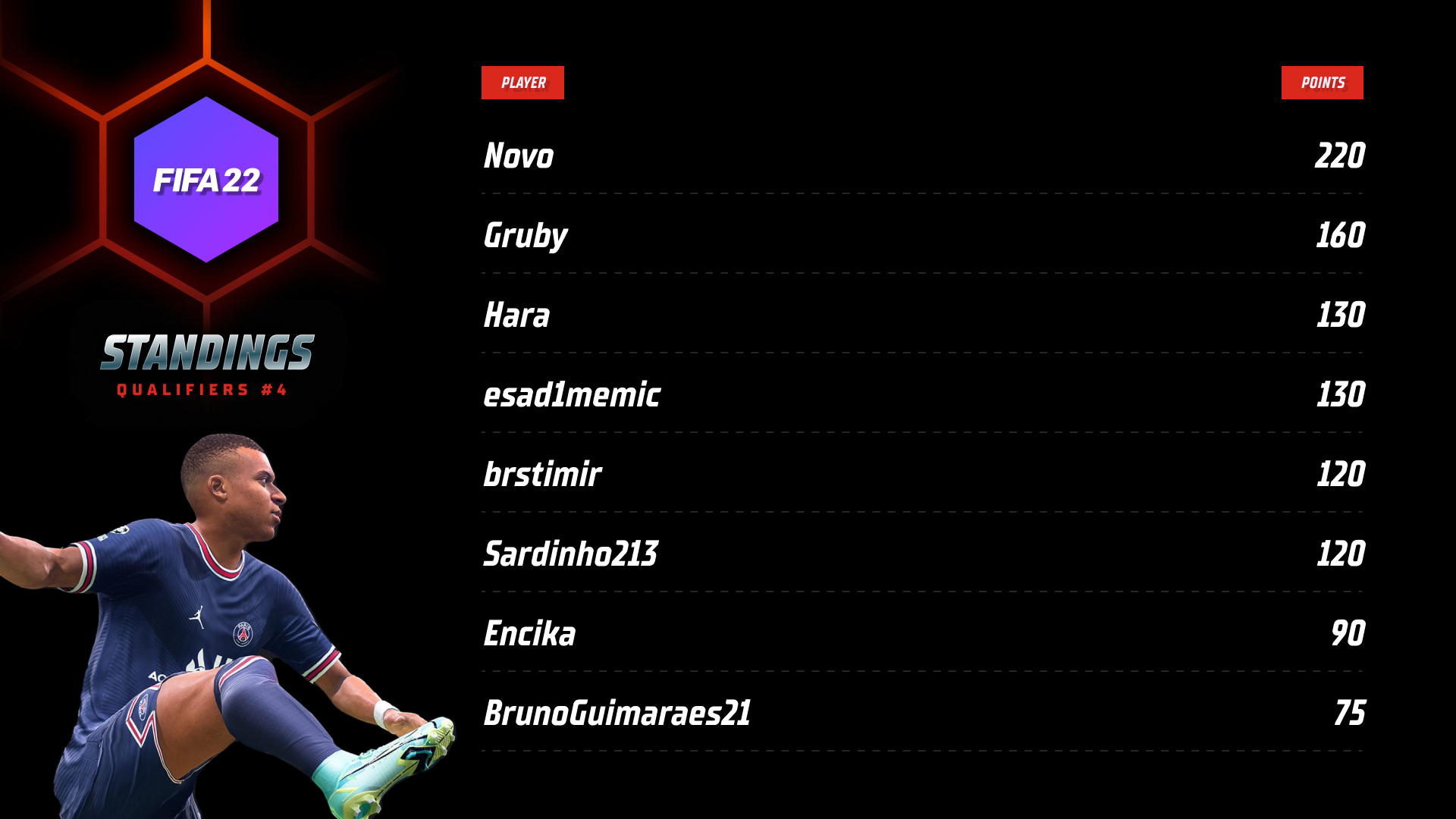 https://a1adrialeague.com/wp-content/uploads/2022/09/A1-Adria-League-FIFA-Qualifier-4.png
1080
1920
galadriela
https://a1adrialeague.com/wp-content/uploads/2020/04/A1AL2020-Logo.png
galadriela
2022-09-27 07:38:34
2022-09-27 07:39:33
Top eight FIFA22 players ready for group stage; Novo in first place