A1 Adria League
The group stage of the A1 Adria League finally started, and first on the schedule was FIFA22. The qualifiers were one of the most interesting and intense ever, and the group stage started in the same matter. At the very beginning, we have seen two of the favorites clash against each other, but the other three matches were exciting as well. This is also the first time this season that we could actually see the reactions of the players via their cameras on stream.
Brstimir takes the edge after day 1
Today we have seen four very interesting matches, and it all started with the battle between Petar "DrPecho" Susnjar who finished first after qualifiers, and the last place Enes "Encika" Hodzic. Even though Ecnika said he had already accomplished his goal, he showed today he isn't done. In the end, the winner was expected, it was DrPecho who defeated his opponent with a 2:0 score.
One of the most anticipated matches was between the three-time champion Tarik "Novo" Novo and Miloš "brstimir" Majdevac. It was final before final, and their rivalry resurfaced tonight once again. Novo however couldn't prove his legacy this time, and it was brstimir who, with patience and skill, secured a very important win today. With a 2:0 score, brstimir put himself in a great position after the first round of the group stage.
The third matchup of the day was between two Bosnian players, JasikFIFA and esad1memic. The first match was decided by the penalties. Penalties are Esad's strong suit, but JasikFIFA probably knows him too well, and he easily read his cheeky panenka attempts. The second match gave us 7 fantastic goals to see. But it was Jasik who won 4-3. His passion and happiness were very visible on the screens, and he went 2:0 in the end.
Last but not least we have seen Marko "Mrky2402" Matancic take on rookie of the season Karlo "Jero" Jerkin. Mrky2402 came into this match a clear favorite and he justified this role. He was dominant against Jero, but seeing this was Jero's first game on stream, he might need some time getting used to it. It's only the first round, and nothing is over yet.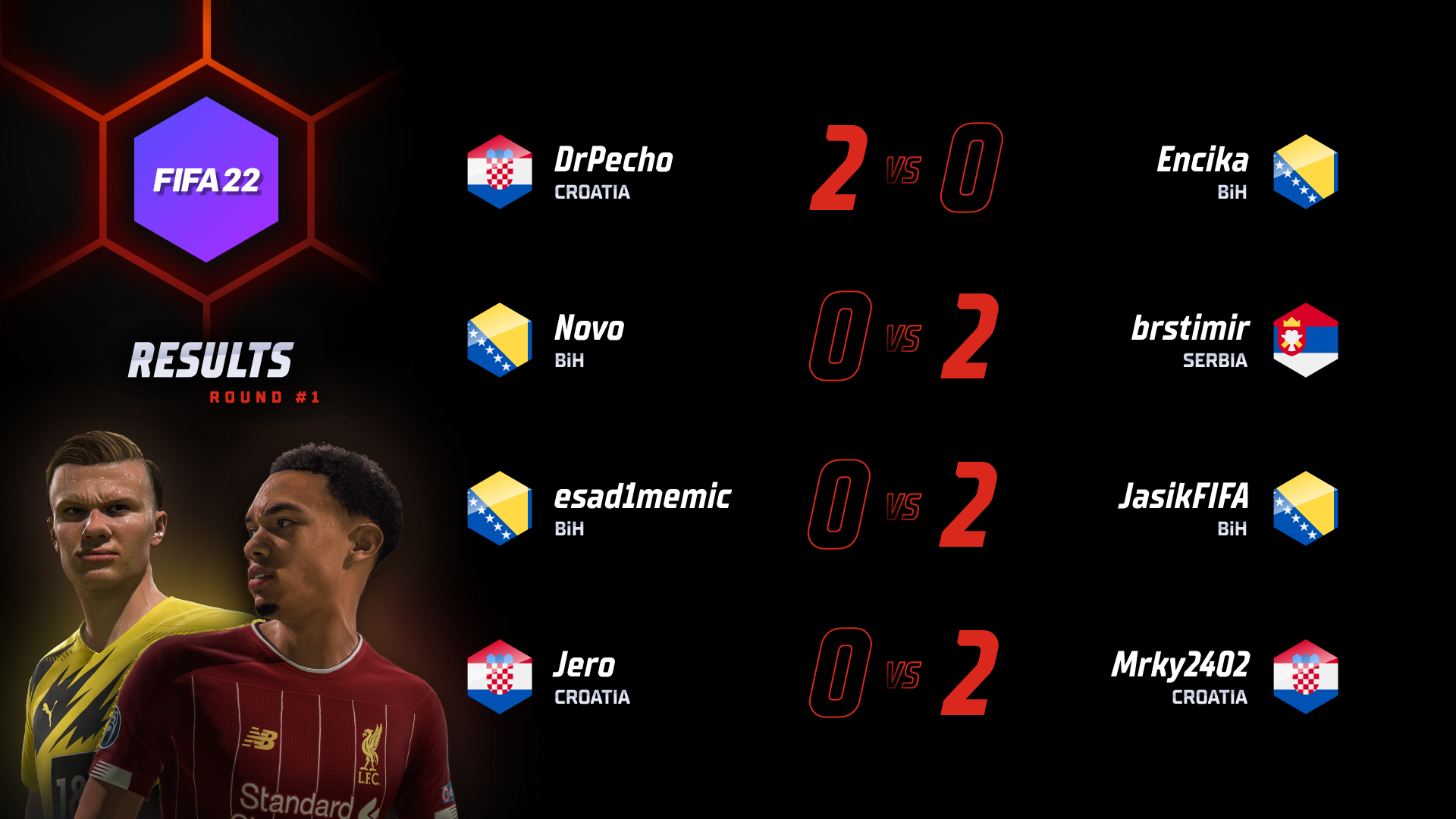 The next round will be played next week, on May 13th.
https://a1adrialeague.com/wp-content/uploads/2022/03/FIFA_22_A1AL.png
720
1280
galadriela
https://a1adrialeague.com/wp-content/uploads/2020/04/A1AL2020-Logo.png
galadriela
2022-05-06 22:11:21
2022-05-07 11:38:42
Brstimir took down Novo in the first round of the group stage!