FIFA qualifiers for the tenth season of the A1 Adria League are over! Among the fierce competition, eight players managed to secure their spot in the group stage.
The FIFA trio is back in Season 10
Tarik "Novo" Novo (amke) dominated the leaderboard in the qualifiers with 220 points. At this point, it shouldn't be a surprise that Novo is confirming his spot as the best FIFA player in the region. In the upcoming season, we'll be watching esad1memic and brstimir again, excellent players that were challenging Novo in previous seasons. Gruby managed to secure second place with overall 160 points and is looking really good going into the group stage. Hara grabbed third place with 130 points. The same amount that esad1memic has. Brstimir is just below them. The remaining three players are Sardinho213, Encika, and BrunoGuimaraes21. Every season we have at least one underdog that pops up into the scene and brings chaos amongst the favorites. Who will it be this season?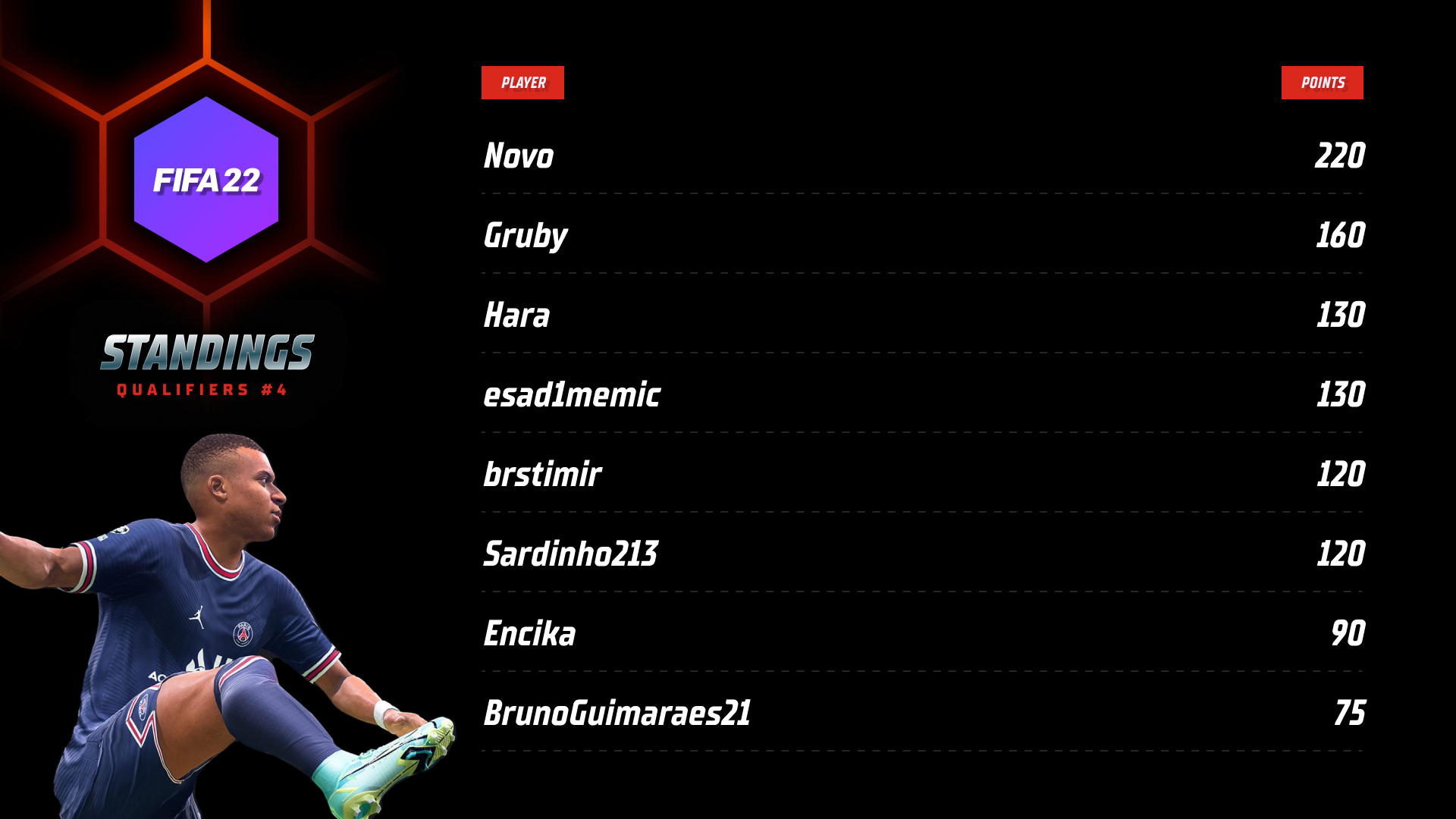 FIFA 23 is the name of the game
The playing field will be somewhat evened out a bit with a switch to the new FIFA game. The rest of Season 10 will be played on FIFA 23. Maybe that is the chance for other players to dethrone Novo. Players will have some time to adapt to the new game and build their teams. Every year at the same time we switch to the latest FIFA game, so this shouldn't come as a surprise to any of the players or fans.
A1 Adria League Season 10 FIFA Schedule
Since we gave players some time to adjust to the new game we also made some changes to the schedule. Don't worry, you can find the whole schedule below. FIFA will be played on Fridays (mostly). Except for the second round which will be played on Wednesday 12th of October. As per usual, all the games will be live-streamed on the A1 Adria League channels.
SWISS Round 1 – 7.10.2022., 20:00
SWISS Round 2 – 12.10.2022., 20:00
SWISS Round 3 – 14.10.2022., 20:00
SWISS Round 4 – 21.10.2022., 20:00
SWISS Round 5 – 28.10.2022., 20:00
https://a1adrialeague.com/wp-content/uploads/2022/09/A1AL-FIFA23-Group-Stage.png
1080
1920
Luka Marušić
https://a1adrialeague.com/wp-content/uploads/2020/04/A1AL2020-Logo.png
Luka Marušić
2022-09-28 16:23:11
2022-09-28 16:23:11
Everything you need to know about the FIFA group stage in Season 10