A1 is hosting an international Brawl Stars league that will take place from July up until August and will feature the best teams from 15 European countries.
Clash of Leagues will cover Central and East Europe and will include participants from five regional leagues as well as teams that qualify from the international qualifiers. A1 Adria League's winners, Noble Elite BLK secured a direct spot in the finals and besides them, the winners of four other leagues in this region will have a spot in the final stage of the league. Those leagues are the A1 Esports League, A1 Gaming League, VOKA League, and Swisscom Hero League.
These five leagues cover a territory with more than 140 million citizens, so we are expecting a huge turnout for the Clash of Leagues. While the winners are going to the finals, the second-placed sides will have to fight for their respective spots in the group stage. Five second-placed teams will be joined by three teams from the international qualifiers in an epic group stage which will secure three spots in the final phase.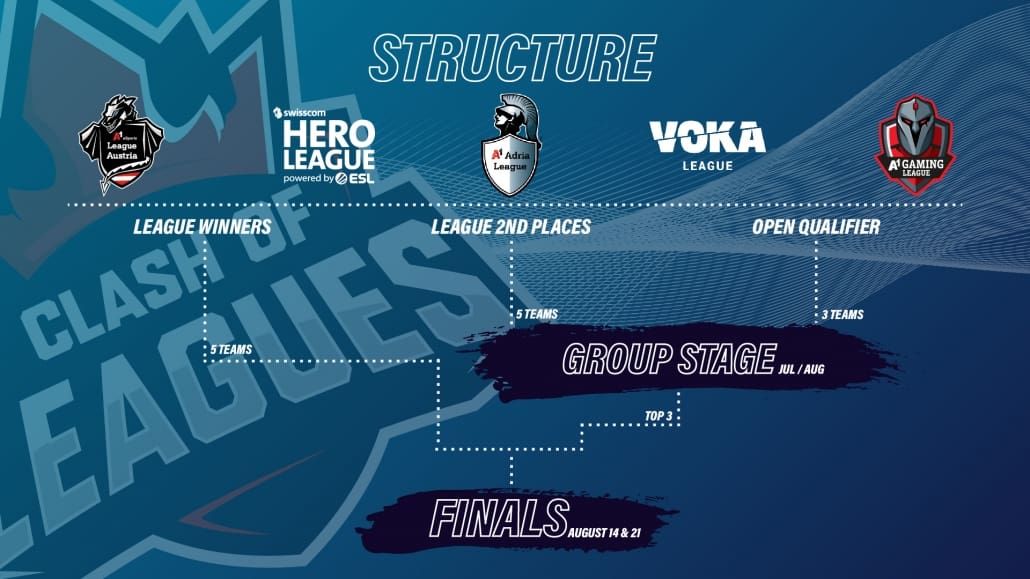 The CEE region had produced and keeps producing priceless Brawl Stars talent. On July 24th, these players and teams will have a chance of a lifetime to qualify for the Clash of Leagues and show their skills on the international Brawl Stars scene. When the three qualified sides are decided, we will watch a three-week-long journey to the final stage of the league. Besides the countries of the Adria region, teams from Austria, Belarus, Bulgaria, Germany, Liechtenstein, Luxembourg, and Switzerland will be eligible to participate in the qualifiers as well.
It has been a great year for Brawl Stars so far. The esports scene of Supercell's arena brawler has seen many great tournaments, in the region as well as worldwide. After the success of seasons 5 & 6, A1 Adria League's seventh season saw weeks of action-packed Brawl Stars matches between the best teams in the region. Everything culminated this Wednesday during the playoffs when Noble Elite BLK outplayed their opponents and were crowned champions of the region. We will watch them, as well as this season's runner-ups (Noble Elite Red) in the Clash of Leagues.
Registration for the qualifiers will open on July 5th. More information about the format of the league as well as the international qualifiers will be available in the coming weeks.
https://a1adrialeague.com/wp-content/uploads/2021/06/Key_Visual.jpg
1080
1920
ElGancho
https://a1adrialeague.com/wp-content/uploads/2020/04/A1AL2020-Logo.png
ElGancho
2021-06-18 17:34:11
2021-06-18 18:09:35
Brawlers, get ready for the Clash of Leagues!