The two-day-long FIFA playoffs culminated with an incredible final in which Tarik "amke2001" Novo became the three-time A1 Adria League champion.
During Season 8 of the A1 Adria League, the regional FIFA players had the chance to play against each other in two titles – FIFA21 and FIFA22. The four players that managed to adapt to the newest iteration of FIFA the best were the four players who advanced to the League. After a great SWISS stage Miloš "brstimir" Majdevac, Esad "esad1memic" Memić, Haris "Flow.edenn95" Lukomirak, and Tarik "amke2001" Novo spent the last two days competing in the double-elimination bracket.
Day 1 saw the first three matches played out. Namely, amke2001 and brstimir clashed in an intense match that went to all three rounds and saw the Bosnian player come out on top. After that, esad1memic breezed past Flow.edenn, which put the latter in the lower bracket alongside brstimir. The first day concluded with this elimination match in which Flow.edenn was outplayed by brstimir and eliminated from the tournament.
Today, amke2001 continued his winning streak. In the upper final, our back-to-back champion fought back versus esad1memic and sent him down to the lower half of the bracket. There, brstimir continued his mission of coming back from the brink of elimination and threw the Bosnian star out of the competition. Only two remained – amke2001 and brstimir. Brstimir had the chance to complete his comeback and finally dethrone amke2001, but the latter's stellar performance in the grand finals secured him his third consecutive A1 Adria League title.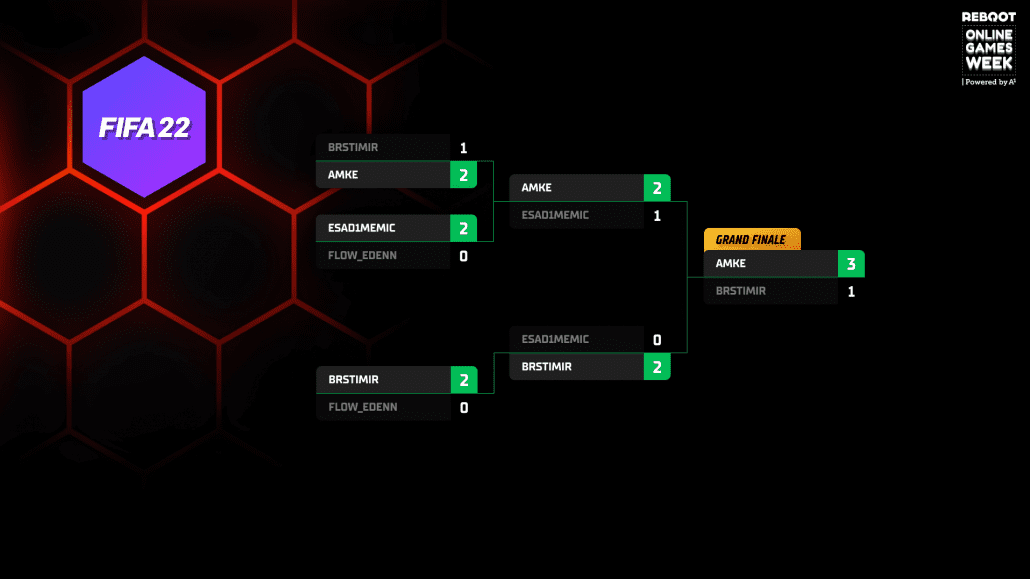 The FIFA playoffs standings:
1. amke2001 – €750
2. brstimir – €500
3. esad1memic – €300
4. Flow.edenn – €200
https://a1adrialeague.com/wp-content/uploads/2021/10/Web_THUMB_brawl_qually.png
720
1280
ElGancho
https://a1adrialeague.com/wp-content/uploads/2020/04/A1AL2020-Logo.png
ElGancho
2021-11-19 21:58:42
2021-11-19 21:58:42
For the third time in a row, amke2001 is the A1AL champion!