A1 Adria League
After a short delay in our matchups, the third round of FIFA22 is finally finished. We have already seen some players put themselves in a great position before the playoffs. And now we have our first FIFA22 player who will advance to the next round, i.e playoffs. Mrky in the third round managed to defeat brstimir and secure the first spot in the top 4.
Mrky takes down brstimir
The first match of the third round of FIFA22 in A1 Adria League was played between esad1memic and DrPecho. Before this duel, both players had a 1:1 score, and this match was significant for both of them. In the end, Esad came out victorious with a 2:0 win, and secured himself a better position in the league, while DrPecho fell down on the table. However, he still has a fair chance to make it to the playoffs.
The same case was in the second matchup between Jero and JasikFIFA who had 1:1 scores before this game. JasikFIFA is a familiar name in A1AL seeing that he almost won the championship in season 5. The season 5 vice-champion took on the rookie of the league, but Jero was the one who got this win. With a 2:1 score, he is now looking good on the table.
Maybe the most important match of this round was between Mrky and brstimir. They both needed only one win to secure the playoffs. But in the end, it was Mrky who did it. Brstimir showed great performance so far and it's not gonna be a surprise if he soon joins Mrky in the next stage of the competition. Now Mrky without a single loss will advance to the playoffs where he will wait for his opponents.
In the last match of this round, our three-time champion Novo had a match against Encika. Novo didn't manage to get a single win in the last two rounds, and this is a very disappointing performance from him. Now with Encika surrendering, he got an automatic win, and now maybe has a chance of moving forwards. Encika with this defeat is the first player we say goodbye to.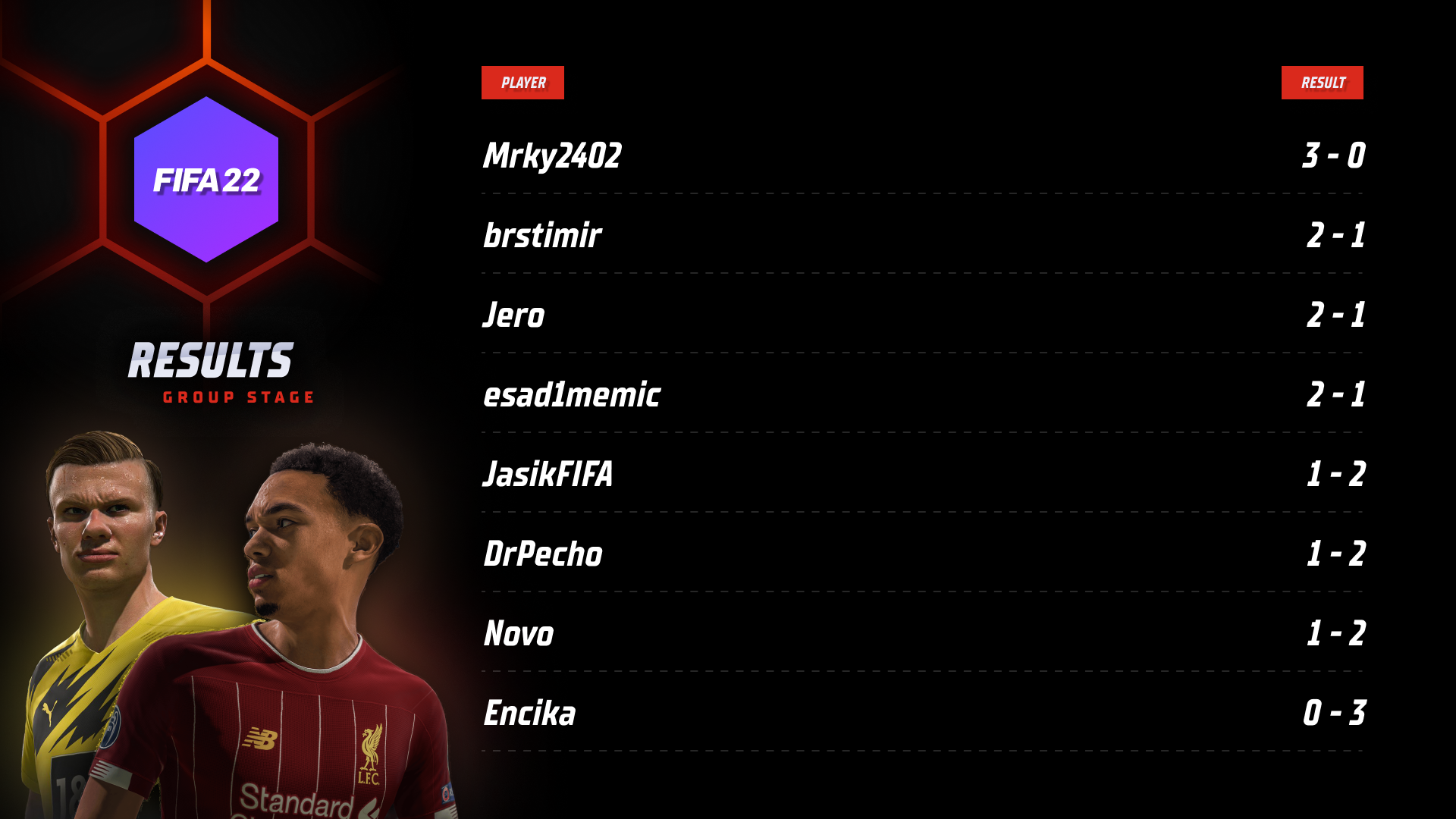 The next round will be played in two days, and the competition has never been closer. Stay with us to find out who will join Mrky in the playoff stage.
https://a1adrialeague.com/wp-content/uploads/2022/03/FIFA_22_A1AL.png
720
1280
galadriela
https://a1adrialeague.com/wp-content/uploads/2020/04/A1AL2020-Logo.png
galadriela
2022-05-25 13:48:59
2022-05-25 13:48:59
Mrky is the first player to secure the playoffs!