The third A1 Adria League CS:GO round has concluded. After Shock Bomb advanced to the playoffs in the first Round 3 playday, we saw two great matches in the second weekend.
EAGLES and Good Game clashed in the first game. Nuke saw an interesting match with Good Game coming out on top in the end. The game was pretty close, with both teams taking the lead at times, but Jasmin "JasmiNhs" Murič's squad managed to take the victory. EAGLES had prepared for Inferno thoroughly. The Macedonian team won only two rounds in the entirety of the second map and the match was even.
The decider, Inferno, started great for Good Game – with a 4-0 lead. The Kosovar team quickly tied the game and proceeded to take the lead and finish the half 8-7 in their favor. Good Game started the second half with a great round streak, but EAGLES couldn't let them complete the comeback. Serdar "cerber" Mahmuti and his team closed out the final map 16-12.
The second game was the 0-2 duel between GODZ1337 and Krsko. This match didn't go to the third map, but instead, GODZ1337 closed it out in two. After an initial 5-1 lead for the Slovenian-Croatian mix, GODZ finished the half with a 10-5 scoreline. In the end, the Macedonian team managed to slip past Krsko who managed to come back and take the lead at 13-13. The match ended 16-14 in favor of GODZ who were a step closer to eliminating their opponents.
One more 16-14 loss for Krsko meant that Krunoslav "Salted" Katalinić and his team would be leaving the sixth A1 Adria League season in dead last. GODZ1337 are currently in the 1-2 pool and will be facing Good Game in the next round.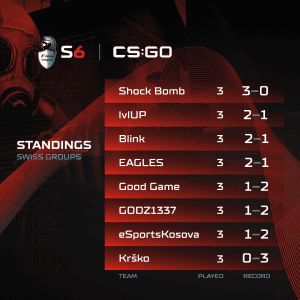 https://a1adrialeague.com/wp-content/uploads/2020/05/cs.png
1080
1920
ElGancho
https://a1adrialeague.com/wp-content/uploads/2020/04/A1AL2020-Logo.png
ElGancho
2020-10-25 11:47:43
2020-10-25 11:47:43
It's time for the fourth CS:GO SWISS round!