Two more matches brought the second CS:GO SWISS round to an end. GODZ1337 will now fight for survival, while Shock Bomb secured an upset and advanced to the 2-0 pool.
The first match of this playday saw the new Macedonian squad, GODZ1337 face off against EAGLES, who were playing the League as MiKS up to this playday. The Kosovar team started Inferno with a quick 5-0 lead, but Kristijan "kiLLeRa" Kukovski earned the first point for his team after a great 3k hold on the CT side. The teams were suddenly neck to neck at 6-6 and GODZ managed to close out the half with a 8-7 scoreline. GODZ1337 proceeded to lose a 15-11 lead and take the game into overtime. EAGLES were able to take four rounds in the first overtime and secure a 1-0 lead in the BO3 series.
After a great 7-2 start for the Macedonians, EAGLES came back and managed to win 6 rounds in the first half. GODZ however, quickly shut their opponents down and closed out the map 16-6. The BO3 headed into Dust2, and it was a bloodbath. The match was close until the very end, but a great B site defense secured the Kosovars the 15th round and let them secure overtime. Even though Blaže "HEv1x" Hristov was playing like a beast and got 38 kills, EAGLES won the BO3 and slipped into the 1-1 pool.
The absolute biggest upset in the past two seasons happened in the duel between Shock Bomb and lvlUP. lvlUP dominated the first map, Vertigo. Miloš "dEE" Marčeta and his team won 13 rounds on the CT side and quickly closed out the map with a 16-6 victory. What happened after Vertigo surprised everyone. The Click N Play 2020 champions, Shock Bomb, ended Dust2's CT side with a 9-6 lead. The team's great plan on the T side proved to work like a charm and they were a step closer to winning the BO3.
lvlUP won the first two rounds on Inferno, but Shock Bomb answered back with five. Ivan "pTKKK" Popov and his squad shocked everyone with a great T side half on Inferno. After a 9-6 lead, they managed to win three more rounds, but lvlUP tried to catch up to them. They were really close to bringing the map in their favor, but Shock Bomb beat the champions after all. A 16-11 victory meant that lvlUP will be heading into the 1-1 pool, while Shock Bomb are going to be a part of the 2-0 part of the table.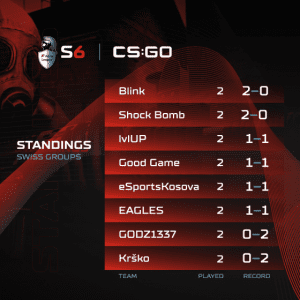 https://a1adrialeague.com/wp-content/uploads/2020/05/cs.png
1080
1920
ElGancho
https://a1adrialeague.com/wp-content/uploads/2020/04/A1AL2020-Logo.png
ElGancho
2020-10-04 09:14:53
2020-10-06 09:19:01
Shock Bomb upset lvlUP in the second SWISS round!