The second round of the A1 Adria League CS:GO SWISS stage went underway on Sunday and the teams with best performances managed to secure a spot in the 2-0 bracket.
The playday started with a 1-0 match between QSKE Gaming and Karavan. After two clean victories in the first round, the teams went all out in their road to the 2-0 pool and a step closer to the playoffs. QSKE had a dominant start and were a level above Karavan during the bigger part of the match, but as the end drew near, Karavan started coming back and won seven rounds in a row. The match went from a 14-7 QSKE lead to an intense 14-14 game where the Macedonian squad managed to barely slip past and take the win with a 16-14 score.
After a surprising loss in the first round, Juggernauts had a sudden change before the start of the second playday. David "devoduvek" Dobrosavljević will not play the remainder of the League with Juggernauts with the coach Darko "soLo" Mitić standing in in his place. This change didn't present a problem for Juggernauts and they obliterated Odred otpisanih 16-2 on an unusual map pick, Vertigo. This loss sent Odred otpisanih to the 0-2 pool and a step closer to elimination.
Gameroids and Shock bomb went into the 1-0 match after two close victories against Blink and GamerS1337, respectively. The game on Dust2 was pretty close during the first half, but Gameroids started increasing their lead on the defense and quickly won the match 16-10. Gameroids became the first team to secure a spot in the 2-0 part of the League, and they will fight for the first spot in the playoffs in their next match against QSKE Gaming.
Blink learned their lesson in the first match and went into their second game as a completely different team. Blaže "HEv1X" Hristov and GamerS1337 had no chance against the Kosovar squad and they found themselves at a 2-13 disadvantage at the end of the first half. The GamerS tried to win some rounds and get a good streak going on, but after reaching their 9th round, Blink closed out the game and the second A1 Adria League CS:GO playday.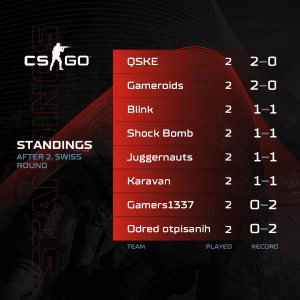 https://a1adrialeague.com/wp-content/uploads/2020/05/cs.png
1080
1920
ElGancho
https://a1adrialeague.com/wp-content/uploads/2020/04/A1AL2020-Logo.png
ElGancho
2020-06-07 11:05:57
2020-06-07 11:05:57
QSKE and Gameroids are a step closer to the CS:GO playoffs!