The last round of the A1 Adria League begins tomorrow, and for those who didn't watch the fourth round, here's a short recap of the Round 4 matches where Juggernauts managed to advance to the playoffs.
Shock bomb were eliminated from the tournament in one of the worst ways possible. On the first map in their match versus Blink, Shock bomb were able to hold their ground and play all 30 rounds of the match before falling short. The same story happened on Train, with Shock bomb once again losing in the last round of regulation. With this win, Blink advanced to the 2-2 pool and will fight Athaim for a spot in the playoffs.
An upset we had the chance to see in the fourth round was GamerS' dominant victory in their match against Athaim (ex-Karavan). The Macedonian-majority team went 13-2 in the first half of Inferno. They continued the impressive form in the rest of the map and closed it out 16-2. Even though Athaim put up a better fight on Mirage, GamerS1337 were still a level above their opponents and finished this BO3 with a 16-8 win.
We saw another one-sided game between Juggernauts and Gameroids. Gameroids are a team that have a really good Dust2, but that didn't stop the Serbian powerhouse from destroying them 16-7 and going into Vertigo with a 1-0 lead. Aleksa "Impulse" Stankić had a great game on Vertigo and carried his team to a 16-6 victory on the second map on the series. Juggernauts secured the second spot in the playoffs while Gameroids will have their last qualification chance against GamerS1337 in the fifth round.
In the first match of the fifth round, GamerS1337 managed to secure one of the remaining spots in the playoffs. After a 0-2 start, Blaže "HEv1X" Hristov's team outplayed Gameroids on both Mirage (22-19) and Dust2 (16-10). This means that we will not be seeing Gameroids compete during this season anymore, and we wish them the best of luck next season!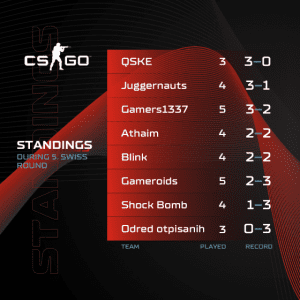 https://a1adrialeague.com/wp-content/uploads/2020/05/cs.png
1080
1920
ElGancho
https://a1adrialeague.com/wp-content/uploads/2020/04/A1AL2020-Logo.png
ElGancho
2020-06-24 10:32:57
2020-06-24 10:57:14
Only one more spot remains in the CS:GO playoffs!